1990: 

9-2 (5-0 League) Western Division & AA Nevada State Champions
The Wolverines graduated a lot of talent after the 1989 season.  However, the entire offensive line would return in 1990.  The strength of this team was its interior line and their defense.  Truckee only gave up 80 points all season, a record that would stand until 1998 and more recently when the 2009 team gave up just 60 points.  In 2010 Truckee only gave up 65 points.  The 1990 defense sits 4th all time on points aloud in a season.  The 1990 team also had numerous backs that could run the ball and control the game: Andy Delatorre, Brett Seegmiller, and Rick Branum were all players who could score from anywhere on the field, but it was Jeff Dodge who led all backs with carries and yards.  Jeff was a true bulldozer and a Larry Csonka type runner.  He was the driving force behind an offensive line that dominated the line of scrimmage.  Dodge also played a pretty mean linebacker. Sean Oshea, Kevin York, Kelly Riggs, Sean Thompson, Jeremy Elliot-Sill, Mike Becker, Arnoldo Lopez, and Jevon Hall at tight end made up what could arguably be the best line in Truckee History. This team also had a chip on their shoulder for two reasons.  The first reason is that they were just 3 minutes away from winning Truckee's second State Title.  There was a lot of "what if" questions after that game and there was a bitter taste in everybody's mouth.  Secondly, this group of seniors had to hear over and over that the 1989 team was the best team ever to come through Truckee.  While that certainly could be the case, this team wanted to prove that they had what it takes to win a Title.   I can sum it up by saying that this team was not as pretty as the 1989 team but in the end they got it done and captured Truckee's 2nd State Championship.
The Wolverines in 1990 were characterized by playing smash mouth football.  Run the ball and play aggressive defense.  It was truly ground and pound.  If and when they passed it was Andy Siefker to Dave Olbrantz for the most part.  The two connected for a team high 8 receptions for 233 yards and 2 TD's in '90.  The most memorable and most important connection being in the 1990 State Championship game for Truckee's only touchdown.   Though the season ended on a high note with Truckee winning a State Championship, it certainly did not start out that way.  In fact, I'm not sure it could have started out any worse than it did.  After a pretty good outing in a scrimmage verses Bay Area power house Live Oak, Truckee lost their first game to the Yerington Lions 8-7.  Truckee started out in the papers being the favorites to win it all and Yerington was projected to be below average.  I can remember that our team was pretty cocky heading into the Yerington game.
August 31, 1990 Truckee starts their season in Yerington. In front of a packed home crowd the Lions played inspired football and the Wolverines could not match it.  The game started out okay for Truckee as they scored first on a rare 24 yard TD pass from Siefker to Jeff Dodge.  But that would be Truckee's only TD of the game.  Yerington put a drive together in the 2nd quarter and scored on a toss play that was successful most of the night.  Truckee had converted Andy Dela Torre from corner to outside linebacker and also moved Jeremie Elliot-Sill from defensive end to the other outside linebacker.  The inexperience at those positions would show as Yerington after scoring on a toss play flipped the formation and ran the exact same play for the 2-point conversion.  Coach Estabrook was quoted in the paper saying, " I thought our defense played well, despite some containment problems with our ends and outside linebackers."  But really the story of the night was the Yerington defense which held the Wolverine's rushing attack to just 154 yards, their lowest total of the season.  Truckee's workhorse, Jeff Dodge, could not get rolling, rushing the ball just 16 times for 66 yards.  Also, the Wolverines passed an uncharacteristic 15 times and unfortunately, two of those passes were interceptions.  But with all of the issues the offense was having, they would still have their chances, moving the ball three times into Yerington's red zone in the second half, only to come up empty every time. Truckee did not have a field goal kicker otherwise the outcome could have been different.  Much credit to the Lions who held off the Wolverines and defeated the number 1 ranked team.  On a positive note, the loss to Yerington humbled the Wolverines and also took some of the pressure off a team who had set their hopes on an undefeated season.
The following week after the Yerington loss Truckee rebounded shutting out Battle Mountain 28-0.  Truckee dominated the Long Horns for much of the night but only led 7-0 at halftime.  At the start of the second half, Battle Mountain would get the ball first and in 3 quick plays faced a 4th down and 1, from their own 29 yard line.  Feeling like they could get a yard, Battle Mountain went for it on fourth down and was shutdown by the Truckee defense.  That was really the turning point of the game as Truckee scored just two plays later.  It was a typical 1990 win as Truckee's defense stuffed their opponent and any momentum they would wish to conjure up.  That defense was followed up with a devastating ground attack that little by little took their opponents will to win away from them.  Truckee rushed for 322 yards that night and 105 of those yards was Jeff Dodge.
From here the Wolverines traveled to Northern California to Oroville.  They would face off with a pretty good team that was very physical.  This was the first game that I got significant playing time as I had finally earned a spot on the starting defense.  I got to experience the physicality first hand when I was knocked out by a great block on Oroville's 2nd TD of the night, about midway through the 4th quarter.  Oroville's QB would hit his running back out of the backfield on a swing route.  I was out of position and chasing the play hard to the sideline.  The TE, who was on a corner route, peeled back to make the block and de-cleated me.  I never saw it coming and the next thing I remember was coming to my senses as Oroville's bench was over the top, taunting me.  The 22 yard swing pass appeared to have sealed a 17-6 victory but Truckee had comeback hopes.  With eight minutes left to play in the game Truckee mounted a comeback drive going down the field in hurry.  The drive was capped off by a Brian Mulloy TD.  Mulloy then followed up that TD with a spectacular 2-point conversion run when he broke several tackles and then high stepped into the end zone.  It was the sophomore's 2nd game in a row with 80 yards rushing and the youngster was called upon when Truckee needed a play most.  There was still 4:41 left on the clock when Truckee kicked off to the Tigers.  Plenty of time to get a stop and complete another drive.  The Wolverines did just that, as the defense forced a 3 and out by Oroville.  Then the play of the game for the Wolverines…  Oroville's center snapped the ball over the punter's head and the chase was on.  I was back in the game at this point and just missed recovering the ball in the end zone.  It was a safety and we were now down 16-17 with Oroville kicking off.  The bad snap might have actually helped Oroville as they were able to kickoff and gain better field position.  However, they elected to squib kick it and Mulloy recovered the ball at Truckee's 45 yard line setting up great field position for the Wolverines.  Truckee got the ball with a little over a minute to play, plenty of time to score.  Unfortunately it would force the Wolverines into things they were not good at, passing.  On the very first play Siefker rolled out on a pass play looking for Mulloy down the sideline but the ball was intercepted by Lee Music of Oroville.  Music was the long snapper who was responsible for the bad snap that almost cost Oroville the game.  But Truckee was not able to take advantage of the Tiger's mistake and though the defense would hold up again, Truckee was too far in their own territory and could not make the miracle happen.  In a tough fought battle Truckee would out gain the Tigers 346 yards to 207yards.  But Truckee had zero yards passing and couldn't make a big play when they needed to, and lost their second game of the year.  The seniors were very upset in the locker room that night.  The juniors were as well but I'll never forget how mad Kevin York was after the game.  He told the team, "we're not losing again!"  It was raw emotion and a slightly divided locker room as the team was heavily reliant on young talent that had not come through…YET!  York, in his profound wisdom, was right.  The Wolverines would never lose again in 1990 and went on a win streak that continued well into the following year.  We had opened up the season 1-2 and we were looking like a team that might not make the playoffs, but that would all change in the coming weeks.
Next on the schedule was Quincy who was always tough and gave Truckee all they could handle.  Truckee beat Quincy in a close 14-7 non-league match up, before we started league play.  At this point in the season Truckee's defense is dominating.  Quincy only had 107 total yards and 65 of those yards came on their only TD of the game when Marcos Slaten broke away from the Wolverine defense on a screen play.  The Truckee Offense would be another story as they struggled to finish drives for the 4th game in a row.  Truckee's inability to score touchdowns was keeping teams in games and also was responsible for 2 losses.  Quincy had their chance in this game as well but the Wolverine defense would save the day.  John Schmitt had a career day intercepting 2 passes.  Though the offense didn't score they were able to gain yards as Jeff Dodge had his 3rd game in a row rushing for over 100 yards and Brian Mulloy had his 3rd game in a row rushing over 80 yards.  Truckee totaled 346 rushing yards but for the second game in a row Truckee had zero passing yards as Siefker was unable to complete a pass and threw his 5th interception of the year.  Truckee's offense would have to play much better if the Wolverines were gonna beat their arch rival in the "Little Big Game" in week 5.
Could the Truckee offense get things rolling at home vs North Tahoe?  It was the opening of league play, Truckee was 2-2 and the Lakers were 1-3 struggling to find a way to win in close games.  North Tahoe was better than their record would indicate and this game was always tough.  North Tahoe showed up with "special" stickers on their helmets that said, "Beat TnT" in red.  Something they didn't get close to accomplishing but they did get close to scoring the first TD.  The Lakers got the ball first and drove right down the field to Truckee's 11 yard line before Tahoe's QB, Eric Paul, threw across the middle into coverage and Jeff Dodge intercepted his pass.  That was North Tahoe's only threat of the day.  The Lakers could only muster a measly 75 yards after their first drive of the game.  The
Wolverines, on the other hand, were trying to get their offense rolling.  In the first half they struggled, again, to finish drives as North Tahoe caught Truckee by surprise by their blitzing schemes.  The score was 14-0 at halftime.  Coach Estabrook made some adjustments at halftime and when Truckee came out in the second half their offense pounded the rock on a couple of crippling drives.  The two scoring drives in the 3rd quarter destroyed any hope the Lakers had of beating TnT and they folded.  The Wolverines shutout NT for just the 3rd time in history.  The 40-0 victory was the biggest blowout in the history of the "Little Big Game."  It would start momentum that Truckee would ride for the remainder of the season.  This team would not lose another game and their streak is part of a winning streak that ranks second in Truckee history at 15 games.
The first week of October in 1990 the Sierra Sun reads "NO MERCY!"  Posted on the wall of the "PIT" is a sign which read, "When you leave this room, expect no mercy and give none!"  That is exactly how Truckee played October 5th, 1990.  In week six Truckee traveled across town to play Incline under the lights.  This was the game that the Truckee Offense really got on a roll.  Truckee rolled up 524 yards rushing that night for a school record and the record still stands today.  The game was never close.  Dodge rushed for his 4th 100 yard game of the year, Seegmiller rushed for 92 yards, and Mulloy rushed for yet another game of 80 yards.  Rick Branum rushed just two times but both carries went for long TD's as he rushed for 117 yards.  Heck Siefker passed for 37 yards and a TD!  The offense finally showed up and would keep things rolling when they faced off with the Dayton Dust Devils the next week.  Not expecting much of a game, Truckee strolled into Dayton and beat the Devils 55-0.  It was a good game to work on the passing game and establish some depth as the backups played most of the game.  Seven different Wolverines scored TD's.  The Wolverines passed for 90 yards as well.  I know the seniors didn't have much fun in this game but us younger players took advantage of the situation and had a blast.  I actually got to touch the  ball in this game rushing for 4 carries and 72 yards with a TD as Dodge took the day off.  Our defense did its thing posting its 3rd shutout of the year and yielding just 96 yards.  And that was with backups most of the game.  But things were put into perspective as the always dreaded Manogue Minors were coming to town the next week.
Since the Quincy game Truckee was on a role scoring 149 points and only giving up 10.  But that kind of output was not expected in week 8.  In 1989 Truckee squeaked by the Minors in a very close game in the last minutes of the contest.  That game was only the third time Truckee had ever beat Manogue.  In 1990 the game would be another very close game that almost got away from Truckee.  It was Truckee's Homecoming and the stage was set.  Truckee was the favored team as the Minors came into the game 3-4 but they were a very confident team.  The Wolverines struggled mightily in the first half down 6-0 right before the half.  With just 16 seconds left in the half Truckee was at their own 35 and decided to try for a big play.  Manogue had the momentum and the Wolverines were just looking to get a big play to turn things around.  It backfired as Siefker threw a deep ball towards Olbrantz.  The pass was intercepted and ran 59 yards for a touchdown right before the half.  The Minors really had the momentum going in at halftime.  But the Wolverines had been in this position before when they played Orville.  Truckee came out in the second half determined to stage a comeback.  But the offense turned the ball over on two consecutive drives and it was looking like it was going to be Manogue's day.  Fortunately the defense, as it did all year, rose to the occasion and did not allow Manogue to convert turnovers into TD's.  At the start of the 4th quarter Truckee finally put a drive together and scored their first touchdown on a Siefker 1 yard plunge.  With the score now 6-12 Truckee's defense would have to come up with another big stop and they did giving the ball to the offense on Manogue's 44 yard line.  But Truckee's drive stalled at the 31 yard line and the Wolverines were faced with a 4th down and 8.  Then it was the play of the game.  Truckee ran their famous double handoff reverse, better known in the Wing-T world as
the crisscross counter.  Mulloy took the handoff and broke several tackles before breaking away for the score.  The score was now tied and Truckee would only need to kick an extra point for the Wolverines to secure the win.  But Truckee went for a fake pass and the 2 point conversion failed.  Apparently Estabrook had zero faith in the kicking game.  With time running out it appeared the game would be on its way to overtime.  Then disaster struck for the Minors and they fumbled.  Maurice McVey recovered the fumble at the Manogue 16 yard line and the Wolverines were in business.  However, Truckee could not capitalize on Manogue's mistake and with no kicking game Truckee was forced into a 4th and long pass play that was incomplete.  The game went to overtime.  Truckee won the coin toss and elected to play defense first.  In 3 plays Manogue went backwards and they were forced into a 27 yard field goal attempt that missed.  It was Truckee's turn.  Truckee called a sweep and on the first play and Rick Branham took the handoff from Andy Siefker and ran it in for the score.  Branham was quoted in the paper after the game and said that everyone in the huddle knew it was gonna be a touchdown.  That was my first overtime experience and it was an awesome feeling.  The team stormed the field in celebration and dog piled on Branham as he completed the play that gave Truckee its second straight Western Division Title.  Once again Truckee dominated the game on paper out gaining the Minors 323 yards to 121 but it again did not translate to points.  The Wolverines had 7 turnovers and really were pretty lucky to win.
After beating Manogue Truckee rolled through Whittel 38-8.  After the exciting win the week before the game was somewhat flat and uneventful.  Dodge and Mulloy were both banged up and did not play on offense.  That meant I would get the bulk of the carries as I was Dodge's backup.  I had a pretty disappointing game getting the ball 15 times for only 50 yards.  On a positive note the passing game got rolling.  Whittell had clearly come to Truckee to stop the run and Siefker had his best game of the year going 3-3, 112 yards and 2 TD's.  Truckee out gained Whittell 363 yards to just 51.  The win would give Truckee a 7-2 record and earned them a first round bye which Truckee would use to heal up and make their final push towards another State Championship appearance.
In the semifinals the Wolverines faced White Pine dominating the Wildcats 38-8.  The coach of the Wildcats was Jeff Knutson a Fernley graduate.  He would later, in the mid to late 90's, spear head a movement to try and get Truckee thrown out of the NIAA.  His attempt failed luckily and the Wolverines were able to continue competing in the NIAA.  Knutson would also fail to beat Truckee in 1990 as his team played hard but was outmatched.  It was not Truckee's game of the year but the defense again came to play forcing 6 turnovers and earning them a spot in the State Championship game at Lowry the next week.  This would be the last time a State Championship game was played on another team's home turf.  Since 1990 the State Game has been played on neutral ground.  The Buckaroos were a very balanced team that could both run and pass the ball.  They also played very good defense and they were ranked number 1 in the State.  There was much talk before the game about who was the true underdog.  Lowry coach,
Tim Billingsley, insisted that Lowry would be the underdog at home in the big matchup.  However, Truckee was not buying that.  Lowry had the top passer in the league in 6'3″ Jamie Schroeder who was 53-122, 1,126 coming into the State game.  His favorite target was Chad Peters who was second in the State with 16 receptions for 382 yards.  Lowry also had the best back duo in the Nevada AA with Gordie Schumacher and Scott Stricker.  Going into the State game the two rushed for more than 2,000 yards and scored 38 TD's.  Here is an interesting note in the Sierra Sun interview with Coach Estabrook before the game.  Coach Estabrook mentioned that Truckee had an added dimension in freshman kicker and said, "I won't be afraid to kick field goals when we're down close inside and it's forth down."  A completely different attitude than just a couple weeks before vs Manogue.  Ultimately it was coach Estabrook's confidence in his young kicker that brought home the State Trophy.  Here is an excerpt from the opening paragraph of the Sierra Sun November 21, 1990, "It all came down to 27 yards, two goal posts and a freshman foot.  With 40 seconds left in the forth quarter and his team trailing the Lowry Buckaroos 10-9, Tahoe-Truckee High freshman Damien Fertitta nailed a 27 yard field goal and gave Truckee its first Nevada State AA high school football title in seven years."  There have been some really important kicks throughout the years but none more important than the kick on this day.  Kevin York gives his thoughts and memories of the 1990 Nevada AA State Championship game:
State championship Saturday
We were to be at the school early Saturday morning for the long bus trip out to Winnemucca Nevada.  I pulled in and looked down at Surprise stadium, still painted up from the week before.  That was my first thought of "this is it", the last time I am putting on a Truckee uniform. We had a charter bus for this trip out to play the Lowry Buckaroos for the state championship.  I boarded it with my helmet in my hand.  I had never done this before but I would spend the next four hours holding it next to me.  I sat in the very back next to my buddy Jeff Dodge, I hesitate to say best friend just because we were all so close.  I deeply cared about all of my teammates. We loved each other and occasionally fought like brothers.  When we pulled out of the parking lot, I glanced down at the field again, it was one year prior that we had lost to Boulder City there for the state championship finishing 11-1.  Still fresh in our minds.
A Ron Estabrook coached team typically didn't talk loudly on the way to a game, but today was different.  There wasn't ONE WORD heard on that bus.  You would of thought the bus was empty.  We stopped in Lovelock to get out and stretch our legs, we had a bite to eat and got back on the bus.  Our thoughts were on the task at hand.  They had the States leading passer, the states leading receiver and the number 1 running back.  It was a matchup of the number one offense versus the number one defense.  This team had beaten North Tahoe the week before and were riding high.  The bad part about playing out in the middle of Nevada was obviously the trip.  The good part about playing there was the hostile environment, which we loved.
When we entered the field and TnT blared over the loudspeaker, we went nuts! A couple of our girls, unbeknown to us, went up and asked them to play it for us.  That was the last time I believe that anyone was that gracious of a host to a Truckee team. The game was physical, back and forth.  I was pretty sure I fractured the QB's ribs in the first half, which was confirmed later.  He played on though, they were tough.  I had gotten pressure on him two times in a row and he had to throw it away.  On third down I didn't get to him and he hit his number one guy for a long touchdown, their only one of the day.  I always think about that play where I didn't get to him.   They later added a field goal.    Jeremy Elliot, our right tackle, fractured his leg in the first half, which meant I had to move there next to Sean Thompson.  This would become vital on our game winning drive.  We were down 10-9, with under a minute to go when we got the ball back.  Third and about 8 at midfield, Coach called a screen pass to the right, behind me and Thompson.  Sean made a great block, I had one lined up but I merely got in the guys way as Brian Mulloy, our sophomore running back, saw the first down marker and jumped over my shoulder to get the first down and into field goal range.   Four plays later, our Freshmen kicker Damien Fertitta, who had made and missed a field goal already, came on and booted it through from 27 yards out.  There was still about 35 seconds on the clock so we had to go out and stop them.  They ran a couple of successful screen passes to move close, but they didn't have any timeouts left.  When they ran a swing pass and Ricke Branum brought him down in bounds, we turned to the clock and counted down the seconds.  Those were the longest 4 seconds of my life!
We had done it, the first state championship since 1983 and the second in school history. We had held there tailback to less than 50 yards, there fullback had 3 carries for 3 yards, their receiver caught two balls and they only had 182 yards of total offense.  We dog piled, hugged, cried and accepted the trophy.  At school Monday , we were told to meet at the bus garage.  They ran a fire drill and we rode in on the fire trucks and were dropped off at the gym for a rally.  The following weekend, we had steak and eggs at the Wagon Train which our line coach Brian Smart owned, where our team picture still hangs.  I will never forget that day, or that team.  Up until that point it was the greatest time of my life.  The rest of the year no matter what happened, whether we lost a basketball game, or got a bad grade, or got in trouble, our statement was "doesn't matter, because we're STATE CHAMPS!" (This may or may not have gotten me out of a couple of Saturday schools.)
A great recollection from Kevin.  The screen play that he is referring to was very pivotal.  I don't recall Estabrook making many screen calls up to that point all year.  It was a great call with great execution.  Also, a Freshman kicker who was brought up to Varsity just weeks before the game?  Our hopes and dreams depended on the Leg of Damien Fertitta and the freshman came through. You never think about all the things that can go wrong on a FG attempt but many things can.  I was the right wing on the PAT/FG team and I can remember the nerves in the huddle before we set up for the winning kick.  Kelly Riggs was the snapper and Jevon Hall was the holder.  I remember Jevon telling me after the game that the snap came back to him like it was in slow motion.  He explained that Riggs's fingers were bleeding and that he could actually see the blood twirling with the motion of the football as it came back to him.  It was a perfect snap, hold and kick.  Fertitta had missed a kick from that distance not long before that last attempt.  So, there were many Truckee fans holding their breath.  Fertitta was interviewed after the came and he stated that he thought it was still the 3rd Quarter.  Regardless of what quarter Damien was in, he made a great kick and he ended up having one heck of career at Truckee.  Also, early in the year the younger players on the
team were having trouble contributing and making big plays when Truckee needed them most.  But on this day those young players made the biggest play of the year when Siefker hit Olbrantz on a 38 yard pass play to score Truckee's only TD of the day.  Lowry had keyed on Dodge like any smart team would do but Truckee still had 212 yards rushing on the day.  Lowry came into the game being the most explosive offense in the State and for the most part was shut down.  The majority of their yards came on a short pass play caught by Stricker who broke some tackles and made it into a long TD.  Their big athletic target, Chad Peters, had 2 receptions for 4 yards.  The Truckee defense, like it did all year, came through.  Though Fertitta made that kick which won the game, it was Truckee's defense that earned them that State Title.  They faced the best offense in the State and shut them down.  This team will always be overlooked.  In a lot of ways it parallels the 83 team.  The 1990 team was not flashy but they were very physical, had a heck of an offensive line, and absolutely shut teams down with one of the best defenses we've ever had.  When you put nasty, relentless, and physical together you get a Wolverine.  If you put size into that equation it will usually result in a Championship and That's what you had with these Wolverines.  Out of 66 Truckee teams only 12 have been crowned State Champions and the 1990 team is one of those 12.

1991:

9-2 (5-1 League) 2nd Western Division & State Semifinalists
Finally my senior year.  Unfortunately, since 1989 there are only three teams not represented in "TITLE TOWN".  One of those years was my senior year.  In 1991 Truckee was undefeated for most of the season leading into a Division Championship matchup with Whittell who was also undefeated.  Known as the "Snow Bowl", Truckee would fall 13-0 and Whittell would win the Western Division.  Truckee three weeks later would travel south to face an undefeated Boulder City team for the right to face Whittell again in the State Championship at Sam Boyd Stadium.  Truckee, however, would fall 28-25 in a heartbreaking loss.  Boulder City would go on to beat Whittell in State 14-13. (Missed PAT).  The 1991 team is part of the second longest win streak in Truckee history at 15 games.  We only had 9 seniors on the team.  We had a few guys that played their junior year but did not come out their senior year for some reason.  We could have used more senior leadership.  We brought up quite a few sophomores and really relied on our youth.  We were very talented and rolled through most of our opponents.  We ran into two pretty good football teams in Whittell and Boulder City.  It turns out that there were quite a few seniors on the Boulder City team that were brought up as sophomores and played in the State game vs Truckee in 89.  So, they were very experienced and we were young.  We played our hearts out that game and it was painful to lose my last game as a Truckee Wolverine but when it was all said and done I don't regret a thing.  We played hard and we all got along.  We developed discipline and a love for the game of football.  Most of all, we learned to work together and form a bond I'll never forget.  Thanks to all of my teammates and coaches.  I'll never forget my time playing ball with you guys.  And to the coaching staff:  Coach Collins was always detailed and prepared us like no other.  Estabrook was business like in everything he did and he never overlooked the smallest detail.  He is a man of repetition like most great coaches.  Coach Smart brought the toughness to the team and to the guys up front.  Coach Kuch, who brought in a new passing game and added a new dimension to Estabrook's playbook.  Though our team did not always execute Kuch's scheme, the plan unfolded with the 93 team 2 years later.  I really want to thank coach McGovern for his intensity.  I used to feed off of his pre-game speeches and I wanted more than anything to earn his respect.
This is Sean Thompson's take on our senior year 1991:
INTRODUCTION
Truckee Football doesn't rebuild, it re-loads.  1991 was a re-loading year for Truckee.  Coming off of two dominant years in which the Wolverines had lost only 3 games combined, gone to two straight state championship games, and won the state championship in 1990, Truckee's 1991 team was comprised of a younger group of athletic players, including key sophomores who would eventually strike paydirt of their own by winning a state championship two years later.
Truckee returned only 9 seniors in 1991.  That youth was particularly evident on the offensive and defensive lines.  Only one starter returned on the offensive line.  The 1991 team, though younger and smaller than 1990 and 1991, made up for that with great athleticism and play-making ability.  When the Wolverines scored, they scored in bunches with great team speed.
Truckee's 1991 team has the unfortunate distinction of being one of the few Truckee teams since 1989 not to win its division.  However, the 91 team still went 9-2, including seven straight wins to start the season to continue a winning streak from 1990 that would eventually reach 15 games.  Truckee made the playoffs and crushed its first round opponent.  Truckee barely lost to the eventual state champions, Boulder City, who fielded possibly one of the better lower division teams in Nevada football history, on their home turf, after braving the long trip down to Southern Nevada.
The 1991 team, as with all Truckee teams, were brothers, loved playing for each other, and upheld the tradition of Truckee Pride.
THE PLAYERS
The 1991 team was highlighted by promising underclassmen.  Sophomore Damien Fertitta, later known as "El Dragone," who, as a freshman, had kicked the winning field goal in the 1990 state game, exploded on to the scene in 91.  Combining division 1 level speed with power and agility, Fertitta was deadly from the running back position and gave the Wolverines quick-strike ability.
Junior Josh Clevenger was one of Truckee's all-time inside linebackers.  He was an instinctive and aggressive player who just knew football.  Likewise, junior Brian Mulloy used 1991 to cement his legacy as one of Truckee's best ever all-around players. Mulloy was a starter at safety, as a sophomore, on Truckee's 1990 championship defense, one of the best defenses in Truckee history.  Mulloy stepped it up as a junior, dominating the defensive backfield and making incredible, highlight-reel runs at running back.  Mulloy and Fertitta both went on to play at Air Force and Oregon, respectively, two of the few players in Truckee history to play at that level.
Senior Jevon Hall also exploded on to the scene in 91.  Jevon played his first year of organized football in 1990 and was a starter on the state championship team.  In 1991, Jevon's year of football experience, coupled with his outstanding physical skills, made him a star.  For the first half of the season, until a toe injury slowed him down, Jevon was a dominant running back, scoring touchdowns in bunches and being virtually unstoppable in the open field.  He also played excellent middle linebacker, using his athleticism to make plays, including two defensive touchdowns.
Senior Sean Thompson was the lone returning starting lineman from the 1990 team.  Sean learned from that group, which was one of the best offensive lines in Truckee history.  In 1991, Sean sought to carry the lineman tradition he learned from the 89 and 90 lineman and mentor the younger lineman along the way.
Truckee's heart and soul in 91 was Senior fullback and outside linebacker Josh Ivens.  Josh, #19, would later become the 19th head coach in Truckee history.  In 1991, he was the best player on the field and a great leader.  Josh weighed 155 pounds dripping wet but feared no man, and certainly feared no other players on the football field.  The field ended up littered with the victims of Josh's hits.  Josh brought a toughness and edge to Truckee's 91 team, which outhit every single team it played.
THE SEASON
Truckee started the 91 season with a huge game – a rematch from the 1990 state championship game against Lowry, who was embittered by barely losing to the Wolverines in that rugged 1990 game, which Truckee won 12-10.  Seeing that Truckee had lost so much talent from the previous two dominant years, including virtually all of its interior line, the writers picked Lowry to defeat Truckee.  The Reno newspaper stated "Lowry has more firepower."  Lowry came up to Truckee looking for revenge but instead took a solid beating, losing 15-3.  Truckee's offense was a bit ragged and clunky, but Truckee's defense completely shut down the Buckaroos, possibly the stupidest nickname in all of Nevada interscholastic sports.
The Lowry "upset" started a run of seven straight wins to start the season.  Truckee showed that it had plenty of firepower by outgunning a scrappy Quincy team, in Quincy, 33-16.  Back at Surprise Stadium in week 3, Truckee demolished Dayton 41-8 on the strength of Jevon Hall and Damien Fertitta rushing.  Week 4 saw Truckee travel to Hawthorne for a Friday night game against a dirty team looking for revenge after Truckee's 89 squad humiliated them in the playoffs.  Hawthorne certainly played dirty but got no revenge as Truckee destroyed them 59-6. Truckee rushed for nearly 500 yards against Hawthorne.  Truckee made it 5 wins in a row to start the season by dominating an outmatched ROP team 43-0 at home.
RUNNING THE GAUNTLET
Truckee's 5-0 start set up for a rough stretch of 3 games, on the road, against the division's best teams, that would determine the division title.  First up was long-time nemesis Manogue.  Although Truckee had won the previous two games against Manogue, both contests were very tight and, traveling to Manogue, Truckee knew that it would have its hand full.  On a hot and muggy day in Reno, Truckee certainly started off with a battle, as Manogue came to play, was hitting hard and disrupting Truckee's offense, and took an 8-7 lead on Truckee.  In the second half, Coach Estabrook went back to smash-mouth football, calling almost all inside runs as the offensive line and Truckee's running backs, especially Josh Ivens, beat up Manogue enroute to a 28-8 victory.
It got no easier the next week as Truckee had to travel to traditional rival North Tahoe.  Truckee was amped up for this one, as Brian Mulloy took the opening kickoff back for a touchdown and Truckee staked at 22-0 lead at halftime.  However, the Wolverines played uninspired football in the second half and North Tahoe's Che Walker, possibly NT's best football player ever, ran through Truckee's defense for 195 yards.  In the end, Truckee came up with some key stops and turnovers (including key interceptions by Ivens and Hall) and escaped with a 22-14 win. Despite the closeness of the game, it ended up being simply another in a long line of consecutive wins by the Wolverines over the Lakers.  At the end of the game, the Lakers' star linebacker took issue with Truckee running out the clock by kneeling on the ball, yelling "I wouldn't want to play for a team that kneels on the ball at the end of the game."  Brian Mulloy shot back, "and I wouldn't want to play for a team that loses to its rival every single year."  Truckee's win over North Tahoe was the seventh straight to open the season and Truckee's 15th straight overall.
Unfortunately, Truckee's luck and streak came to an end the following week in Whittell.  A major snowstorm threatened to postpone or cancel the game, but Truckee somehow made the trip to the south shore to play  the surprising Warriors, who were coming into the game  undefeated.  Whittell sported a few star players, including  future Nevada star linebacker and NFL draftee Mike Crawford.  The snow was light at first but came extremely heavy after the first quarter.  No excuses, but the truth is that the weather wreaked havoc on Truckee's speed-oriented, complex offense.  The Warriors played a straight ahead running style and capitalized on catastrophic Truckee turnovers to win the game 13-0.  The Warriors were a tough team but every person on Truckee's squad believed Truckee to be the better team.  However, since Whittell won, they were the better team that day and claimed the division crown from Truckee.
Truckee took out its frustration the following week against hapless Incline Village, winning 56-13.  Truckee had 7 interceptions against the Highlanders, who were not doing their Sean Connery impression that day.  The win completed an 8-1 regular season for the Wolverines.  However, Truckee was extremely disappointed, having lost both its winning streak and a chance to win 3 straight division titles in the snow at Whittell.
THE PLAYOFFS
Truckee opened the playoffs with a home game against Independence, a prison school with a talented roster, including a massive and speedy running back.  The Independence players gathered outside Truckee's locker room before the game and chanted "Too legit, Too legit to quit over and over.  However, like MC Hammer, Independence's pre-game bravado turned out to be bankrupt.  Truckee absolutely outclassed Independence that day.  The Wolverine defense totally shut down the Independence offense.  Truckee scored on offense and defense and dominated on special teams, showcasing its athleticism, discipline, and tenacity.  The final score was 43-0 and it was not really that close.
Truckee's next game was against state powerhouse Boulder City.  Because Truckee had lost the division, it had to make the long trip down to Las Vegas to play the Eagles, who came into the game undefeated and boasting gaudy, video-game like stats.  Boulder City had two state-leading rushers, Danny Cox and Shane Krumm.  Cox was also a state champion sprinter.  Krumm was a massive bruiser of a fullback who had rushed for over 1,300 yards and scored 25 touchdowns.  Boulder City boasted the state player of the year Scott Bahde, who played wide receiver and defensive back. The Eagles' line averaged around 250 pounds, which was huge for those days.  The Eagles' defense had given up 34 points the entire year.
On a hot and humid day down in Las Vegas, Truckee gave everything it had.  For the first 2 and half quarters, the Wolverines totally shut down the Eagles' previously invincible offense.  Though Truckee could not mount much offensively itself, it took advantage of a long field goal by Fertitta and a gutsy scamper by junior Jess Specht to take a 10-0 lead midway through the 3rd quarter.  Unfortunately, Boulder City could not be held in check, as it began working an end-around to Scott Bahde to perfection.  The end-around led to a Boulder City explosion of 21 unanswered points into the 4th quarter.  However, Truckee never gives up and the 91 team was no exception.  Scrapping its conventional offense and throwing caution to the wind, Truckee, led by Junior quarterback Josh Pegoda, answered back, cutting the lead to 21-16.  Truckee then forced the Eagles to punt from their own endzone, resulting in a safety when the snap went high.  However, this was a huge missed opportunity for the Wolverines.  Truckee almost always went with a punt rush call.  Trying to maximize the return, however, Truckee did not rush and consequently did not recover the ball in the endzone.
This missed chance was fatal.  Truckee instantly coughed the ball back up, fumbling on the ensuing free kick.  Boulder City pounded away and scored on a 20-yard Krumm run to make it 28-18.  Still Truckee refused to give up.  Jess Specht got a great kickoff return into Eagles' territory.  From there, Truckee marched down and scored, making it 28-25.  However, with time running down, Boulder City was able to obtain a first down on its next possession and run out the clock.   On the day, Truckee scored nearly as many points as Boulder City had given up all year.  Also, Truckee ended up outgaining Boulder City on the day.  But it was small consolation.  Boulder City went on to win State by beating Whittell in a close game the next week.
Conclusion
The 91 team was a good, if not great, Truckee squad.  It dominated for much of the season but was a bit too inexperienced and untested to come through against the league's best teams.  However, this team definitely upheld Truckee's great tradition of football excellence.  The season doesn't end after nine games in Truckee, never.
Game Scores
W        Truckee 15, Lowry 3
W        Truckee 33, Quincy 16
W        Truckee 41, Dayton 8
W        Truckee 59, Hawthorne 6
W        Truckee 43, ROP 0
W        Truckee 28, Manogue 8
W        Truckee 22, North Tahoe 14
L          Truckee 0, Whittell 13
W        Truckee 56, Incline 13
PLAYOFFS
W        Truckee 43, Independence 0
L          Truckee 25, Boulder City 28
Again, a great description by Sean on the 1991 football season.  Only six players made the All-League team which is kind of a slap in the face.  I remember Estabrook always complaining about end of the year honors.  He always felt like the coaches didn't give us the respect we deserved.  We have had the same issues in recent years.  Players on the 91 team who made first team All-Leage: Offense= Sean Thompson G, Troy DeVoe OT, Josh Ivens RB and Defense= Brian Mulloy DB, Dave Olbrantz DB, and Josh Ivens OLB.  Damien Fertitta was a first Team Punter.  All-State was similar: Offense first team All-State Sean Thompson G, Troy DeVoe T, Defense was Brian Mulloy DB, Dave
Olbrantz DB and Josh Ivens OLB.  I'd also like to take a moment here to honor two very good friends and teammates who died way too young.  Both Troy DeVoe and Jevon Hall were tragically killed in car accidents.  Not in the same incident.  Troy DeVoe was run off the road and killed back in Vermont on May 10, 2002.  He had established a good career and young family.  Troy will always be remembered to me as being a true soldier.  He loved our Country and always made that known which is why he served it.  He was a great friend and he is missed by many.  His Dad Brian, who took many of the photos on this site, still comes to just about every home football game.  Jevon Hall in 2006 was also tragically killed in a Car accident heading home from a concert in Reno in March of 2006.  Jevon had established his own painting company with his brother Terry called JT painting.  It was very successful.  He also was married and has a daughter who was very young at the time of his accident.  Jevon also has a son who is in his 20's now.  Both Jevon and Troy were great guys who were liked by all.  I am honored to have known them and to have grown up with them in the small Town of Truckee.  They are Wolverines and they will always be remembered.  RIP
A couple things that should be pointed out before you continue to read about other teams in the 1990's.  There were sophomores that made an immediate impact when they were brought up to the Varsity.  Art Lyon, Josh Pegoda, along with Fertitta were on Varsity from the start of the season.  Then Ronny Wood and Bill Lyon were brought up midyear and contributed immediately.  Then Ryan Smart and Brian Rosenow would later be brought up for the playoffs.  These seven players would dominate 2 years later and field one of the best Truckee teams ever in 1993.  I think the experience they had as sophomores at the Varsity level was huge by the time they were seniors.
1992: 10-1 (6-0 League) Western Division Champions & State Semifinalists
The 1992 team was no different from the previous three years. It was loaded with talent and coach Estabrook had another year of Varsity coaching experience under his belt.  Estabrook had put in a new passing game in 1991 and in 1992 it was starting to payoff.  the group of young sophomores that were brought up during the 91 season had also a year's experience and they were ready to to make a bigger impact.  Also brought up to Varsity from the JV to ad depth to an already loaded backfield was James Van-Brunt.  One of the biggest names in Truckee Football History is Brian Mulloy.  He is all over the record books and he was a 3 year starter at Free Safety.  He went on to play his college football at The United States Air Force Academy.  He is on the short list of players in our history to play division one football.  Brian was a senior during the 1992 football season.  This is his take on the 92 season:
The standard and expectation for Truckee Football had been set high.  No AA team had been more successful over the previous 3 years. For those of us on the 1992 Truckee Football team most of us watched the 1989 state championship game played in Surprise Stadium, and many of us played or practiced with varsity for the 1990 state championship game.  We understood that we had to win one game at a time, but we knew deep down that anything less than competing for a state championship would be to come up short of our goal.
We lost some great players to graduation, and our starting QB Josh Pegoda and RB Damien Fertitta were out due to injury.  Yet, we had a strong group of seniors and some great younger guys to make another strong Truckee squad.  The 92 season would start out with a tough test vs Lowry (ranked #4 in state) and later in the season the "big three" Manogue, North Tahoe, and Whittell.
Truckee 20 Lowry 14
This was a tough first game for a young, untested squad.  We had a lot of new faces on the team, but everyone stepped up and played the "Truckee brand of football." Our first time back to Lowry since winning state in 90' and a great match to see what type of team we would be.  It was a very physical and close game but we prevailed and it started our season off in the right direction.
Truckee 55 Quincy 0
Our first time back in Surprise Stadium since the end of the 91' season, and after the Lowry game we were ready to rock.  I remember bodies flying to the football – there was an energy present playing at home for the first time.  I distinctly remember early in the game while on defense we were called for a penalty that gave Quincy a first down.  Everyone in the huddle chuckled because it gave us three more downs to beat on those guys.
Truckee 43 Dayton 0
Truckee 32 Hawthorne 13
Truckee 54 ROP 0
Truckee 14 Manogue 0
Truckee 29 North Tahoe 12
This game had been building up all season.  Both teams were undefeated (6-0) and ranked #1 and #2 in the State AA.  As both teams were piling up wins this game was circled on everyone's calendar.  I have never seen more people at a Truckee football game.  It looked like everyone in the North Tahoe region had made it to this game.  The entire ridge around Surprise Stadium had people standing, and those looking for a place to sit had to make due on the sides of hills in the tall grass.  We actually trailed 12-8 midway through the third quarter, but with superior depth we bulled our way to three straight fourth-quarter scores.  It was a battle and we wore them down in the 4th quarter.  30 minutes after the game we still didn't want to leave the field.
Truckee 30 Whittell 7
This game had been on our minds for an entire year.  The loss in 91' in the "snow bowl" was Truckee's only league loss in the last 4 seasons.  It was homecoming and there was no way they were going to come into our house for a repeat of 91'.  Their offense was fairly simple.  Whittell would run a few variations of the same play over and over and try to wear you down – it wasn't happening. We stuffed them all day and their only score was the result of a pass down to the 1yd line.
Truckee 48 Incline 18
This was a fun game under the lights.  It was raining and the field was soaked.  I remember a pulling guard from Incline trying to block Clevenger, our middle backer.  I was coming up from the safety position and watched "Clev," with a full head of steam, explode into that guard and blast him back into the running back – he kept going and tackled the RB for a loss.
Truckee 35 Battle Mountain 6
Truckee 10 Moapa Valley 13
Moapa Valley had a good team. Obviously, it was not ideal for an early morning flight to Vegas and a drive out to Moapa on game day.  We played hard, but when we had the opportunities to take control of the game we didn't get it done.  Moapa made some plays when they had to and that turned out to be the difference.
In many ways the 1992 season paralleled the 1991 season.  We dominated throughout the year, yet the season ended because of a few poorly executed plays and coming up couple yards short.  We did not make it to the "dance," but represented Truckee well and were a couple plays away from playing in the state game against Lowry (A team we had already beaten).
 Defense
4 – Shut outs
64 pts allowed reg season – 9 games (83pts allowed 11 games)
 92 Senior Wolverines:
 Josh Clevenger            Bill Longley               Jess Specht                 Jason Van-Brunt
Brent Churchman        Rick Lopez                 David Selcon
Chuck Hodges             Isaac Mueller              Armando Ramirez                  
Dave Holmes              Brian Mulloy              Frank Villapondo
1993: 11-1 (6-0 League) Western Division & AA Nevada State Champions
I think the 1993 football season can be described in the following way, "It was a season for the ages."  Anyone who was around Truckee Football in the 90's knows this team.  They made a huge impact on the Truckee Football program and they are regarded as one of the best teams in Nevada AA history.  I'm sure Nevada folks might wrestle with that comment and I don't blame them.  This 1993 team was the whole package.  Number one, they were tenacious and very hungry.  This team had sniffed two playoff opportunities that ended in heartache two years in a row.  Many of the seniors were around to see Truckee win the Championship in 1990 and they had aspirations to win one for themselves.  After experiencing the pain of two close losses in the Semi-Finals, the 1993 team was not going to be denied a third time.  Secondly, along with the previous opportunities came very valuable experience.  These seniors were not just on the team as under class-man, they were huge participants the past two seasons and were impact players as sophomores.  Damien Fertitta was a huge contributor as a freshman kicking the field goal that won it all in 1990.  This team was not going to be denied.  Thirdly, this team was extremely deep and talented.  Many athletes come to mind the second I think about this team.  Ronnie Wood, Damien Ferttita, Chris Cooper, Trevor Rusinyak, Josh Pegoda, Brant Smith, Evan Hill, and on and on and on.  This is just the senior skill guys, I didn't even mention the underclassman this team had.  They were not going to be denied.  Forth point, this team was big.  Lineman such as Bryan Rosenow, Art Lyon, Kris Wicks, Ryan Smart, Matt Rippee, Tyler Wright, Brian Horn, Bill Lyon (TE) and I'm sure I'm missing guys but they were not going to be denied.  Fifth, a transfer from Southern California, Bret Bethke.  Bethke was a perfect fit at fullback in Estabrooks offense and Estabrook always featured that fullback.  They were not going to be denied.  Sixth, Coach Estabrook.  This was coach Estabrook's 5th and final season as head coach of Truckee.  After being in the State Game his first two seasons he had come up short for two season in a row leaving a very bitter taste in his mouth.  He had built this team for 3 years and knew this was the year.  The passing component of his offense was finally clicking.  You could tell in the offseason that Estabrook finally felt comfortable with the system that Bob Kuch brought in.  It was no longer just Waggles and Belly passes.  Estabrook was spreading things out a little and he had the athletes to do it.  The 1993 team didn't have a weakness any where.  Not on defense, not on offense, not on special teams, and certainly not on the coaching staff!  This team was NOT GOING TO BE DENIED!
"TCB 93" on the front of their spirit pack shirt and WAR on the back.  The front meaning "Taking Care of Business" and the back stood for "Weights, Attitude, Revenge!"  This was the offseason motto as the team was grinding in the weight room to prepare for another State Championship run.  On a long trip home from Overton in November of 1992 the Wolverines and their head coach took a vow that they would not lose next season and that they would take care business.  The TCB shirt was actually created on that trip home just hours after they lost.  Estabrook told his team, "we need to get more physical (weights), we need to get meaner (attitude), and get revenge."  In the preseason preview of the Wolverines Estabrook stated many times that it is not about making the playoffs, his last comment was, "We want to play in Las Vegas for the State Title on Astro Turf."  He also indicated that strengthening his preseason schedule was key to getting ready for league.  First on the list was Battle Mountain who came to Truckee to squash all the preseason hype.  The Longhorns were completely outmatched and outclassed as Truckee scored four TD's on their first seven plays of offense.  The defense limited the Longhorns to just 29 first half points and surrendered just 8 points.  The score was 39-0 at the half and the backups played the whole second have creating depth for the Wolverines.  It was big play after big play by all the big names. Ronnie Wood scored on a 68 yard run, Fertitta on a 37 yard pass play from Wood and a 69 yard run.  Jake Isler, a sophomore, had 2 carries for 77 yards.  The Wolverines called off the dogs pretty quickly and unfortunately the game was too easy heading into Reno the following week.
The Wolverines were pumped up to play against AAA Reno to see how we matched up.  Reno was a strong team and Truckee knew it would take a great game to beat them.  Truckee fought punch for punch in the first half giving up just 6 points.  But Truckee's only points came on a sack by Gary Port who knocked the ball out and Bill Lyon recovered it for Truckee's only TD of the game.  The Wolverines almost captured all of the momentum when right before the half Damien Fertitta took a fake punt and broke away on a long run but he was caught from behind just before the goal line as time expired.  Truckee was feeling pretty good at halftime having the score tied 6-6 but they also knew they needed to get the offense rolling.  But when the second half of play started it was all Reno and the Huskies ran away with the win.  Truckee turned the ball over 6 times and Estabrook said after the game, "It was the worst defeat I've ever suffered."  The Huskies exposed some of Truckee's weaknesses which Estabrook said usually doesn't take place until playoffs.  One of Estabrook's adjustments the following week was moving Ronnie Wood to Running back and making Chris Cooper the starting QB moving forward. This move was the most pivotal adjustment of the year.  It instantly made Truckee a more explosive team with Wood in the backfield and a pure passer like Cooper under center.  Let's face it, those who know Woody, he didn't like to give up the ball.  Running back was his spot.  That would now give Truckee 1, 2, 3 punch with Bethke, Wood, and Fertitta.  Cooper was a very good QB too and it gave Truckee many options.  Options Truckee lacked in the Reno loss.  That loss was Truckee's first regular season loss since the loss to Whittell in the Snow Bowl my senior year.  So, I guess it was ironic that in week 3 Truckee was opening league play at Whittell.
Week 3 at Whittell.  I hadn't personally been back to Whittell since we lost in 91.  I was a young coach on the 93′ team and was feeling some of that Revenge coming on.  But the game is played by the players and not the coaches and I couldn't expect the players to feel my pain.  However, they did, quite a few of the 93 players were on my team.  They got after Whittell from start to finish.  Though I was not playing, it sure felt good to watch this team do what my team couldn't and that's win at Whittell.  Week 3 was all about TCB!  It was Chris Cooper and Bethke's day.  Cooper threw for 125 yards and a TD and Bethke rushed for over 100 yards and a TD.  Of course Wood had a typical all around day with over 100 return yards, 2 interceptions, 81 yards on 4 touches of offense, and a TD.  Rusinyak stepped onto the scene and had 5 catches, 60 yards, and a TD to emerge as Coopers favorite target.  Truckee wins 36-7.
Next up was ROP.  ROP was always an athletic threat but usually minutes into the game would turn on each other and the game would unravel for them.  In 93′, Truckee being as strong as ever, ROP really didn't stand a chance.  But nobody told ROP that and certainly didn't tell their running back, David Scott, that.  Scott rushed 14 times for 195 yards and a 76 yard touchdown in the second quarter that brought the score to 14-6 at halftime.  Truckee was not rattled and came out in the second half and scored every time they got the ball in the third quarter rolling up the Raiders for a final score of 56-13.  Cooper threw for 3 TD's and 144 yards.  Bethke rushed for 77 yards and 2 TD's.  Fertitta rushed the ball just 8 times for 128 yards and 2 TD's.  The last TD of the game came from Keith Bergstrom on a 12 run.  David Scott would later run a kickoff back for a 92 yard TD but it was much too little and too late.  The Truckee offense had found its stride but the defense had its first scare as it struggled to slow down ROP's running game.  But that could be attributed to a very fast and athletic back that the Wolverines just didn't matchup well with.  The Wolverines were now 3-1 and would have to make the travel to Manogue to face off with the Minors who were also 3-1.
Week five would be Truckee's biggest test of the year, other than Reno, and the Wolverines were preparing as if it was the State Championship.  Manogue's only loss of the year also came against a AAA opponent.  The Catholic school from the South, Bishop Gorman.  Gorman was not the power house they are now but still an interesting matchup as Manogue headed to Vegas to battle it out with the other Catholic school in the State.  It was a close game but Manogue lost 19-20.  This Manogue team featured a balanced attack lead by QB Chris Szabo.  The Minor's leading back was Brandon Micone who rushed for 100 yards per game heading into the Truckee showdown.  This was also the year that the movie "The Program" came out with James Caan.  In the movie Latimer, a college football player, had painted up his face like a skeleton.  At the time it was a big deal and it was intemidating.  So, Micone thought he would try and intimidate Truckee in the same way by painting his face in the same fashion.  It would have no barring on the game as Truckee stepped up to the
challenge and pounded Manogue 42-12.  It was the most lopsided win Truckee ever had verses Manogue.  Unfortunately the game didn't live up to the hype as the Minors could not match the Wolverines intensity nor their execution.  Manogue did strike first on a drive capped off by a Szabo TD run.  But the Manogue lead would not last and the Wolverines ran away with the game with big play after big play by the team's biggest stars.  Truckee rolled up 324 rushing yards lead by number 44 Bret Bethke.  Fertitta also had a big game scoring 2 TD's and 74 yards rushing.  Brant Smith came to the party in week 5 scoring 2 TD's and 49 yards rushing.  Cooper went 10-13 for 115 yards and two TD's.  Ronnie Wood had another all around game and had established himself as the League's top dog intimidating opposing teams through fierce hits and explosive plays all over the field.  It was a great game for the offense.  The defense did bend at times but also put together a solid game holding Manogue's top rusher Brandon Micone to just 53 yards on 12 carries.  The painted face did not workout well for Micone in front of his Homecoming crowd and the Wolverines had the last laugh.  Estabrook gave credit to Manogue for playing with great heart but also stated they just didn't have the horses.  He would go on to say that he was surprised how well the his team played.  I think we were all surprised how easy it was to beat Manogue.  We might have been a little over confident heading into the next game with rival NT.
Next up "The Little Big Game" at North Tahoe.  This was the 19th matchup between the 2 schools.  Truckee leads 10 games to 9.  The Wolverines were looking to continue their win streak over NT to six games but it was gonna take a heck of an effort.  Both teams were undefeated heading into the matchup in 93.  North Tahoe had named their offense "Walker Ball" after their star senior who had been tearing through opposing defenses for 3 seasons.  Che Walker lead the Nevada AA as a junior with 1,530 yards and in his first 5 games as a senior had 980 yards and 15 TD's.  Truckee had a large task ahead of them if they were going to slow down Walker.  The plan going in was to some how control him.  Truckee knew they were going to feed him the ball time and time again but felt like they could slow him down.  Estabrook knew the best way to do that was to keep the ball on offense which was a hard task in the first half of the game. You could tell in the pre-game interviews that NT was sick of the Truckee hype.  NT is a proud program who had shared in a lot of success of their own.  They really felt that they had a team to challenge Truckee in 93 and they were right.  North Tahoe's head-coach Freeman said before the game, "Truckee may expect to roll over us, but we expect a dogfight and a chance at a victory."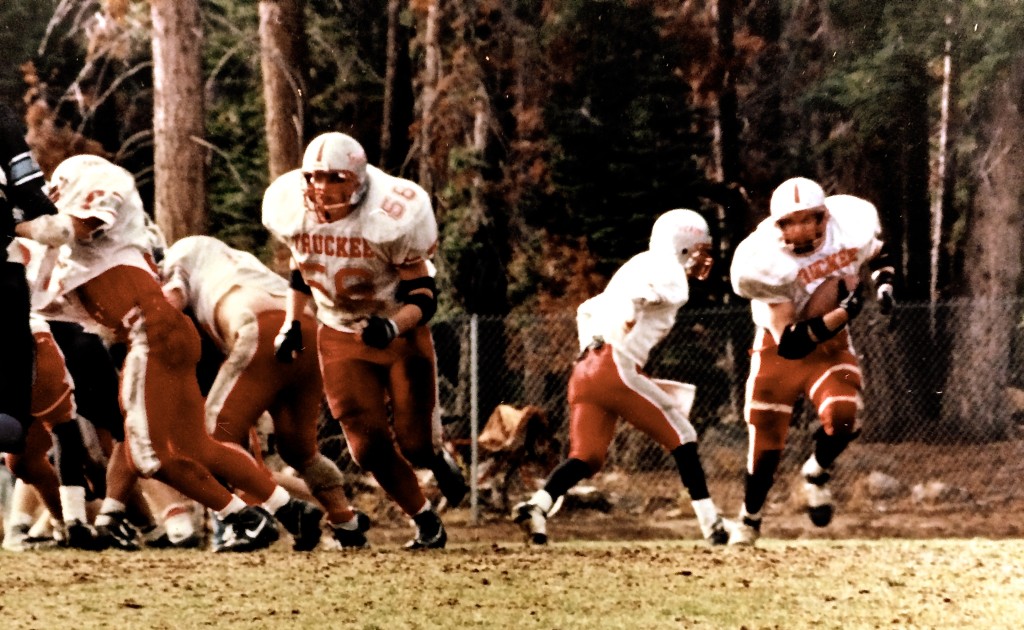 It was the tale of two halves for Truckee.  In the first half North Tahoe came out swinging, forcing Truckee into mistakes as the Wolverines turned the ball over early in the game.  The first turn over lead to points when Che Walker scored from a yard out to take a 6-0 lead.  Then the game was back and forth a bit with neither team able to score.  Late in the second quarter North Tahoe put a drive together that was capped off by a touchdown pass from Knodel to Lund with just 3 seconds left on the clock.  The Lakers were riding the momentum into the Locker room up 12-0.  At halftime coach Estabrook met with his coaches briefly and then made his adjustments with the O-Line.  Then just before heading back out to play Estabrook addressed his team.  Coach Estabrook was never a raw raw type of coach.  He is more about preparation and execution.  But every now and then a coach has to show emotion and fire up their troops.  Estabrook basically called out his team and said, "This is your game!!!, either go out and win it or go out and lose it!!!"  It was not profound but it got the point across.  More than that you could tell how frustrated Coach was and the players respected him.
It was a completely different team in the second half.  On Truckee's first play from scrimmage the transfer from Southern California, Bret Bethke, took the handoff and rambled 68 yards for the score.  That would be all Truckee needed to spark the comeback.  Truckee would then force NT to punt and drive right down the field.   Ronnie Wood ran it in from a yard out and just like that Truckee was in the lead 14-12 with 6:08 still left in the 3rd quarter.  North Tahoe hung in there and answered right back with another Brad Lund TD reception.  But Truckee had figured NT out and the Lakers were now feeling their lack of depth.  The Wolverines were just too strong.  Bethke scored his second TD of the game and the score was tied 20-20 going into the 4th quarter.  The 4th quarter belonged to the Truckee defense and Bret Bethke who would score two more times after interceptions by Josh Pegoda and Evan Hill. Then Ronnie Wood put an exclamation point on the Truckee win when he broke away on a 10 yard run.  He could have easily ran to the corner of the end zone untouched, but instead Ronnie cut the ball back into the middle
and put the crosshairs right on number 25 for North Tahoe.  Wood ran right at Brad Lund and bulldozed him and the football into the end zone for Truckee's final score.  Ronnie finished the day 103 yards rushing and 2 TD's.  The Wolverines scored 42  second half points to roll to yet another Little Big Game victory 42-20.  The Wolverines were held to just 30 rushing yards in the first half and Bethke only had 8 yards.  Bethke who transferred from Canyon High School was an offensive guard before getting to Truckee.  He lit up the Lakers for 170 yards and 4 TD's in the second half.  Bethke said after the game, "Now I really feel part of the team.  I didn't know what the rivalry would be about and we weren't that pumped.  At halftime Coach told us to start playing Truckee Football."  And that's what the Wolverines did.  Truckee rushed for 321 yards in the second half of the game.  The Truckee defense held Walker to 132 yards and 1 TD.  He had been averaging 200 yards and 3 TD's a game.  Though Truckee had a great comeback this game was a bit of a wake up call for Truckee.  North Tahoe was a pretty good team and the Wolverines did not match their intensity from the start of the game.  From this point forward the 93′ team did not have any letdowns and they would go on a run of games that is unparalleled.
With the win over NT Truckee had clinched the Western Division for the 4th time in 5 years.  They were guaranteed home field advantage throughout the playoffs. At this point Truckee just wanted to keep things rolling and peak heading into the playoffs.  They would do just that outscoring their next 3 opponents 188-21.  After the NT game Truckee smashed a very outmatched Dayton Dust Devil team tying a school record with a 69-0 win.  Ten different Wolverines would score and the Wolverines would score in every fashion that you can.  Cooper threw 3 TD passes.  Brant Smith had a 78 yard kickoff return to start the game.  Rick Smerdon intercepted a pass for a TD.  Art Lyon scooped up a fumble and rambled into the end zone earning himself free breakfast at the Wagon Train for a year.  Multiple players touched the football and everyone got to play.  The game was basically over after the first quarter as Truckee went up 35-0 and never looked back.  Dayton never threatened to score and the backups were in most of the game.  There were many highlights for Truckee in this game but the one that stands out the most is the hit Ryan Smart put on one of the Devils.  Evan Hill had intercepted a pass and
was trying to get to the sideline.  As he was just about ready to be tackled…BAM…Lights Out!  Smart put a blind side hit on a player trying to tackle Hill.  The kid was shook up but ended up being ok.  The next week Truckee would play a much better team in Hawthorne.  They were a team that could pass and had a pretty good receiver in Rick Townsend.  But Truckee would make the travel to Hawthorne and flex their muscle and take down the Serpents 58-7.  Ronnie Wood absolutely put the fear of God into the Serpents receiving core.  They ran a slant early in the game and Wood let Hawthorne know right away that coming into his zone was not a good idea. The Serpents would not learn their lesson and the play was called a few times and every time it was the same result.  I actually felt sorry for the Hawthorne receivers.  The last time they ran a slant the receiver never even looked at the ball.  he
was watching Ronnie the whole time and just gave up on the play.  James Ferrell of Hawthorne did catch 8 receptions for 133 yards and a TD but the night belonged to the Wolverines who rolled up 521 yards. Cooper threw for 148 yards and 2 TD's, Ronnie Wood picked off a pass for a TD, and it was the same ol group of running backs scoring rushing TD's with Fertitta, Smith, Wood, and Bethke.  Vickers got in on the scoring this week too.  Next on the schedule was Incline as Truckee would get ready for the playoffs.  Incline had a pretty good running back Victor Medina and a decent QB in Tim Kelly.  But they were no match for Truckee as the Wolverines rolled up the Highlanders 61-14.  This day belonged to Ronnie Wood as he collected 288 all purpose yards and scored 4 TD's.  One of those TD's was a school record 99 yard Kickoff return for a TD.  Fertitta rushed for 148 yards and 3 TD's.  Cooper passed Truckee's all time passing leader Jose Cruz throwing for 175 yards and 2 TD's.  It was a record breaking day for the Truckee team and players but more importantly Truckee executed and was ready to go for their playoff run.  They completely devastated their last 3 opponents of the regular season.
Now the Wolverines would have to face the Fernley Vaqueros a team they had not played since the fight broke out in 1988.  But that had passed and these players were not involved in that.  Fernley had a power running game and a decent passer.  They had a defense that only gave up 72 points on the season.  The Wolverines were expecting a battle but they knew if they played like they were capable of, there wasn't a team that could beat them.  The Wolverines came out and jumped on the Vaqueros scoring 29 first quarter points.  It was another big game for Fertitta who carried the ball just 4 times but had 3 TD's and 142 yards rushing.  Cooper threw 3 TD's and 2 of those TD's to his favorite target Trevor Rusinyak who also had 74 yards receiving.  The Wolverine offense rolled up another 441 yards and shut down the Vaquero's power run game.  Fernley's coach Dave Hart said after the game that "Truckee is the team to beat in the playoffs"  Truckee now prepare for payback as Moapa makes the travel to Truckee for the first time in their history.  In other news, North Tahoe traveled South to face off with the South's number one team, Pahrump.  In a upset the Lakers took down Pahrump 41-7 and will now host Virgin Valley for a shot to face the Wolverines in Las Vegas.
Truckee had been stewing on the painful loss just a year ago in a 10-13 battle with Moapa.  Nobody was more hungry to avenge that loss than Damien Fertitta who missed the tying field goal in the last minute of that game.  Estabrook in the pre-game interview stated that "this game is everything to us.  After last year, there will be no trouble in getting the kids emotionally up and keeping them focused.  Look for a very emotional game."  That translates to a locker room full of Wolverines that have been waiting for the moment to play Moapa.  They had done everything they needed to to get to this point and they were not going to be denied.  Just like their shirt said "Taking Care of Business".  That is exactly what the Wolverines did to this point and now it was just about taking down the Pirates and getting to that Turf.  Moapa came into the game a number 2 seed but was the best team from the South.  They had an offense that was better than the year before and they were expecting to give Truckee a game.  Truckee was expecting some what of fight but there was no way the Pirates were going to sink Truckee's ship for a second straight year.
WAR…Weights, Attitude…Meaner, Revenge!  Truckee hit the weight room hard in the offseason to prepare.  After the North Tahoe wakeup call the Wolverines got mean and nasty which was the attitude Estabrook was looking for.  Now it was time for Revenge.  Nobody was more amped up than Damien Fertitta who missed the kick that prevented Truckee from tying the game just a year before.  Damien was a big, fast, and physical running back.  He played every game with everything he had and always ran as hard as he could.  But every now and then when a player is special they can raise their game up just a little bit higher in big moments.  That was Fertitta, on November 13th 1993, at Surprise Stadium.  There was just something different about him that day.  It was as if he was going to score every time he touched the ball and he almost did.  Damien opened up the game with the first score on a 23 yard run.  After a Cooper to Wood TD pass the Pirates actually got on the board and made it 14-7.  Just what Moapa needed to get back in the game but Fertitta and the Wolverines were not to be denied.  Fertitta scored two more TD's in the first half to give Truckee a 28-7 lead.  To start the second half Moapa got the ball first but Truckee's defensive end Nate Norton sacked Moapa's QB, Ryan Waite, and Brant Smith recovered it.  It was Bethke's turn to score and he plunged in from a yard out.  Midway through the third quarter Fertitta would strike
again scoring his 4th TD of the game to make the score 42-7.  With the game out of hand Moapa would put a drive together for a TD and then Cooper threw just his 3 interception of the year.  This interception went all the way for a Moapa score to make it 42-20.  But Truckee came right back to finish off the Pirates with a 7 yard run by Wood and Fertitta's 5th TD of the game.  There are four players in Truckee history to score 5 TD's in a game: Rick Neptune, Dustin Pugh, James Van-Brunt, and Damien Fertitta.  Fertitta killed Moapa with 8 carries for 178 yards and 5 TD's.  He also made every point after try to prove my first point, that he almost scored every time he touched the ball.  Truckee had 516 yards rushing which sits 3rd all time.  Lost in the shadow of Fertitta was Bret Bethke who some how had a quite day at the office rushing for 241 yards on 24 carries.  It was a heck of a day for Truckee Football as they were headed to Vegas to play on Turf.
Just across town Che Walker was having a pretty good day of his own as he rushed for 292 yards and 2 TD's to help lead the Lakers past Virgin Valley 28-27.  North Tahoe's QB was knocked out of the game and was replaced with Sean McNally who rallied the Lakers throwing for 112 yards and a TD.  The Laker win set up one of the strangest and most interesting scenarios in Nevada Prep Sports history.  The strange part was that two teams that lived within 18 miles of each other would have to travel 450 miles south to play for a Nevada State Championship.  The interesting part is that both teams are from California. Has there ever been another time in our country's history that two high school sports squared off in a State Championship that neither school was located in?  That has to be a first.  It cost the Tahoe Truckee Unified School District over 10,000 dollars to send both teams to Vegas.  Very odd but both teams and schools were happy to do it.  It was a chance of a lifetime for two small schools (once upon a time one school) from the Sierra Nevada's to travel to Las Vegas and play in a large stadium like that.  And to have the "Little Big Game" played on a stage like that was just an awesome moment for both programs and a week full of memories.  As for the game and the matchup North Tahoe would appear to be at a disadvantage without their starting QB who they lost for the season in the playoff game vs Virgin Valley with a broken collarbone.  However, North Tahoe didn't see it that way and after all they were all about "Walker Ball."  So, the game was more about who's defense would do the best job slowing down each other's weapons.  The two schools would face off for the first time ever in the playoffs and the Stage was set.  Truckee vs North Tahoe on November 19th 1993 under the lights of the Silver bowl in Las Vegas!  The 20 year rivals were set to settle yet another score but this one would come at a much larger price.  This game was not just about pride, it was for Nevada's State Championship Trophy.
The strategy started at the coin toss as North Tahoe won the toss and elected to defer.  A risky move considering the Wolverines were the strongest offensive team in the State.  The strategy had appeared to work as the Wolverines first drive stalled out at the Laker 21 yard line.  But disaster struck early for the Lakers when Kris Vickers of Truckee read the toss play and immediately  swarmed the play.  When the toss was a little high, Walker had to reach for it and Vickers lit into Che and the ball spilled on the Turf.  Ronnie Wood was there to scoop up the loose ball and Truckee was in business.  The turn over lead to a Bret Bethke one yard run and a 7-0 lead.  Two possessions later the Lakers would turn it over again when McNally was intercepted in the flats by Kris Vickers.  On the very next play Cooper dropped back to pass and hit a leaping
Ronnie Wood in the end zone and the route appeared to be on as the Wolverines went up 14-0.  But North Tahoe was no slouch and they put a drive together behind their stud Che Walker and sophomore Felipe Lopez.  The 12 play 78 yard drive was capped off by a 7 yd Lopez run and the score was 14-7 at halftime.  With North Tahoe deferring the coin toss it would assure that they would get the ball first in the second half.  On the Lakers first drive they stalled and were forced to punt but Truckee roughed the kicker to keep the Laker drive alive.  The Lakers drove down to the Wolverine 22 yard line before a big 4th down call.  North Tahoe appeared to be attempting a field goal.  But the Lakers had other ideas and they went for the fake field goal.  The Wolverines sniffed it out and the Lakers turned it over coming up empty.  Truckee then drove the ball down the field chewing up clock in the process.  A nine play, 78 yard drive was capped off by another Bethke TD and the Wolverines lead 21-7 going into the 4th quarter.  Into the 4th quarter North Tahoe cut into the Truckee lead when McNally put a drive together that was capped off by a 17 yard TD reception by Brad Lund.  For some reason North Tahoe went for a 2pt conversion and came up empty and Truckee lead 21-13 with less than 3 minutes on the clock.  Then the play of the games took place.  North Tahoe lined up for the onside
kick and Truckee put out their hands team.  The Lakers kicked the ball into the turf and the ball took a fortuitous bounce right into Damien Fertitta's hands.  Fertitta got a nice read on the ball and broke on it in full stride moving the opposite direction the ball was traveling and went 50 yards untouched for the TD and the proverbial "nail in the coffin."  Truckee won its 3rd State Championship by a final score of 28-13 to give Truckee its 7th straight win over NT.  It was a tough fought battle by both proud programs.  There was a mutual respect for one another by both the players and coaching staffs regardless of the rivalry.  Ronnie Wood was a workhorse in this game making defensive plays all over the field and rushing for a game high 134 yards.  Bethke turned in another 100 yard game and a 2 TD performance.  Truckee's passsing game was nonexistent other than the TD pass from Cooper to Wood but it would not be needed as the Wolverines racked up 283 yards and 3 TD's on the ground.  Walker who had over 2,100 yards on the year could muster just 121 yards on 20 carries and was held out of the end zone.  The Lakers did move the ball well throughout the game but ultimately the two turnovers early in the game made the difference. It was quite a night in Las Vegas and all of the hard work had paid off for the 93′ Wolverines.
Shortly after the State Game the All-Leauge team came out and to everyone's surprise not one Wolverine was honored on the All League team.  Coach Estabrook had decided not to participate in the selection process.  He spoke to the team before the meeting and they collectively decided to boycott the process due to political issues in the selection process.  Basically coach Estabrook was sick of having to politic so much to get Truckee kids what they deserve. After 4 years of frustrations he decided to make a point stating, "We had one goal in mind this season and that was to win State.  The political atmosphere surrounding the all-league selections was not part of our team goal.  The coaches around the league are not out to select a real all-star team, they are trying to get as many kids from their school on the team regardless of ability and that makes the selection process a joke.  All-League selections have no meaning to our team.  Our goal was directed at winning.  We had bigger goals this year and that way we could honor all our kids on the team.  The State Trophy is our All-League."  Wow, a major statement by the coach.  In the early 90's the All-League process was selected by the coaches and it still is today.  But the All-State selections were selected by the media and by those who did not have an agenda.  So, it was more of a true All-State team.  Now days All-State selections are directly related to All-League and and it is 4 coaches who select the teams.  It is not a perfect system but the coaches have done a pretty good job all things considered.  But the process is some what political because you are usually dealing with All-League constraints that in my opinion skew the process.  But in 1993 it was still the media that selected All-State.  So, while the Wolverines did not land one football player on All-League, they were littered all over the All-State team.  This was much more of an honor as Coach Estabrook was rewarded the Coach of the Year of the State and 15 of his players were represented in All-State selections 11 of which were first team.  The following players were selected to the first team All-State team:  Brian Horn (OL), Kris Wicks (OL), Matt Monroe (OL), Art Lyon (OL), Damien Fertitta (RB&Kicker), and Bret Bethke (RB); Defense: Nate Norton (DL), Bryan Rosenow (DL), Ryan Smart (LB), Matt Rippee (LB), Ronnie Wood (FS).  Second Team: Chris Cooper (QB), Trevor Rusinyak (WR), Even Hill (DB), and Josh Pegoda (DB).  All second team selections could have easily been first team selections too.
There have been some great teams to come through Truckee but it can be argued that the 1993 team is the best Truckee team ever.  Coach Estabrook stated a couple times without hesitation that this team was the best team he has coached.  These were Coach Estabrook's remarks after the Championship win, "This is the most satisfying win and season I've had at Truckee.  Our goal from the start of the season was to get to the State Championship game and this team just didn't believe they were going to get beat.  We had to be stronger and meaner than last year and the players on this team did whatever I asked them to do.  This was a very committed team- a brotherhood.  And what a ride it was!"  It was quite a ride and I am honored that I got to be a part of it.  I was a young position coach on this team as an outside linebacker coach and shared the wide receivers with coach Kuch.  It was a great year to start my coaching career.  Being a part of a staff that had been together for 5 years and had really jelled at this point.  I learned a lot about the game and ultimately it was the coaching experience I had in 1993 that motivated me to get my teaching credential and pursue coaching as part of my career.  I can't thank coach Eastabrook enough for offering me a position and taking me under his wing as a young man who was just 20 years old at the time.  Unfortunately, on Sunday December 12th at Truckee's Award Banquet the 54 year old Estabrook stepped down as Truckee's head coach to pursue a business opportunity in Arizona.  It was a bit surprising given the amount of success he had and how rooted into the Truckee community he was.  But he felt he had an opportunity that he couldn't pass up and moved on.  Estabrook was far and away Truckee's most successful coach and is responsible for taking Truckee's football program to the next level or 2-3 levels from where it was.  In his five years as head coach, Estabrook posted a 50-7 record, winning 88% of his games, 5 playoffs appearances, 4 League Titles, 3 State Championship Appearances, and 2 State Titles.  Estabrook only lost one game at Surprise Stadium.  Unfortunately it was a State Championship game.  When asked if he'd coach again he said, "My wife says I will coach again.  I don't think I'll have an opportunity like I had at Truckee.  But not coaching hasn't sunk in yet, it will come February or March when I should be in the weight room with the kids.  I will miss it but I have needs outside of football."  Well, coach Estabrook didn't stay out of coaching long.  In fact Estabrook was roped into helping coach a JV team at Chaparral High School in Scottsdale Arizona in the fall of 1994. Chaparral is a 4A school with a student body up over 2,000 students. In 1995 Estatbrook took over the head coaching job after the team went 0-10.  In his first year as head coach Chaparral went 6-5 and made the playoffs for the first time in 10 years.  Estabrook coached at Chaparral from 1995 to 2006.  His record was 124-28 and he won 3 State Championships.  Multiple players went to division I schools out of his program.  He is recognized as the coach that resurrected Chaparral's program and had a major influence on upgrading the school's facilities.  Estabrook knows the X's and O's of football which makes him great but it is his ability to establish and uphold a program that's sets him apart.  It is an honor to have played for him and certainly an honor to have coached with him.  He is a Arizona football deity but more importantly he is a Truckee Football Legend!
 1994: 10-2 (6-0 League) Western Division & AA Nevada State Runners-Up
With Coach Estabrook flying south it was officially the end of an era and Truckee's administration waisted no time in the search for their next football coach.  There were plenty of mixed emotions around town and I remember being pretty bummed that coach was moving on.  Brian Smart, who had coached Estabrook's offensive line for many years was the next to step down.  Bob Kuch went next and it felt like our whole coaching staff would not be coming back in 1994 which was disappointing for me as a new coach.  The questions starting swirling about who was going to replace Estabrook and what offense would that coach run?  Everyone wanted the Wing-T to stay intact.  Truckee had been running the Wing-T dating back to the 1984 football season when Mark Cunningham brought it in after he replaced Coach Broliar. So, would the Truckee administration bring in a Wing-T guy????  Nope
After Estabrook stepped down he told the Truckee administration that their next head coach was already on staff.  Some thought that he meant Gary Collins who had been part of Truckee Football since the early 80's.  Coach Collins had established himself as one of the best defensive coordinators in the Nevada AA and it would clearly be his turn to take over as the head coach.  But Coach Collins really didn't want to be a head coach.  He enjoyed his role as a defensive coordinator and he also had a young family and did not want to take on the many extra hours of being a head coach.  Estabrook was actually talking about Bob Shaffer.  Shaffer was on the JV staff, as I mentioned in the 93 writeup, and Estabrook felt that he was indeed Truckee's next coach.  It would make the most sense as Shaffer was also a Wing-T guy and he was also a very seasoned High School Coach back in Ohio.  But unfortunately that is not the direction Truckee went.  Instead, Truckee hired a buddy of the Superintendent and went a completely different direction.  On comes the Jim MacCallister era as he became Truckee's 17th coach.  A Power I offense and an Odd front defense, neither of which Truckee had run in the past.  In MacCallister's first address to his new team and their parents he basically called out Estabrook and Truckee's Wing-T offense saying that it was below standard and stated that things were gonna change around here.  As you can imagine that made some parents upset.  After all Estabrook had only lost 7 games in 5 years, took Truckee to 3 State Titles, and won 2.  He also won 4 League Titles in the 5 years he was head coach.  Taking a shot at Truckee's most successful coach in their history was not the best PR move.  I think McCallister just got off on the wrong foot right off the "Get Go."  But that's coach Mac for you, he never was afraid to voice his opinion.  In the process of offending some of his players, their family's, he also offended Estabrook's coaching staff.  At that point many of the Estabrook Era coaches decided not to coach.  Coach Collins being the biggest loss of all.  Coach Collins was my coach and mentor.  He really took me under his wing during my first year of coaching and I didn't feel comfortable coaching if he wasn't on the new staff.  So, I too decided to walk. At one point Coach Mac tracked me down at my job. I worked for my parents business, Chem-Dry of Lake Tahoe, and Mac popped his head into the front door of the Truckee Precision, a sheet metal company, where I was cleaning carpets. He asked me if I wanted to coach.  I politely told him not this year.  I have to say it got me jacked up that he asked me and deep down inside I wanted to coach badly.  Ultimately his comments about Estabrook, in my mind, were ridiculous and I just felt like I couldn't coach on his staff because of it. I wasn't the only one. What most don't know is that coach Shaffer had also decided not to coach after Mac was hired.  Somewhere along the line coach Shaffer decided to come aboard Mac's staff and thank god he did.  Shaffer was also hired onto the Truckee High School teaching staff in 1994.  A key maneuver that would alter Truckee Football History!
Regardless of the politics and coaching issues prior to the season, Truckee was going to field a team in the fall of 1994.  After all, "this is a players game" and the 1994 team was loaded with players with some of the biggest names in Truckee history.  The 1994 team also featured one of Truckee's biggest offensive lines.  Not to mention a talented back by the name of James Van Brunt who ran wild in coach Mac offensive.  This is Bob Shaffer Jr.'s account of the 1994 season.  Bob was a junior on the 94 team and he gives us an inside view of one of the greatest teams in Truckee history.
Bob Shaffer Jr.'s account of the 1994 football season:
With Ron Estabrook leaving in December of 1993 a California-wide coaching search began. By the end of January 1994 and interviewing 20 applicants; Truckee had hired it's new head coach.   Jim McCallister or as we referred to him as "Coach Mac". Jim was a former assistant coach at Cal State Fullerton and Utah State University. He also had over 20 years of High school football coaching experience. Seven of which was at Brea-Olinda High School where he compiled a 48-16-2 record.  Bringing his highly competitive and passionate flair, Mac would lead the highly talented 1994 Truckee Wolverines. The thing about Coach Mac is you either loved him or hated him, there was no grey area. He was a players coach and wore his heart on his shoulder. He wouldn't sugar-coat things for you, which I'd assume is a trait a coach would need to have in the college ranks. Mac also was an "eye test" guy. Meaning if you didn't look the part you weren't gonna play much. Which was too bad because guys like Ryan Little, Ryan Weiler, Josh Simpson, Aaron Sanchez, and Julio Martinez were great players wasted on the bench and special teams. Their talent was evident by their contributions the following season. He definitely brought the college atmosphere with uniforms, meals, pre-game gear, and a sense of swagger. He even had college scouts and coaches at practices and games. McAllister definitely had the resume but dealing with college players versus high school kids is completely different.
Once hired, Jim accepted the challenge and his first duty as head coach was to put together a quality coaching staff. Jim would start with long time friend and coach Bob Justice, who would coach Quarterbacks and linebackers. Craig Anderson was also hired to coach offensive and defensive lines along with legend Dennis Decoite. The last coach to join Mac's staff was also one who interviewed for the head coaching job, Bob Shaffer. Coach Shaffer would coach receivers and defensive backs.
With his staff intact Coach Mac would move to phase two: evaluate his team. A typical Wolverine team had no problem in getting kids to come out to play. Not so much this year as this team would be made up of 31 players. A lot of kids were turned off by Mac's nature and some were upset that Estabrook had left. Lucky for Mac, what he was inheriting was an extremely talented group and thats probably an understatement. One of the strengths of this team was its size in the trenches. The offensive line was led by 3 year starter Kris Wicks (6-4, 260) at tackle, junior Tyler Wright (6-3, 240) at guard, junior Eric Wicks (6-2, 240) at center, junior Bob Shaffer Jr. (6-1,175) at guard, senior Brian Stewart (6-0, 220), and at tight end senior(s) Chris Watkins (6-1,225) and Marc Monroe (6-2,215). That's an average of 225 pounds for our o-line and thats with me at 175lbs at guard. Senior Matt Rippee (5-10, 250) would switch in at times at guard bumping that average up to well over 230. Sophomore Ryan Demont would get the nod at wide receiver and senior Bryan Jamieson would play the Z-back. Senior Rene Lopez who brought speed and power was our fullback. At tailback Truckee would welcome back senior James Van-Brunt (6-0, 180). Van-Brunt brought speed unlike any other in Nevada. He was a legit 4.4 forty guy if not faster. We use to joke he would only run as fast as he needed to. James made it look easy and as if everyone else was standing still. Coach Mac had one hell of a lineup for his offense and just needed a Quarterback; enter Junior Nik Fertitta. Nik, as a sophomore was a fourth string tight end and our place-kick holder on the JV team. Sounds like a perfect recipe for a starting varsity quarterback? What Nik lacked in experience he made up for in great work ethic and was more athletic than he gave himself credit for. Nik had a cannon for an arm and never seemed to get rattled.
On defense we ran a 3-5 system. The line consisted of both Wicks brothers, and a scrappy relentless senior nose guard in Travis Hoag. The Linebackers were led by senior Josh Robinson, Tyler Wright, Bob Shaffer Jr. and big Matt Rippee to clog the middle. Corners were a rotation of juniors Sean Stanton and Steven Kromer along with Seniors Ryan Alley and Keith Bergstrom. The safeties were led by returning starter Kris Vickers and Bryan Jamieson. As you can see there were a lot of players going both ways and some never came off the field, but we had to with only 31 guys on the roster. We were well conditioned and ready to play but learning a whole new playbook and terminology of the Power-I and Pro Set offense would be the hardest adjustment. Especially since we were fed the Wing-T since pop-warner.
1994 season Begins:
TRUCKEE 20  BATTLE MOUNTAIN 12
The reigning AA Nevada State Champ's first have to defend their title by traveling 300 miles to face defending Central Division champion Longhorns of Battle Mountain under the lights.  Between the long bus ride and a whole new offense and defense one would suspect a slow start. This was definitely the case as we would account for over 100 yards in penalties and five fumbles. The penalties were huge as many were touchdowns called back and obviously turning the ball over doesn't help either.  With Truckee only returning one starter on offense this was bound to happen. Truckee's first score was a punt block by Bob Shaffer Jr. and Steven Kromer scooped it up for the score. James Van-Brunt would score from one yard out for the next score after a long run. Junior Nik Fertitta would hit Bryan Jamieson on a beautiful fade pass for 41-yards for Truckee's final touchdown. The defense played great thanks to the likes of Travis Hoag's 14 tackles from the nose guard position, which is unheard of. Josh Robinson and Matt Rippee accounted for 10 tackles a piece. Junior Eric Wicks suffered a concussion in the first half  but played the entire game and afterward he had to go to the hospital. Back then there was no concussion protocol, you just played through it. Battle Mountain was a very physical team but Truckee would squeak out a 20-12 victory for their 11th straight victory.
RENO 56 TRUCKEE 28
Truckee would head back home and it wouldn't get any easier as we would face AAA powerhouse Reno High Huskies. We had a big team but Reno was not only bigger but had depth. Reno would make their statement early and often as they would score on every possession in the first quarter. Erin Audrain would score twice in the quarter and would amass 195 yards on the ground for the game. Down 21-0 and four straight punts with a fumble Truckee would get going. Josh Robinson blitzed the quarterback Ben Howe and lit him up on a big hit causing a fumble that was recovered by Shaffer. Six plays later after big runs by Rene Lopez and two passes from Fertitta to Ryan Demont, Van-Brunt would punch it in.
A two point- conversion from Fertitta to Demont cut the lead to 21-8. The defense would hold again and Lopez had a big scamper to the one and Van-Brunt would score the next play and it was now 21-14 Reno. Bryan Jamieson would intercept Rowe to end the half and give Truckee the momentum. Reno however would just reload in the second half and ran it down our throats. It seemed like they had endless waves of 6-3 230 pound lineman rotating and the fact that half of our team went both ways was becoming a factor. Truckee would keep it close when Fertitta hit Van-Brunt on a swing pass for a 31 yard score making it 28-20. Then enter Johnno Lazetich, the Huskies 235lb full back who could run and run he did with a 38-yard romp for a score that broke the game open. With Reno accounting for 319 yards on the ground they would snap Truckee's 11 straight win and their 21 home game winning streaks. Our weakness was our depth and if we got into a physical long game with penalties and turnovers we were vulnerable.
WHITTELL 14 TRUCKEE 55
Up next was the last team to beat Truckee in a league game and that was the Warriors of Whittell. The infamous Snow Bowl, where Truckee lost 13-0 in Whittell was the last league loss in 1991. Since then the Wolverines had rattled off 13 straight league wins. In other words Truckee is not a big fan of Whittell and destroyed them in their last two meetings. To say Whittell got destroyed in the '94 season match up would be an understatement, pummeled would be more accurate. It's hard enough to beat the Wolverines in Truckee, but after a loss: Impossible.  The Warriors were over matched in every aspect and the entire state of Nevada would learn of James Van Brunt. James would rush for 240 yards and four touchdowns.
Senior Kris Vickers would pick off Whittell's QB on the first series to set the tone and Truckee would score three touchdowns in four minutes on seven offensive plays. Truckee would go up 34-0 just minutes into the second quarter. Van-Brunt would score on dashes of 4, 38, 63, and 3 yards. On the 63-yard run James was heading for the sideline and as he turned up field the cornerback thought he could catch James. He looked over his shoulder laughed and gave a road runner "Meep-Meep!" and was gone. James had 164 yds rushing at the half with three scores. Fertitta hit Demont on a 72-yard bomb for a score and Rene Lopez had a hard fought run for another six. The defense dominated the under sized Warriors front. Led by Vickers, Wicks, Wright, and Hoag, they had nowhere to go.
Josh Robinson had a 65 yard scoop and score along with a ton of bone jarring tackles. Shaffer had another fumble recovery off of a Kris Wicks hit and Sean Stanton had another interception. The defense only allowed three first downs in the half to Whittell. Through three games Van-Brunt was up to 413 yards rushing and this was only the beginning.
TRUCKEE 43  ROP 6
At 2-1 Truckee would travel to play the 3-0 ROP Raiders in the middle of nowhere. ROP was a corrections facility for troubled youth in the middle of the desert. ROP always had great athletes and amazing team speed. They just never could play as a team but that was understandable as kids were shuffled in and out of their programs. It was a hot game and James Van-Brunt wasn't cooling down either as he would run for 227 yards and four TD's giving him 640 yards rushing and 13 touchdowns through four games. Van-Brunt speed helped but his offensive line led by three year starter Kris Wicks, senior Brian Stewart and Juniors Tyler Wright, Eric Wicks, and Bob Shaffer Jr. were not only athletic and strong but very smart. James was always humble even though he was lighting up the stat sheet and thanking his linemen.
The O-line along with Rene Lopez lead blocking for James would account for 332 yards on the ground and 43 unanswered points. The Defense was just as impressive with seven takeaways (6 INT's and a fumble recovery). Jamieson had two picks and Kromer, Vickers, Stanton, and Rippee had one.  Linebackers Shaffer Jr. (13 tackles- 3 sacks), Wright (9 tackles – 2 sacks) and Robinson (11 tackles) harassed the Raiders all day thanks to the D-line taking up space.
MANOGUE 6  TRUCKEE 40
This game was closer than the score indicated as it was 14-6 at the half but to begin the second half junior Tyler Wright recovered a fumble on the kickoff. It was all down hill for the Miners after that. The two-first half scores were by guess who? Yup, James Van-Brunt on bursts of 75 and 53 which gave him 164 yards in the first half. He would total 192 for the game on 17 carries and 3 total scores giving him 16 on the year. The Defense was dominant for its third straight week giving up only six points. Special teams also played a factor as Bob Shaffer Jr. blocked a punt and senior Kris Wicks snatched the ball and rumbled for a 36-yard touchdown.
Rene Lopez who was under-used, broke of a 60-yard touchdown scoot showing James wasn't the only fast running back on the team. Rene also ran the 100 and 200 meter in track and typically finished in the top three. The scoring would be capped off by a 37-yard field goal by Matt Rippee and a snap into the end zone for a safety. Truckee would rush for over 300 yards again and held a good Manogue team to 38 on the ground. Explosive offense with a high motored, get after it defense had the Wolverines rolling. Up next would be the game circled on the calendar every year, the rival Lakers of North Tahoe.
TRUCKEE 29  NORTH TAHOE 13
Last year Truckee won its 20th meeting against its 18-mile rival on the biggest stage down in Vegas for the state championship making it seven in a row. The Lakers came into this game with a 5-0 record and lets just say they didn't need motivation for this game. Gone was the likes of Mr. everything in Che Walker but in his place was a shifty speedster in Felipe Lopez who played quite a bit his sophomore year on the varsity. North Tahoe had a very good defense to go along with home field advantage for the second consecutive year. The league re-aligned in 1994 and reset the scheduling and in turn NT got back to back years of Truckee on their turf. It didn't matter, too much Van-Brunt and too much Kris Vickers. JVB as we called him ran for 256 yards and two touchdowns giving him his third 200-plus game of the season. James had a 71-yard run for six to start the game on a play that should've been a 5-yard loss. I'll never forget the play as it was a simple toss play. I pulled and picked up the blitzing backer, we hit so hard we both fell to the ground. As I was sorting through the dancing stars in my head I watched James running towards the sideline with three Lakers on perfect angles, he was done. JVB was not, as he hit a gear I've never seen before and got to the corner and was just gone for 71 yards to the house.
Felipe Lopez would answer with a kickoff return for six igniting the packed house of Laker fans and chants of "STEROIDS!" Fertitta would silence the crowd with a strike to Ryan Demont for 40 yards and then JVB scored on a run of 24-yards. Felipe would score again making it 15-13 at the half. The second half belonged to second year starting strong safety Kris Vickers.
Vickers had a great knack at coming up with big plays when we needed it the most. Kris would intercept Ryan Brolliar three times in the second half taking one of them for a score after weaving in and out of would be tacklers for forty yards. The defense shut down the Laker offense in the second half. Josh Robinson lit up Brolliar and Tyler Wright pounced on the fumble allowing Fertitta to score 1-yard out on a 4th and goal.
The Defense was led by tackling machines Josh Robinson (15) and Hoag (14). Truckee had 400 yards of offense (310 on the ground). JVB cracks the 1,000 yard mark through 6 games with 1,088 and 18 touchdowns. With the win Truckee wins it's 17th consecutive league game and sole possession of first place but best of all it was eight in a row vs NT.
TRUCKEE 55  DAYTON 20
Not much to talk about here as Truckee destroyed the Dust Devils of Dayton. James Van Brunt would run for a mediocre 157 yards and 3 touchdowns two of them on kickoff returns of 80 and 87 yards. Rene Lopez and Josh Robinson scored on short runs and Fertitta hit his favorite target Demont on a 35-yard bullet. It was 42-6 at the half and the starters were done. Coach Mac brought up 11 sophomores for experience and did they get it. Sophomore Sal Alcaraz got a score in his first varsity action. Dayton turned the ball over six times. Vickers, Robinson,Ryan Alley, and even nose guard Travis Hoag got interceptions. Kris Wicks and Ryan Little recovered fumbles for the stingy defense. Dayton scored on a broken coverage pass play, a kickoff return, and another basically against our JV in the fourth.
HAWTHORNE 21  TRUCKEE 43
A non-league game versus the Serpents of Hawthorne was next on the docket for the surging Wolverines. With the score at 20-14 Hawthorne came to play but we woke up in the second half behind JVB's 165 yards rushing and five touchdowns. Fertitta was getting better and better as each week went a long which was evident by a beautiful fade to Demont for 74-yards. The Defense was great again in forcing four turnovers. One in which was senior Matt Rippee stepping in front of a receiver on a slant perfectly. The Wolverines were one win away from locking up it's third consecutive league title.
TRUCKEE 26  INCLINE 12
The Incline game was a freezing night game and for the first two quarters the Highlanders made it a game as it was 12-6 at the half. James Van-Brunt finished with 187 yards on the ground and three touchdowns giving Nevada's leading rusher 1,597 yards and 29 touchdowns. Incline"s two scores both came on special teams, a punt return and a blocked punt for a score. Other than that the defense was solid again. Fertitta hit Demont for a 35-yard touchdown pass in the first quarter. With the win Truckee extended its League dominance with its 19th consecutive win. Along with the win Truckee finished the season 6-0 in league play and 8-1 overall. Most important of all, we had home field advantage. Up first: the Pirates of Moapa Valley.
Playoffs begin: Round 1
MOAPA VALLEY 14  TRUCKEE  44
Truckee's Surprise stadium is a place where opponent's don't fair well come playoff time as entering this game Truckee was a perfect 7-0 since losing to Boulder City 35-29 in the 1989 state championship game. In other words, if you make the playoffs you better hope you don't have to play at Truckee. The Moapa Valley Pirates came into this game looking to change that and started out better than they had hoped. In a game where it never stopped raining, Shane Hickman took the opening kickoff 90-yards to the house giving the Pirates a quick 7-0 lead. The next possession Truckee was held to a three and out and on fourth down the punt went flying over punter Matt Rippee's head and Moapa recovered at Truckee's 10-yard line. Moapa would score three plays later giving them a 14-0 lead over the stunned #2 ranked Wolverines. Once things settled down Truckee did what Truckee did best, pound the rock down your throat. The Wolverines would score six unanswered touchdowns behind James Van-Brunt and Rene Lopez's efforts who would combine for 358 yards on the ground. James would record his fourth 200-yard game with 258 yards on 17 carries and three touchdowns on runs of 91, 67, and 20. Lopez had a great game also chipping in 107 yards and two touchdowns on runs of 27 and 28 yards. Nik Fertitta would connect with his favorite target Ryan Demont for a 27-yard toss. The Defense played great as the defensive line over powered Moapa all game long. Steve Kromer would pick off the Pirates quarterback twice and Josh Robinson once giving Truckee 21 on the year. Bob Shaffer blocked his third punt of the year. Kris Wicks, Tyler Wright, Travis Hoag, and Eric Wicks terrorized the offense all game. To top it off junior Ryan Weiler had the hit of the game when he de-cleated a Pirate on a kickoff return. Moapa Valley head coach Nick Bowler was quoted " We got some breaks early but once Truckee rolling, that was it. It was a mismatch the rest of the game. Even a dry, clean field wouldn't have helped us. We really didn't expect to come up here and win but we also didn't think Truckee couldd be as strong as they were last year. Truckee has reloaded. Last years team was awesome, this years team isn't far behind."
Truckee was the only team from the Western division to advance as Hawthorne blanked Manogue 26-0 and #1 Virgin Valley crushed North Tahoe 42-6. White Pine was next for the Wolverines as they defeated Fernley 33-14.
Round 2
WHITE PINE 39  TRUCKEE 63  
Forecast for the week……. Snow! A ton of it would pound the town of Truckee and we had to practice in the gym to get ready for a talented team in White Pine. The Bobcats had two huge lineman over 240lbs and a very talented running back in Joe Mondragon who was coming off of a 233-yard performance. Their quarterback, Tim Cobb was a stud and duel threat at both running and passing. The field was plowed and shoveled by our great community for the Saturday matchup. To start the game it was cold but pretty nice out. This would not last long as it would dump snow most of the game. I remember the week before versus Moapa was just a mud bowl but at least it was somewhat warm. This week was brutal as it was freezing cold and windy. With this wet snow you had no traction to cut, only to run straight. To say this game was big play after big play was an understatement. Once again James Van-Brunt rushed for his fifth 200 yard game with 253 yards and five touchdowns giving him 2,108 yards with 37 touchdowns.  Rene Lopez had another great game himself rushing for 157 yards and three scores. Neither defense played well in the tough conditions. I remember trying to read their pitch-option as the snow and wind was pounding my face. It was a guess pretty much because the visibility was so bad. Guess right I made the tackle, guess wrong touchdown Bobcats. Lateral movement on defense was useless. There was a combined eight touchdowns and 53 points in the first half alone. At the half it was 28-25 Truckee and the snow showed no signs of letting up. The lines were constantly being shoveled after almost every play. Truckee fans stood at every 5 yard line clearing it when needed. I love our town! In the second half the Truckee defense showed up only allowing two scores.
Eric Wicks got things rolling after a blocked punt which he then scooped up and rambled down to the 3-yard line leaving a trail of Bobcat bodies on his way. Josh Robinson who was a beast all year was huge this game as he had two crucial interceptions that helped bust open the game. Steve Kromer would score late to put Truckee not only ahead for good but we were going back to Vegas to defend our championship. Coach Knutson of White Pine stated "I'd be really upset if we lost to a bad team. Truckee's line was huge and awesome. Truckee is a big, physical football team and their line just dominated our defense. We got beat by a better team."
On the day Truckee rolled up 472 yards of offense (438 on the ground) and was now 9-0 at home in the playoffs since 1989. Up next #1 ranked and undefeated Virgin Valley Bulldogs.
1994 Nevada AA State Championship
VIRGIN VALLEY 22  TRUCKEE 7
STATE! It was what every Truckee team strives for and nothing less. It's a great accomplishment just to make it but no one remembers second place except the team that lost. It's almost worse in my opinion. Just to know you were so close and couldn't finish, it sticks with you forever. It was another week of snow pounding the Sierras and another week in the gym. Last week versus White Pine it didn't hurt us as much as White Pine would have to play in the elements. This week was a different story as the State Championship was held in the Silver Bowl at UNLV down in Las Vegas. Advantage was definitely in Virgin Valley's favor. The Bulldogs would go through their normal routine in sunny Vegas. We practiced in our gym and even a couple days in the Vet Hall which if you've been in there before, it was pretty tight quarters. Walk-through was all about we could do though I do remember Tyler Wright and Eric Wicks lighting guys up a couple times in the gym. Just how this team was: feisty and confident. The day arrived as we flew down the night before and went through warm ups. Most guys bought new shoes for the game as we were playing on turf, which back then was exciting for a kid as we always wore cleats. You get way more speed on turf versus grass and with Van-Brunt in our backfield and our size in the trenches there is no way Virgin Valley could stop us.
The entire league picked us to beat Virgin Valley and we went in over-confident, even our coaching staff. But seriously how could they stop us, no one had. Head coach Kirk Hafen and staff would do something different against our offense. Virgin Valley had a really good defense with decent size and great team speed. The Bulldogs figured man on man against our offensive line they stood no chance. Coach Hafen would however level the playing field as he would cover every one of our lineman and bring up the linebackers in each gap essentially putting nine guys in the box. Nine versus seven if you include our fullback. We only ran a one receiver set so they basically manned up their best corner on Ryan Demont and said lets see what the in-experienced junior Nik Fertitta can do. Another thing the defense did was blitz the linebackers every play confusing our offensive line on who had to block who, which would give someone a free run at Van-Brunt or put pressure on Nik not giving him much time to throw the ball.
The downside and gamble of running this style defense is if JVB gets through it's six which is what happened in the first quarter as senior captain Kris Wicks picked up two bulldog defenders and he was gone for a 62-yard scamper giving Truckee an early lead of 7-0. The game was back and forth as the defenses would come up with big stop after big stop. Virgin Valley would get on the board late in the second half as running back Danny Brotherson tied the game on a 9-yard plunge. This drive was kept alive after Truckee held Virgin Valley on downs but on the punt the punter noticed nobody went out on the gunner leaving him wide open.
The punter with a heads up play threw the ball out to his teammate for a big gain inside the Truckee 20.  Disaster would strike a few series later as Fertitta caught the shotgun snap and was leveled by a blitzing linebacker who was untouched and as he threw it. The tackle put his hands up and deflected the pass to himself and ran it in for a 16-yard touchdown. Extra point was good and now it was 14-7 Virgin Valley. Truckee would march down the field one more time as the half was ending. Nik Fertitta would throw a beautiful fade pass to Ryan Demont in the corner of the end zone and looked like he had caught it but as he hit the turf the ball jarred out as time expired. In the locker room at the half it was a lot of shocked faces and a lot of head scratching. Our offense was moving the ball up and down the field but Virgin Valley would get a guy through and we would take a big loss putting us in a tough situation to convert.
The second half we got the ball and marched down the field 67-yards on eight plays down to the 2-yard line. An offensive line averaging 235lbs could easily get a push so that the best running back in the state of Nevada could score 2-yards out right? Negative, on third and two Virgin Valley sent the house and took JVB down for a two yard loss and held again on a fourth and four taking possession and all the momentum. Truckee's defense would continue to hold but Virgin Valley would milk the clock with there running game and quick passes. The next series the Wolverines would march down the field again behind the running of JVB and under utilized Rene Lopez. Truckee facing a third and six situation at the Virgin 17 would run play action and Josh Robinson was open in the end zone. The only problem was Nik Fertitta was hit when the ball was released causing it to be thrown behind Josh and into the hands of trailing Linebacker Steve Olsen in the end zone. That was three series inside the Bulldog 20 and we came away with zero points.
With the score 14-7 and 4:14 left in the game the wolverine defense came up big with a forced fumble and Josh Robinson pounced on it at midfield.
Momentum back to Truckee and to an offense that was now clicking and picking up the blitzes. This momentum would however abruptly end on the next play with one of the worse calls I've ever seen. On the first play Van-brunt would scamper for an 11-yard run cutting across the field and as he was tackled, Virgin Valley defenders were trying to strip the ball out. James was down on both knees and I know because I was knocking the free safety off the pile and while on the ground I could see he was down. James also figured he was down and let the ball go and was headed back to the huddle as the rest of us were.
The referee from the other side of the field came running across blowing his whistle and screaming "Fumble! Virgin ball! Virgin Valley ball!" After the refs huddled for a short discussion the head judge stepped out pointed in Virgin Valleys direction and spewed out the most vile thing "Virgin Valley ball!" Our sidelines erupted and coach Mac spiked his clipboard and was literally in the refs face spitting out his opinion on the call. One flag goes up. Coach Mac gets in his face again and another flag goes along with an ejection for our head coach. Players began falling apart and screaming at refs. Flag number three goes up. As that flag came down a player grabbed it and fired it across the field. A hat goes up this time since there were no more flags left to throw. I remember walking over and sitting next to Kris Wicks at the 50-yard line and sitting on my helmet as he was. He would look over to me shake my hand and said Good season Bob, good luck next year." After the pandemonium had settled and the calculators added up the 60 yards in penalties giving Virgin the ball at our 9-yard line, they would score the next play. On the extra point Keith Bergstrom and I broke free and we leveled the place holder as he had muffed the snap but tossed it in the air as we hit him. Of course it landed in a bulldogs hands and he walked it in for two. Perfect! 22-7 Final and the Virgin Valley Bulldogs are crowned State Champs.
James Van-Brunt would end up with 229 yards rushing on 28 carries for his third straight 200-yard plus performance and sixth for the year. JVB would end up with 2,337 yards rushing and 38 touchdowns which both are still first in the Truckee records. He would also be awarded league's most valuable offensive player, and first team running back. He was also awarded MVP for state selections. Lineman Kris Wicks who was a three year starter and captain was awarded League MVP over Van-Brunt which has never been done for a lineman. Just goes to show you how great a player Kris was. Kris's brother Eric Wicks, Tyler Wright, and Brian Stewart were named all-league first team on the offensive lines. That's four out of five possible making first team on the o-line. Kris was also awarded first team defensive line along with nose guard Travis Hoag who led the team with 144 tackles. Not far behind was Josh Robinson and his 142 tackles, 5 forced fumbles, 5 fumble recoveries and 5 interceptions. Kris Vickers led the team with 6 interceptions and was awarded first team. Overall Truckee accounted for 12 of the 36 first team spots and it could've been more. Fullback Rene Lopez, QB Nik Fertitta,Wright at linebacker, Eric Wicks at tackle, and Bryan Jamieson at free-safety pulled down 2nd team but easily all could've been first.
Nine times out of 10 this team beats Virgin Valley. They were arguably one of the most talented teams to come through Truckee and thats saying quite a bit. A predictable offense, untimely turnovers, penalties and just pure bad luck killed us. Give Virgin Valley's players and coaches credit though. They didn't back down and had a hell of a game plan for us. Crowd the line of scrimmage, make tackles and force turnovers. On offense they would take what they could get, hold onto the ball and hope for some breaks. Everything went according to plan as David took down a Goliath.
Finishing Remarks:
So, there you have it, another great write-up on another great Truckee team by Shaffer Jr.  This is a team that no doubt should have won it all.  They were stacked with size and talent.  I know in their hearts they believe they should have also won a State Title.  This team was able to perform at a very high level after a Truckee coaching legend had moved on and many distractions surrounded their off-season.  This was a very strong Truckee team.  Unfortunately the 1994 team is among other great teams who just fell short of their goal.  However, this is a team of winners and tough guys who have now excelled in life.  The incident that took place with coach Mac in the State game ultimately was his doom and he was forced out of town.  While the blowup put a scar on the face of Truckee football it was actually an event that changed the course of program history for the better as Bob Shaffer became the coach the following season.  Coach Shaffer in 1995 would prove that they should have hired him in the first place but there are no hard feelings at this point.  Everything happens for a reason right?
As for James Van Brunt?  His 1994 season was one for the ages as he lit up the Nevada record books.  His TD season total with 38 TD's sits 2nd all-time in Nevada 1A and 5th overall in all of division I.  He is also 2nd in points scored in a season in the Nevada 1A and 4th overall.  Lastly his rushing total of 2,337 yards stands at 4th all-time in the Nevada 1A and 8th overall.  All of his records still stand in the Truckee record books and I'm sure they will remain.  Coach Mac and Van Brunt were the perfect marriage along with that massive offensive line. It was what got them to the big game but unfortunately it couldn't quite get them the win.  Many thought that Truckee was just too predictable and when Virgin Valley took a risk and put 9 guys in the box Truckee continued to run right at them.  Van Brunt would still put up big numbers in the State game.  However, Virgin Valley would bend but not break keeping the Wolverines out of the end zone.  The crazy thing is that everyone and every team knew who was getting the ball but they still couldn't stop it.  So, while people argue that Truckee should have gone to other athletes and had other options, Truckee road the horse that got them there.  And followed the formula that had worked all season…give the ball to number one behind that big physical offensive line.  In the end this team had a chance to win but was held back by one of the worst calls in Nevada High School history, followed by an explosion by a coach and his players.  I think that the story of Kris Wicks and Bob Shaffer Jr. sitting on their helmets at midfield of Sam Boyd stadium watching their dreams fade away capsulizes the 94 season.  I can actually feel the pain of senior Kris Wicks as the reality sinks in and the question runs through his head, "so this is how were gonna go out?"  I can't help but rewind the clock just one year prior when Kris Wicks and the Wolverines were marching across midfield, on the same turf, shaking hands with rival North Tahoe after Truckee had just won their 3rd State Championship.  You couldn't paint a more telling picture as Wicks and Shaffer looked on….and that's how the 1994 season would end…kind of how it started…in controversy with an outspoken coach who went out like he came in.
1995: 10-2 (6-0 League) Western Division & AA Nevada State Runners-Up
Introduction
Ron Estabrook was only out of town for a little over a year and Truckee was already on their second head coach in his absence. However, Truckee, in every decade dating back to the 50's, had multiple coaching changes.  The 80's saw 4 different coaches alone.  So it was 1995 and Truckee was already on their 3rd coach of the decade.  Nothing out of the ordinary, but that was all about to change.  Truckee had finally landed a coach that would stick around.  Bob Shaffer is Truckee's 18th coach.  In fact Shaffer should have been Truckee's 17th coach but there were some politics involved with the hiring of coach Mac in 94.  It was a case of not what you know but who you know.  Not that Mac didn't know football because he did, maybe too much football.  It has to be the right fit and I think Mac would agree that Shaffer is the better fit for Truckee.  Actually before Estabrook headed South to new adventures in Arizona, he let the Powers that be know that Truckee's next coach was already on staff.  Bob Shaffer was a JV coach under Ron Estabrook in 1993.  He had moved west from Ohio with his wife Lisa and two kids.  Looking for a better life his first stop was in Las Vegas where he had been offered a new job.  He quickly realized that Vegas was not gonna work for him nor his family.  Lucky for the Wolverines Shaffer's brother John was living and working in Truckee.  Coach Shaffer headed up to Truckee to visit his brother and never left.  I too was on Estabrook's coaching staff in 93 and I got to see first hand coach Shaffer and coach Estabrooks relationship change throughout the year.  At first coach Shaffer just stayed in the background.  He appeared to just be a Dad who was coaching.  But being in the background is not Shaffer's style.  Shortly into the season it was very evident that Shaffer knew his stuff and coach Estabrook leaned on that knowledge.  It was most obvious when Truckee was struggling at North Tahoe.  Shaffer was on the headphones and was the "eye in the sky" during this game.  He was instrumental in getting the right information to coach Estabrook during this game to make the needed adjustments.  Shaffer and Estabrook were talking back and forth so much about offense that Coach Collins got really frustrated as NT was putting together a nice drive and was now in the redzone.  Collins was looking for some information from the sky that he was not getting.  He just heard Shaffer and Estabrook talking about the next offensive series.  Collins ripped off his head set and screamed "I need down and distance" and proceeded to throw his head set at me.  For some reason I am often the target of many coaching explosions on the sidelines.  Point being, from this point on Shaffer became our eye in the sky for the remainder of the season.  Estabrook knew and saw that Shaffer was the next guy and that he was the right guy for the job.  Thanks to coach Mac's explosion in Vegas, the rest is what we now call HISTORY!  I can't think of a better person to do the writeup for Coach Shaffer's first season than his son who was on the 95 team.  This is Bob Shaffer Jr.'s take on the 95 season:
Most off-seasons going into a new chapter of Truckee football would always begin with one word " Reload ". The 1995 season was not the case as " Rebuild " was the often theme word thrown around when talking about this unexperienced unit. The '95 team had a lot of doubt surrounding them as they only returned six starters from a season ago: Nik Fertitta (QB), Tyler Wright (Guard/Outside Linebacker), Eric Wicks (Center/Defensive Tackle), Bob Shaffer Jr. (Guard/Outside Linebacker), Sean Stanton (Defensive Back), and underclassmen Ryan DeMont (Wide Receiver).
With the 1994 team being loaded with stud seniors who almost all started both ways along with Coach Mac's love of running opponents into the ground with his first unit, there wasn't much experience given to the upcoming seniors. The other unknown factor was that Truckee would have it's third new head coach in as many years. In 1995 Truckee High School would promote defensive backs coach Bob Shaffer as their new head coach and it would turn out to be a big part of Truckee football history.
Head Coach Bob Shaffer's 18 year coaching legacy begins:
I'll never forget how upset my dad was when he didn't get the head coaching job in 1994 but to his credit he still stayed apart of the program as a wide receiver/defensive backs coach. He loved the game that much and he would just wait for his next chance to be what he always wanted to be again, a head coach. It didn't take long as a year later after Coach Mac would be released due to the implosion he had in the '94 state championship; his chance had finally arrived. He was different after he became a head coach. It was all business for him and he was determined to not only carry on the tradition at Truckee but to create something special. He knew with how small our school was and the kids he was being handed in his first season; he had to have a plan. His first thought was if this team isn't going to be the biggest or most talented team in the league it was going to be the strongest and most conditioned team. He would implement a strength and conditioning program that is still used today as the foundation of every Truckee team. Early morning workouts along with spring ball, film sessions, 7 on 7's, and more running than I'd like to remember would become the staple. All of this was happening in the spring and we still had the summer and double days but as a team we knew we had to put in the work if we wanted to be successful. Dad was getting everyone to buy into his system as guys were getting stronger and faster. The Junior class had a lot of talent and the Seniors had good leaders and a lot of guys who wanted to prove themselves. This group would mesh well and form a brotherhood as Coach Shaffer wanted. He wanted a family atmosphere of being competitive with each other yet when push came to shove we would have each others back.
Double days were beyond grueling as the coaches pushed us to our max and then pushed a little more. We were getting better everyday and with the talks around the league of us being weaker than past teams and projected to finish behind Fernley, Whittell, and North Tahoe it was more fuel for the fire. We would end up losing one of our best if not the best player on our team Tyler Wright for the season. It was a huge blow and a huge hole to fill at guard and linebacker. Our first game was less than a week away and we had a lot of question marks on who would play where.
THE SEASON BEGINS:
Week one was upon us and we would endure a long bus ride to play the Yreka Miners. It was an all out brawl as Yreka would score on two long plays to beat us 16-8. Nothing worse than losing to a team and then having to think about it on a long quiet bus ride home. I think losing that game we could've folded but instead we were pissed, every single one of us. Mostly because we were proving all the doubters they were right.
Our next opponent was a big school of over 2500 kids, the Mouat Secondary Hawks of British Columbia, Canada. The odd thing was we had to host the players and let them stay in our homes. At our traditional spaghetti feed the players from Mouat Secondary were making comments on the size of our offensive line and other smart ass jokes that we as a team would make note of. Game day arrived and even though we were massively under sized across the board we had two things they lacked, an amazing coaching staff and we had dedicated this game to the memory of a fallen brother in Pascual "Tito" Martinez. The first half was a battle as we would go into half down 8-3. Our season would turn as Dad and the rest of the coaches made adjustments and one play would ignite us, the opening kickoff. Josh Simpson would return the second half kickoff for 83 yards and that would start an all out attack both offensively and defensively. Truckee was always a power at running the ball but this day would start a new trend as Dad would implement a passing attack. Nik Fertitta was firing on all cylinders as he shredded their secondary for 223 yards passing with Sean Stanton amassing 103 of the yards. Ryan Little's first game starting would be his to keep as he rushed for 90yds. Our Defense was flying around all over the place letting the Hawks know you better not stand around a pile. Needless to say we earned their respect with a 32-14 thrashing.
Up next was the #1 ranked Fernley Vaqueros and the preseason favorites to win it all. We all wanted this game as it would prove the "rebuild" label wasn't warranted. We came out angry and focused as we would dominate the Vaqueros through three quarters and took a 20-7 lead into the fourth. Two turnovers in the fourth however allowed Fernley back into the game and would go for two and the win. Ryan Demont would make an amazing play as he dove to tip the ball incomplete and Truckee would hold on for the win 20-19.
The defense lead by the likes of Ryan Dustin, Travis Blanco, Josh Simpson, Dan DeCoite and Kris Rendon were smothering teams. The offense was creating a two-headed monster in fullback Ryan Little and Tailback Sal Alcaraz who both brought power and speed. Fertitta was our silent leader and becoming an elite Quarterback. We had Stanton at 6'4 and Demont at 6'3 giving Fertitta big fast targets. One of the most interesting aspects of this team was the offensive line. We had a special group in the trenches. We were often laughed at when we broke the huddle due to our variety of sizes, but when the games ended there was no laughing just handshakes and respect. The line consisted of Mike Wells,Ryan Weiler, Nick Santamaria,Eric Wicks, Bob Shaffer Jr., Aaron Sanchez, and Ryan Dustin at tight end. By the time we squeaked out that win over Fernley we realized we've got something special here.
The 95 team would go on a big run as we beat a very tough Independence team 20-0. Nik Fertitta and Kris Rendon were knocked out of the game due to concussions. Our Defense held Independence to 7 yards of total offense while the offense behind Alcaraz, Little, and Stephen Kromer amassed 290 yards on the ground.
We steamrolled Incline the following week 51-0 amassing over 515 yards on offense and allowing only 95 yards by the defense. Ryan Little had another big day with three rushing touchdowns and Fertitta threw for another two. The Defense had a second consecutive shutout led by the likes of Wicks, Blanco, Wells, and Rendon.
We would beat a very physical and talented ROP team for homecoming 25-7 setting up the big three of our schedule.
We would travel to Whittell still unranked and face the #1 undefeated Warriors. Led by our stingy, hard hitting defense we were able to contain David Atherton, the state's leading rusher. The offense was led by Sal Alcaraz's 142 yards on the ground and Fertitta's 202 yards in the air for a 20-8 victory.
After taking down the #1 team we would hit the road again to face a very big and strong Manougue team. Intensity would sum up this game as it was a back and forth hard nosed football game. The plays of the game was a pass by Fertitta to Alcaraz down the seam for 37 yards and the 12-7 lead. The next big play was by senior captain Eric Wicks as he blew through the line and hit the quarterback as he was handing off causing a fumble that was recovered by Ryan Dustin. Truckee would go on and win 12-9 setting up a league championship game with long time rival North Tahoe. Winner wins the league plus home field advantage, the loser would have to travel down south. Needless to say it was a big game.
This game was as advertised with hard hitting and a lot of smack talk between both teams. The game started with an opening kickoff fumble and NT fell on it for the quick 7-0 lead. They would never score again and we would take an 8-7 lead into halftime thanks to a Fertitta to Demont touchdown pass. The defense was huge in this game as they intercepted the ball five times. One of the interceptions was by junior linebacker Jesse Martinez who returned it 44 yards for a touchdown. Sal Alcaraz would ice the game with a 50 yard touchdown run and once again the Truckee Wolverines were league champs and a #1 north seed. Not to bad for a team "rebuilding".
PLAYOFFS RD1: TRUCKEE vs WHITE PINE
First up was a young but scrappy White Pine team. Special teams was huge in this game as a Ketric Mahoney blocked punt would set up our first score as Little punched in for a 7-0 lead. Led by the hard running of Little and the speed of Alcaraz we would beat the Bobcats 28-15. Once again our defense shut down the often run oriented bobcats forcing them to throw which led to countless sacks and turnovers. Up next…. The Fernley Vaqueros to see who would go to state. With the win Truckee was now 10-0 at home since 1989.
PLAYOFFS RD2: TRUCKEE vs FERNLEY
            This game had a ton of hype leading up to kickoff. Dad read off articles how Truckee got lucky in their first meeting and how Fernley would dominate us. We worked our asses off that week and the coaching staff was intense and put together a great game plan. It was funny to us how to this point we had rattled off nine straight victories and yet we still had no ones respect. We were 9-1 as was Fernley with there only loss being to us 20-19 in week 3. Emotions were high and Surprise Stadium was packed full on all sides. I'll never forget how Fertitta and Wicks picked me to lead the team down the stairs. As I led the team to the top of the stairs I got pretty emotional knowing this will be the last time I walk down these stairs with my family. If it wasn't emotional enough my dad walked by and said "I'm proud of you and let's kick their ass!. I responded with a choked up "Yes sir." Then the best part came and anybody who has had the privilege to lead a Truckee squad down the stairs can relate. As I came to the first step I looked out upon the stadium: The place was packed, the end zones were painted red, and it was a perfect sunny day. As you look down the fans are below you and they have their back to you. Then it happens, TNT begins to play and everyone turns to you and goes nuts! It's the coolest feeling and as you descend down the stairs and your community is supporting you. My favorite part was when you hit that bottom step and right there in front of you is your opponent. They were yapping and we would just stare the entire time at them. There was no need to talk as we knew we were gonna play our best. The only yelling we did was when we screamed out our Truckee jacks.
We dominated the game early as we raced out to an early 7-0 lead on a 10 yard run by Ryan Little. Josh Simpson had a huge play early as Fernley went for a fake punt and Simpson smothered the play and we got the ball at midfield. Our O-line was firing on all cylinders as we marched the ball down to the one and Fertitta would punch it in from there giving us a 13-0 lead. Following another stand by the defense Sal Alcaraz would take an option pitch from Fertitta and take it to the house giving us a 20-0 lead into the half. The Vaqueros were stunned and we loved it. Fernley would score to open the second half but Alcaraz again would score on a great run breaking several tackles giving us a 27-8 lead. Sal would score for a third time and Jesse Martinez would finish it off with an Interception giving us a dominating 36-16 victory and a trip to the state championship for the third straight year and extending Truckee's home record in the playoffs at 11-0 since '89! Things were lining up for us and we were gonna win state. Nothing was gonna stop us….
STATE CHAMPIONSHIP: TRUCKEE vs MOAPA VALLEY
"No one is laughing at Truckee now!" was the head line of the Reno Gazette Journal heading into the state game. We had a great week of practice as it was very business like. We flew down to Las Vegas and the site of last years loss at UNLV stadium to Virgin Valley. That game was still with us and we wanted to avenge that game. The only thing in our way was the Moapa Valley Pirates. Moapa in a way was our mirror image from the south. Not very big, but extremely scrappy and very disciplined. They had a stud at running back and free safety in Shane Hickman. We figured if we could contain him and play mistake free, we would win.
Dad gave an emotional speech before that game. Talking about how we got there, how nobody gave us a chance, and how we can shut up all the nay sayers with this win. We were fired up and our offense would get the ball first. Moapa kicked off and I couldn't wait to get in there. As Sal Alcaraz got the ball he headed up field, made one guy miss, got a couple great blocks and then with a burst he was off to the races. The offense would have to wait as Sal would take the opening kickoff 94-yards for the score. Wow, what a start. We would hold Moapa to a three and out and then mounted a great drive and Ryan Little punched it in from the one giving us a 14-0 lead. The defense played great in the first half and gave Moapa fits on offense. We got the ball back and mounted a 12 play, 75-yard drive and another 1 yard Td run by Little with 19 seconds left. Up to that point we had dominated every aspect of the game and then we miss the extra point. It was an odd feeling after we missed that. We headed into the half up 20-0 and we were two quarters away from our goal. It felt good; then the infamous third quarter came.
Moapa received the ball to start the half and on their third play the fullback would take a dive option up the middle and with everyones attention on Hickman he broke free for a 65-yard touchdown run. 20-7 Truckee. On their next drive, Moapa would drive to our 30 yard line but our defense held them to a 4th and 10. Moapa would go for it and on a toss play to Hickman he ran to the sideline and right before he got hit he threw the ball up for grabs and as our defensive back stumbled the ball fell into the hands of a Pirate receiver…. touchdown. 20-14 Truckee. For the first time we were panicking and lost focus. Our next drive was a mess as we committed penalties that stalled the drive and we had to punt from our 27 yard line. The ball was snapped over Fertitta's head and in a mad scramble and pile up in the end zone, Moapa had recovered, extra point was good. Moapa Valley 21-20. Our 20 point lead was erased just like that in one twelve minute quarter and the momentum was all theirs. The fourth quarter was filled with mistakes, penalties, arguing and dropped passes. We had the ball only once in the fourth quarter and with less than five minutes to go we had a great drive but would stall as we fumbled in their territory in which a Moapa player and myself were fighting for at the bottom of the pile. I had two hands on the ball, he had one. I looked up at the referee and as he stood over me shouted "Moapa ball!" I couldn't believe he made that call as I had possession. Here we go again.as Moapa would convert third down after third down. One of them was a 3rd and 17 in which Moapa's quarterback threw the ball and completed it between two Truckee defenders for 18-yards, ticking the clock down more and more. On Moapa's final drive senior Eric Wicks exploded through line and hit the fullback dislodging the ball and Travis Blanco scooped it up and was headed to the end zone for the score. We were saved; then a whistle blew. The referee's blew the runner down. Moapa ran the clock out to win the 1995 state championship. It was like something from a movie. We couldn't wrap our heads around it. How did we lose that game? It was a nightmare. We fell apart when it mattered most and didn't do the things that got us here. That game is still talked about to this day. I think the thing that hurt the most was that we weren't given anything that year and we were one point away from doing the unthinkable.
In reality football is just a game. But with the game comes work ethic, resilience, confidence, and my favorite lasting friendships. We weren't the most talented team to come through Truckee but we were one of the hardest working. For dad it was heart breaking and one of the few times I've ever seen him cry. As his son I wanted to be apart of his first title; it didn't work out but we gave it quite a shot.
Closing Remarks
This 1995 team was underrated.  They had a heck of a coaching staff too.  Names that would include Garrow, Collins, Brewer, Deschler, and Decoite.  But it is a players game as coach Doughty always says and the players are the ones who have to come to play.  This team, regardless of what everyone thought, came to play.  They had a good mix of senior leaders and young talent that gelled well together.  I was a coach on the JV staff in 95 with coach Dow and coach Mohun, so I got to see this team play.  They played like any other Truckee team.  They played smart physical football and put it all on the line with every bit of their heart.  You can't ask for more than that.
1996: 11-1 (6-0 League) Western Division & AAA Nevada State Champions

1996 Truckee Wolverines INTRODUCTION:

To this point in the 90's Truckee had already had 3 head coaches.  One of the issues the Wolverines had always faced was the transient behavior of the head coaching position.  With the exception of John Stewart, who put in 7 seasons, the head coaching job at Truckee had seen a great deal of turnover.  Even Ron Estabrook, who many regard as the turning point, put in just 5 seasons at the helm.  If you look at successful programs there are common themes.  One of those themes is having a coach that sticks around.  It gives programs stability, confidence, and gives kids a common thread.  If a program changes up coaches every 2 to 3 seasons then it usually involves change in philosophy, motivations, and the biggest change involves X's and O's.  Well, this was all about to change for the Truckee Wolverines.  Bob Shaffer had just put in his first season at Truckee.  After the 94 team took a hiatus from the Wing-T, it was back in action in 1995 under coach Shaffer.  Shaffer would change the language and add some wrinkles but for the most part he was a Wing-T guy and luckily for the program he had spent a year under Ron Estabrook.  He also put us back into an Even front, a version of the 4-4 defense. In Shaffer's second year as the head coach it was time to show everyone that he was not only the next great coach at Truckee but that he was here to stay.  It wasn't good news for the Nevada 3A.  I think Shaffer was more determined to win a State Championship than his players at first.  His desire and confidence was contagious, and it didn't take long for his demands for success to rub off on his program and players.  You throw in the fact that he came up one point short of a Championship in his first season as the head coach and you have one hell of a motivated man.  One thing I know for sure, Shaffer is a competitor.  Every season is new and a coach must plug new players into vacant positions due to graduation.  This was something that Shaffer was genius at.  Shaffer knew his system and knew the pieces needed to run it, but he also was the master at tweaking things a little to fit his personnel.  In all of it, one thing was certain: He will find a way to win and that's exactly what he did in 96!  Here is the story of the 1996 Wolverines given to you by Bob Shaffer Jr:

Truckee was coming off of back to back State Championship losses and losing last year's by one point after being up 20-0 at halftime was nothing but a bad taste in the program. Words are often used to set the tone for programs in the off-season to fuel and motivate the kids for the up-coming season. A simple set of two numbers next to each other is all this team needed for motivation. 21-20 was the mantra that would fuel and bind this group together. It was in the weight room, it was yelled during practices and some even wrote it in their lockers. 21-20 would remind this squad to finish what you start and never stop. The league also would realign again in Nevada as Truckee would be now considered AAA instead of AA. The former 3A would now be 4A. Some of the smaller teams would make up the 2A as the dominant and bigger schools would create the new 3A. The big question for Coach Shaffer would be how to assemble his offensive line and quarterback. With the likes of Eric Wicks, Bob Shaffer Jr., Ryan Weiler, and Aaron Sanchez  graduating; Coach Shaffer would need to fill those holes. As if having to replace four out of six starters on the line wasn't hard enough, throw in losing 1,000 yard rusher Ryan Little and All-League MVP Quarterback Nik Fertitta. Truckee was only returning four starters on offense: Three-year starter receiver Ryan DeMont, tailback Salvador Alcaraz, left tackle Mike Wells, and tight end Ryan Dustin.

Shaffer's first order of business was to select a quarterback that could lead his new group, enter Kris Rendon. Kris was a starting corner and kicker for Truckee the year before but was also the backup to Fertitta. Rendon didn't have the arm Fertitta had but it wasn't far behind. Kris however was very mobile and quick and could scramble whereas Fertitta was a pocket passer. Kris was very feisty and competitive which Shaffer thought would be good qualities to lead this team. Jesse Richardson would fill in Littles spot at the fullback position. A fullback in most offenses is just a lead back for the tailback, however in the Wing-T it's the featured back. Jesse didn't play much his junior year but when he did he would show glimpses of being really good. Richardson would hit the weights hard his senior year and it showed. Not only was Jesse quick and shifty but he had great strength in his legs. With his skill positions set Shaffer would focus on the offensive line. Mike Wells was the only starter that returned in a set spot. Mike was 1st team all-league and all-state his junior year and only got better his senior year. Mike wasn't very tall but was very strong and would use his lack of height as an advantage for leverage. Coach Shaffer called this years unit on the line "the great melting pot". He joked that every kid would be thrown in until it was right. Guys like Kevin Morgan, Nick Santamaria, Jesse Martinez, Travis Blanco, Dan DeCoite, Zach Sutherland and Mike Detwiler would be asked to contribute. DeMont was the star at receiver and as Captain and a three year starter was the voice of this team. He had the most drive as he started on both '94 and '95 state runner-up squads. Ryan Babb and Spencer Archer who dropped his soccer cleats for football would be involved heavily in Shaffer's aerial attack.

Truckee had to replace a lot on Offense but was loaded on Defense. Seven starters returned including studs Travis "Butkus" Blanco, and Dan DeCoite at linebackers. Rendon and DeMont in the secondary and along the line was Ryan "Rhyno" Dustin, Kevin Morgan, and Mike Wells. Shaffer pushed this group big time and did they ever respond. This unit was driven and extremely determined to get over that championship hump. As week 1 approached and a #1 ranking the only thing on this teams mind was: 21-20.

Week 1: TRUCKEE 60 HAWTHORNE 8

Truckee's first test would be a long trip to face off against the Hawthorne Serpents on a Friday night. It would turn out that the hardest part was the road trip. Truckee would score six first-half touchdowns as the turnover prone Serpents never stood a chance. The Wolverines longest drive of the half was only 30 yards. Hawthorne would fumble the punt on their first possession which led to Rendon tossing a 12-yard TD strike to Ryan Dustin. Hawthorne fumbled a snap giving the Wolverines the ball again deep in their territory. Jesse Richardson would score his first TD of the year with a 3-yard plunge. Kevin Kikawa would recover a fumble on the next possession which led to a 3-yard score by Sal Alcaraz. A 4-yard pass from Rendon to Dustin, 10-yard pass to Richardson, and a 7-yard score by Sal put Truckee up 39-0 in a hurry. Kris Rendon in his first start played great going 4/9 90 yards and three touchdowns. With Senior Captain Ryan DeMont out with an injury, Ryan Dustin stepped up by catching two touchdowns. Alcaraz would finish with 107 yards on 14 carries and Richardson had 83 yards to compliment Sal. The offensive line did a solid job as a new unit and creating holes and playing a lesser opponent was a great scenario for them.This game wasn't a great test for Truckee but everyone got good reps and a good start in confidence. The Defense led by the likes of Travis Blanco, Mike Wells, Rendon, Dustin, DeCoite, Sutherland, and Mike Detwiler completely man-handled the Serpents who stood no chance. Up next was the Highlanders of Incline. 21-20!

Week 2: TRUCKEE 35 INCLINE 0

In their next game Truckee would travel to Incline to take on a Highlander team who would only field fifteen players. As if Incline didn't already have a challenge against the high powered Wolverines, but to do it with fifteen kids? No chance. Truckee would amass 346 yards and destroy Incline 35-0. Shaffer wanted to open up the passing attack against Incline but a rainstorm would change the gameplay to a heavy dose of the run game. Sal Alcaraz led the Wolverines with 118 yards on only 8 carries and one touchdown. Richardson would gain 102 on ten carries and 2 scores giving Truckee a deadly duo which was important. If one team would focus on Sal, Jesse would step up and vice versa. The score should've been worse as the Wolverines were flagged fourteen times with two negating touchdowns. Kris Rendon was Charles Woodson like playing quarterback, kicker, defensive back, and even punt returner. Kris showed his Woodson like abilities by returning a punt for 63-yards and a score. Truckee would use some trickery to further their distance on the scoreboard with a reverse from Sal to Dan Gallaher for a 53-yard scamper and six points. Defense showed once again that nobody will be given points and with a great game plan by the coaching staff shut down the offense of Incline. Up next was the Home opener versus White Pine. 21-20!

Week 3: WHITE PINE 3 TRUCKEE 44

To be honest the first two weeks were tune-ups for the season as Truckee played lesser opponents. White Pine would be a true test on how good this team really was. Let's just say they didn't disappoint as a week of re-focusing by Shaffer and his coaching staff got them ready. The 44-3 final score was not a blowout as the score would indicate as White Pine came to play for three quarters. Unfortunately for the Bobcats it's a four quarter game. White Pine was big, physical and well coached. They took an early lead with there opening drive with a field goal. That however would be there only lead as Truckee would respond how Shaffer wanted them to. On the next series Rendon would hit Dustin on a 80-yd touchdown strike. Both Defenses would lockdown the offenses and along with penalties (9 for over 100 yards) against Truckee. Truckee would get a break in the second quarter as White Pine punting from their own 15-yard line would only get a 12-yard punt. Jesse Richardson would pound the ball down to the two and Kevin Kikawa would finish it off with the score on the next play. With Truckee up 14-3 the defense began taking over the game by forcing fumbles on the next three possessions. Late in the third quarter out of desperation the Bobcats would go for it on their own 16-yard line and failed to convert. That bad decision led to a touchdown run by Richardson increasing the lead to 21-3. The Wolverines would score 24 unanswered in the fourth to blow the game wide open. A field goal by Rendon and two rushing scores by Richardson and Andrew Cross finished the scoring by the offense. Mike Detwiler had a great game and made it even better by throwing in a pick six to end the game. Sal kept his streak of consecutive games of 100-yards by rushing for 104 yards on 12 carries. Richardson had 76 on 13 carries with a couple scores. Mammoth, a school Truckee had never faced was up next for The 3-0 Wolverines. 21-20!

Week 4: MAMMOTH 0 TRUCKEE 32

Defense! Defense! Defense! and special teams dominated this game. Truckee would have a 9-0 lead 5-plays into the game and none of those plays were ran by their own offense. Ryan Dustin who we all called "Rhyno" was just that. Not a very big kid but was fast, quick and could hit like a rhino. Rhyno had a relentless motor and under the tutelage of Coach Utah (Bob Garrow) excelled his senior year. Rhyno would get things going as he laid out Mammoth's quarterback in the end zone for a safety giving Truckee a 2-0 edge. Mammoth was then forced to kickoff to Truckee after the safety and Andrew Cross would weave through defenders picking up some great blocks along the way for a 52-yard score. The Huskies had a chance to score as they reached the Wolverine 2-yard line but the defense would not budge turning the ball over on downs. Truckee on a 3rd and twelve would turn to their leader Ryan DeMont who was finally healthy and he answered by catching a pass from Rendon and taking it 88-yards for six points. Rhino would collect his second safety ending the first half, which I'm pretty sure has never been done in one game by a Wolverine. Truckee opened the second half with two big runs by Rendon and Gallaher down to the three. Sal would punch it in the next play upping the score 25-0. Rendon would find DeMont one more time for a 68-yard bomb to seal the game going up 34-0. The Defense was amazing again as the first unit through four games had not given up a touchdown. League begins next week with an away game against the ROP Raiders for the #1 ranked 4-0 Wolverines.

Week 5: TRUCKEE 61 ROP 0

The day would belong to senior running back Sal Alcaraz and the stingy defense. After a slow scoreless first quarter Truckee woke up in the second quarter. It started the same way the last game ended. Mike Detwiler intercepted the ball and ran it in for a 34-yard score getting Truckee on the board. After that everyone seemed to get in on the action. Rendon would score on a 2-yard run then junior Ryan Babb would haul in a 25-yard pass from Rendon making it a 21-0 lead. Up next was it was Sal's turn as he had a 13-yard scamper followed by a 78-yard burst to increase the lead to 35-0. DeMont scored on a Rendon bullet for 24, Sal again for a 19-yard reception, and Andrew Cross closed it out with a 11-yard run. Sal had his 5th consecutive 100-yard game with 164 yards and three scores. The o-line was playing as a unit and it showed as Truckee's run game seemed unstoppable. They also protected Kris allowing him to complete seven passes on eleven attempts for 152 yards and three scores. The Defense who at this point had only surrendered 11 points and no touchdowns by the starting unit held ROP to 37 total yards. Up next was the showdown of #1 vs #2 as Truckee (5-0) would travel to hated rival Fernley (5-0) for a Friday night game under the lights. This would be Truckee's biggest test. On the road in a hostile environment against a bitter rival who lost to us twice last year. You think they want this game? You bet your ass they do. 21-20!

Week 6: TRUCKEE 41 FERNLEY 12

The Reno-Gazette billed this as the game of the week and the winner would likely decide the 3A Division 1 title. The panel of writers said the deciding factor would be the fact that Truckee beat Fernley handily last year to advance to state game and that it was in Fernley. Their score prediction: Fernley 21 Truckee 20. Truckee got a break literally as the leagues leading rusher Snuff Kolvet (interesting name) broke his arm in a 9-6 win over North Tahoe. Fill in Joe Bowers was a nice replacement though as he had ran for over 100 yards that game. This was Fernley's big chance to make that next step in their program. They were 5-0, ranked number two in the state and had their hated-rival coming into town. The stage was set and Fernley came out as if it was going to be their night and finally beat Truckee. It couldn't start off any better than it did for the Vaqueros as on the first play from scrimmage Quarterback Steve Henderson lofted a ball in the air and speedster Boomer Taylen ran under it for a 65-yard score. On the ensuing kickoff Truckee fumbled giving the Vaqueros and the home crowd all the momentum. Even more so when Taylen scored again on a 6-yarder making it Fernley 12 Truckee 0 three minutes into the game. Too bad Jesse Richardson showed up big time and awoke the #1 Wolverines in Fernley that night. A Kris Rendon to Mike Detwiler pass for a 55-yard score opened the flood gates as Truckee would score 41 unanswered points, silencing the crowd of Fernley hopefuls. After Ryan Babb intercepted Henderson it became the Richardson show. After fumbling the kickoff that lead to six for Fernley, Jesse put it all together for his best game ever and what a time to do it. He went beast mode as he broke several tackles and busted loose for a 40-yard touchdown to give Truckee the lead back 13-12 in the second quarter. The next possession turned the game as Fernley at midfield went for it on a fourth and short. Truckee's defense buried the runner and took over on downs. Truckee would take advantage of Coach Hart's gamble and punch it in with a 1-yard run by Richardson giving the Wolverines a 20-12 halftime lead. The second half was all Truckee as Richardson, Alcaraz, and Kevin Kikawa would score on short runs causing Fernley fans to exit their stadium early.  Sal Alcaraz's 100-yard games in a row streak was snapped at five games as he was held to 31 yards on eleven carries. Other than the big play to start the game and a short field to defend off of the fumble the Defense was lights out again. Truckee was now undisputedly ranked #1 at 6-0 and was firing on all cylinders. A talented Spring Creek team was up next as Truckee Headed home. 21-20!

Week 7: SPRING CREEK 2 TRUCKEE 65

It was homecoming for the #1 Wolverines and boy did they put on a show for the home crowd and alumni that showed up to Surprise Stadium. Spring Creek took a long bus ride to come play the Wolverines on a brisk snow flurried Saturday. They would take an even longer ride home after a 65-2 shellacking. The Spartans would not help their cause by turning the ball over three times within the first five minutes of the game. Truckee would convert those three turnovers into a quick 21-0 lead that Spring Creek would never recover from. Rendon would start things off with an interception on the third play of the game. Truckee's first score would come by air with a Rendon to Horvath connection of twelve yards. Richardson and Alcaraz would score on short runs following the other two Spartan turnovers. On the bright side the rest of the game couldn't get any worse…… Then the second quarter came. Truckee would score 23 more points starting with a pick-six by Michael Detwiler. Rendon to DeMont for two more touchdown passes of 36 and 9-yards and a safety by Kikawa would send the game to 44-2 at the half. Spring Creek's only points came on a punt that sailed over punter Kevin Morgans head. Coach Shaffer would take his foot off the gas pedal as he always did when a game was turning out to be a blow out. However after putting in mostly second and third stringers in for the rest of the game, Truckee would still score. Richardson would rumble in for a 7-yard score ending his day early in which he only had 6 carries for 40 yards and two touchdowns.

Mike Detwiler figured why not pick off one more pass and score another touchdown giving him four interceptions on the season and taking all four back for scores. Andrew Cross would end the day with an 11-yard score giving him 80 yards on the ground on just four carries. Kris Rendon passed for 217 yards and three touchdowns on 17 attempts.Truckee's defense led by Wells, Blanco, Rendon, DeCoite, Dustin and Detwiler gave up just 40 yards of offense including -35 on the ground and forced 5 interceptions and six fumbles. Up next a long trip to Battle Mountain.

Week 8: TRUCKEE 11 BATTLE MOUNTAIN 14

I actually came home for the weekend from college that week and traveled with the team down to Battle Mountain. To say the boys were over-confident was an under statement. Lots of joking and talks of how they would be hanging out with me after the first quarter because it would be a blow out. I'll never forget when we rolled into Battle Mountain and grabbed a bite to eat at the local McDonalds. I remember sitting down with dad and the coaches when in walked Battle Mountain's all-state center and defensive tackle. He was wearing his letterman jacket which was full of football and wrestling accolades. He was a big rugged kid and the first thing that came out of his mouth was "Where is the Quarterback?" everyone turned towards Kris Rendon who wasn't shy in responding "Right here buddy!". The state champion wrestler who came in all by himself threw back a "Your gonna see me all day boy!". He collected his bag of cheeseburgers stared down our team and walked out. I turned to Coach Utah and said "Man, the set of balls on that kid." Utah would respond in Utah-like fashion "I like that kid!"

As the team prepared for the Friday night game a big storm rolled into Battle Mountain the night before and after the JV game turned the field into a mud bowl. Truckee's strength of quickness and misdirection would be gone in the mud and Battle Mountains size would gain the advantage. 15 penalties (some very questionable) for 155 yards would not help the Wolverines cause either. Most of the calls were in the red zone negating scores. Truckee would get inside the 20-yard line six times and only came away with a Rendon field goal on their first six possessions. Battle Mountain would strike first with a 39-yard bull dozing touchdown run by Cody Jones.

After Rendon's 20-yard field goal, Kris would break free on a keeper for 59-yards giving the Wolverines 11-6 lead into the half. The second half was back and forth with no one doing much in the muddy mess. Late in the fourth disaster struck for Truckee when Battle Mountain scored on a 39-yard pass giving Battle Mountain a 14-11 lead after a converted 2-point conversion. Richardson would run for 175 yards and Rendon threw for 152 as the Wolverines out gained the Longhorns by 250 yards but couldn't score. Cody Clark ran for 122 yards on Truckee's stout defense in the victory. Truckee was now defeated for the first time of the year and North Tahoe was coming in next week. With playoff spots and a league championship in question the Wolverines would have to re-focus to what got them to 8-0….  21-20!

Week 9: NORTH TAHOE 6 TRUCKEE 36

Before Truckee lost to Battle Mountain they looked like a shoe in for the #1 one seed and home-field advantage throughout the playoffs. Now if they lose to North Tahoe they will be out of the playoffs. Quite a difference wouldn't you say? North Tahoe would love to make this happen especially in Surprise Stadium. Coach Shaffer made the pre game speech short and simple. "Win – or turn in your equipment Monday morning." With everything on the line in front of their home crowd, Truckee and it's coaching staff would respond with a convincing 36-6 victory. It didn't start off well as North Tahoe's Mike Prado would take the opening kickoff to the Wolverine 35 and along with a face-mask penalty North Tahoe would start at the Wolverine 20. Mike Colpitts would find a receiver for a score and a quick 6-0 lead. Unfortunately for the Lakers they would never score again as big plays would push Truckee to the win. Rendon threw for 257 yards and two touchdowns. A 53-yard bomb to junior Ryan Babb and another to Gallaher. Demont had 101 yards on four catches and Richardson and Rendon would score on the ground. Jesse Martinez put the nail in the coffin with a pick-6 for a touchdown as he did his junior year. With the win Truckee had beaten North Tahoe 10 straight times now. Truckee would gain the 1 seed and another division title (7 out of the last 8 years). Truckee would face off with long time southern nemesis Boulder City who ended the '89 and '91 Wolverines seasons. Manougue would face defending state champs Moapa Valley(21-20), Fernley would face Whittell and North Tahoe would head south to take on Virgin Valley.

PLAYOFFS RD 1: BOULDER CITY 12 TRUCKEE 22

Typically the first round of the playoffs for a 1-seed is a tune up game. Not so much as Boulder City came to play. Truckee didn't help the cause as the refs flagged the Wolverines 17 times for a whopping 165 yards and Rendon was intercepted three times. The Eagles played four quarters of ball and even though they could only muster a mere 36 on the ground they took to the air amassing 211 yards. Truckee got on the board early after recovering the opening kickoff fumbled by the Eagles. Rendon found DeMont for a 12-yard score and an early 6-0 lead. Boulder City would respond with a 10-yard TD pass of their own to tie things up at six. Penalties and a stout Eagle defense would hold Truckee to a 38-yard field goal by Rendon in the second quarter and a 9-6 lead going into the half. Truckee's defense would force a fumble to start the second half in which Ryan Dustin would take into the end zone only to turn around and see a yellow flag due to a "clipping". However Truckee would prevail as Jesse Richardson would punch it in on a 3-yard run giving Truckee a 16-6 lead heading into the fourth. The Wolverines would cap off a long well executed drive with another short score by Richardson giving Truckee a 22-6 lead midway through the fourth. Thanks to some penalties and a half-back pass Boulder City cut into the score 22-12. On the next possession Rendon was intercepted and the Eagles were in scoring range at the Truckee 7-yard line. Luckily the defense tightened up with two sacks and an incomplete pass on a fourth down and twenty. The refs apparently wanted to be the center of attention on this day as they threw 31 total flags on both teams. With the win Truckee advances and guess who will be strolling into town…… The defending State Champion Moapa Valley Pirates! 21-20!!!!!!!!!

PLAYOFFS RD 2: MOAPA VALLEY 7 TRUCKEE 20

21-20 was the mantra that helped guide the 1996 Wolverines to this point and guess who stood in their way? The team a year ago we dominated and took a 20-0 lead into halftime. The team that scored on three breakdown plays by us. The team that stole our state championship. Hello Moapa Valley. To say the Wolverines wanted this more than anything was a huge understatement. It had been 51 long weeks for the 96 seniors to have to think about that game and now they had an opportunity to avenge it. These two teams have a huge history against one another and in my opinion is Truckee's all-time rival. These two teams typically decided the State Championship. I've mentioned this before as Truckee and Moapa are mirror images of one another. Great coaching, small schools, and a desire to work hard to beat anyone. My dad was beyond excited to see that Moapa Valley had destroyed Manogue 59-12. Shaffer was quoted as saying "I think we have been preparing for this game since we got back from the championship game last season. This is a dream scenario for us. We are excited about getting the opportunity to play them again."

Truckee didn't have jitters they had anger and it all started with the strength of the team, the defense, and a very pissed off one. The defense played with a reckless abandon and all eleven hats were on the ball. The defense would yield only 86 yards of offense including a minus 17 on the ground. Truckee's offense was just as impressive as Seniors Salvador Alcaraz (146) and Jesse Richardson (130) would both eclipse the 100-yard mark. Kris Rendon passed for 234 yards through the air with 170 of it going to junior tight-end Mike Detwiler.

Truckee would score on two of it's first three possessions. A field goal by Rendon and an 11-yard scamper by Alcaraz gave Truckee a 10-0 lead. Detwiler would push the lead to 17-0 with a 34-yard catch from Rendon. Moapa answered with a TD pass for 81 yards on their next possession cutting into the lead 17-7 going into the half. Senior tackle Kevin Morgan would recover a Pirate fumble to start the second half which led to another field goal giving Truckee a 20-7 lead.

Moapa would take to the air but could not handle the pressure of Ryan Dustin and Kevin Kikawa as they pinned back their ears and tormented Moapa's quarterback. With the win Truckee advances to their fourth straight state championship game. Richardson breaks the 1,000 yard mark and Alcaraz is close with 960 yards. Now with Moapa Valley dismissed and revenge had been taken, up next and last is the Virgin Valley Bulldogs who Truckee lost to two years ago in State. Hat trick of revenge????

3A NEVADA STATE CHAMPIONSHIP:

TRUCKEE 21 VIRGIN VALLEY 14

Truckee was back in the State Championship for the fourth consecutive year, which was impressive to say the least. The only problem was that they had lost their last two and if they lost this one it would make it three in a row. Truckee would've been the Buffalo Bills of the 90's if they dropped this one. Coach Shaffer and staff had them focused along with a great game plan for the trip to Vegas. It was up to the players to execute and finish. The year before we played a flawless first half but three breakdowns in the third quarter changed that in a hurry and the '96 team had not forgotten.

Virgin Valley came into the game with a record of 9-1. They were huge up front on offense and defense. Averaging 245lbs with one kid at 6'4 340 and another at 6'1 270 on offense and averaged 210 on the defensive line. They also featured two stud running backs in Ryan Hughes and Nate Peterson as both had surpassed 1,000 yards. Virgin Valley would rotate Quarterbacks which typically  would hint if it was a run or pass.

The 1996 State Championship was here and neither team would disappoint as this would be a thriller. The Wolverines would strike first as Rendon would hit Ryan DeMont on a 59-yard touchdown pass on the third play from scrimmage giving them a 7-0 lead. It however would be Rendon's only completion for the game as the Bulldogs frustrated Rendon all day with coverage's and hurried passes. Virgin Valley coach Kirk Hafen and staff orchestrated a great game plan against us in 1994 by loading up the box against our run heavy offense and James Van-Brunt. He would do the opposite in 1996 to take away the pass. For the rest of the half both defenses were lights out and kept both teams out of the end zones. Spencer Archer recovered a fumble and big sacks from Ryan Dustin and Keith Kikawa kept the Bulldogs out of the end zone sending the game to 7-0 at the half.

With the passing game shut down, Coach Shaffer would turn to Sal Alcaraz and Jesse Richardson in the second half to get things going. Truckee would only have one possession in the third quarter and on a 4th and 8 the Wolverines would gamble and go for it on the Bulldogs 30-yard line. Rendon's pass fell short and Virgin Valley took over on downs. Luckily Virgin Valley couldn't move the ball and Mike Detwiler made a huge play in blocking the punt giving Truckee the ball back at the 26-yard line of Virgin Valley. Richardson would cap off the drive with a one yard touchdown run giving the Wolverines a commanding 14-0 lead in the fourth with 11 minutes to play. So Truckee thought, but from then on it would be an epic finish. From their 28-yard line Virgin Valley would answer with a big play as Nate Peterson would find a hole and explode for 72-yard TD scamper igniting the Bulldog sideline. 14-7 and just like that Virgin Valley is back in it. Truckee would have to punt the next series as a flag negated a 26-yard scamper by Alcaraz. Senior Kevin Morgan would get a big sack putting them into a 3rd & 23 from their own seven yard line. The next play Kikawa broke through hurrying the pass and Ben Tohlen would intercept the ball and take it to the house! Truckee up 21-7 and now can relax, so they thought. On their next possession Virgin Valley would score on two plays, a 49-yard catch and 26-yd touchdown reception cutting it to 21-14.

Once again Truckee was three and out and punted the ball away. Tohlen would make yet another big play with his second interception and take it to the 16-yard line. All Truckee had to do was take a knee to end the game but Coach Shaffer elected to hand it off to his most trusted runner in Jesse Richardson. The only problem was he fumbled which he rarely ever did, Virgin Valley ball! It was 1995 all over again. Truckee had to buckle down on Defense one more time. Patterson would catch a pass and if not for the hustle of Mike Detwiler he would've scored. He had gained 53-yards on that play and now Virgin Valley was in the red-zone. With sixteen seconds left Virgin Valley heaved the ball into the end zone…. As the ball was in the air it was only fitting that three year starter Ryan Demont, who was playing with a sprained rotator cuff would have the opportunity to decide the game. As a sophomore Ryan had what looked to be a TD catch versus Virgin Valley at the end of the half in the 1994 state game but he dropped it. I knew Ryan pretty well as I played with him that year and again in 1995. He always carried that with him. He

even had the picture hung up in his locker as a reminder. He even carried the burden the following year when Moapa converted a fourth down and long halfback pass play for a TD. Ryan was always hard on him self even if it wasn't his fault, he was a fighter. I can only imagine when he broke on that ball that he must've thought " This misfortune ends here and now!" as he intercepted the ball by undercutting the receiver.   Ryan had ended it!  Truckee was the Nevada State Champs once again! 21-14 final.

Coach Shaffer had won his first of nine state titles and what a way to do it especially since the year prior was so close. Sal Alcaraz led the team with 109 yards and Richardson amassed 73 yards against a tough defense. Virgin Valley would out gain Truckee but the defense was huge when they needed to be. Kevin Kikawa was an absolute beast as he had huge sacks and even bigger hurries on the interceptions and all this with a broken nose. Kikawa and Ryan Dustin harassed their quarterbacks all game long. This team fought and fought and fought all year and it paid off with a thrilling victory in the state game completing their season with an 11-1 record.

Kris Rendon would finish the year with 1,752 yards passing and was named 3A division 1 MVP along with first team cornerback,kicker, and All-State Player of the year.

Jesse Richardson, Mike Wells (Offense and Defense), Mike Detwiler (Offense & Defense), Ryan Dustin, and Ryan DeMont also made first team league honors.

2nd team league was awarded to Sal Alcaraz, Dan Decoite, Travis Blanco, Ryan Baab and Kevin Morgan.

Coach Shaffer, Rendon, Wells, Detwiler, and DeMont made first team All-state with Richardson, Alcaraz, and Dustin taking second team all-state.

96 RECAP:

Another great rendition of a great Truckee Football season by Shaffer Jr.  I want to thank him for putting in the time to help me tell the many stories of our great Tradition.  Shaffer Jr. has an amazing insight and perspective that none of us have.  He's a coach's son and with that comes an internal perspective that none of us could possibly know.  He got to see coach Shaffer at his best and at his worst. He got to witness, whether he wanted to or not, the damage that takes place on a coach after his team falls short.  He has an inside look of an American family who falls victim to having a father who is a head football coach.  He also, got to experience the many joys and rewards that come with it.  So, when the 1996 football team won the Championship it was mixed emotions.  The first emotion is that yes WE did it and Dad did it!  The celebration and positivity that it brings to the community, the school, and to the house hold.  But then came the emotion of, I wish I could have enjoyed this with my Dad as a player.  I can only imagine toiling over that as the clock finally ran down to zero and the 1996 football team stormed the field together and got to experience everything he dreamed about doing just one year prior.  I can tell you this about the Shaffer family, not a fall season goes by where they are not 100% physically and emotionally caught up in Truckee football.  This is a statement that is still somewhat true today even as Bob Shaffer stepped away from it all.  It is part of who they are as a family.  With every win and with every loss, from Lisa down to Pat, the Shaffer family is invested.  It's why I am so grateful to be the mortal coach who tried his best to carry on the Shaffer Legacy and what we all know to be "Truckee Pride."  The game is about the players, and the 1996 Wolverines had topped everyone in the State and for that we congratulate all who were involved.  This team had great chemestry, great defense, played very physical, and had a great QB.  Sounds about like most of our championship teams.  We also need to take a little extra time to recognize the man who brought stability to Truckee football.  This was a historic night for Shaffer and his family.  The 1996 season was the first of what would become 9 titles under Coach Shaffer and 18 years of the most successful football played in Nevada history.  It's undeniable.

1997: 10-1 (6-0 League) Western Division Champions & State Semifinalists

The 1997 season is one of those years that most programs would call a rebuilding year but at Truckee we call it reload as Bob Shaffer Jr. mentioned in the 1995 writeup.  The 1997 team was coming off a Sate Champion season and Truckee, at this point, had earned the expectations to win it all every year.  This season would be no different.  This team is part of the third longest win streak in Truckee history at 14 games.  Though the expectation was there for this team to repeat Championship status, coach Shaffer down played that expectation in the off-season and early in the year.  After all this team was losing 22 players to graduation.  That would mean just 12 players from the year before would be returning in 1997 and that's why most programs would say that this team was in a rebuilding phase.  However, this team also had one of the biggest surges of new players to come out for Truckee Football than in years past.  Shaffer had established the program as one that was going to be successful and kids wanted to be a part of it.  Forty players would be on the 1997 roster, enough players that Shaffer would feel comfortable trying to start 22 different players, having nobody go both ways.  Shaffer would also implement his new tempo offense, which he called "Rapid-Fire."  The goal was to get off every offensive play under 20 seconds.  The philosophy was to make sure Truckee had worn down their opponents before the 4th quarter started.  So, with a new team, new philosophy, and a new season the Wolverines set out for their 5th State Title.

Though it was great that this team had solid numbers and the ability to possibly start 22 players, that would not be the reason behind its success.  This team was successful because of a small group of seniors who were ballers and passed down the Truckee Tradition.  This team also had a very talented group of juniors, a group that as seniors the following year would produce Truckee's first undefeated season.  But first let's talk about the leaders of the 1997 Truckee Football team.

There were a number of solid role players on this team.  One of the biggest replacements that had to take place was replacing the 1996 QB Kris Rendon.  Rendon was a heck of an athlete starting at both QB and Corner.  He was also Truckee's kicker for 2 seasons.  So Shaffer had to find 3 players in 1997 just to replace the absence of Kris Rendon.  The season would start with a QB battle between Chris Gerdin and Nick Franklin.  Both passed the eye test being over six feet and both players played some QB at the JV level.  Ultimately Chris Gerdin won the starting spot and put together a solid season at QB for Truckee in 1997.  Shaffer early in the year did not ask much of his young QB but as the season progressed Gerdin got better and better and provided a balanced attack in Shaffer's Rapid Fire offense.  Replacing the foot of Kris Rendon was Spencer Archer who also was a returning starter at Wide Receiver.  Archer also rose to the occasion and put together a very good senior season. The 1996 backfield was very strong with 2 seniors in Sal Alcaraz and Jesse Richardson.  The tandem would run all over the Nevada AAA in 1996 and at the top of the list after the QB was replacing the Truckee backfield.  Kevin Kikawa, who played more defense in 96, took over the starting fullback position and did not disappoint becoming a huge threat from anywhere on the field.  Finally one of the bigger role players on this team was a Bay Area transfer by the name of Mike Avila.  Avila brought speed to the 97 Truckee team and he started at Free Safety.  However, Avila was more known for his craftiness on special teams.  Specifically as a punt returner.  Mike Avila put up crazy statistics in 1997 as a punt returner, statistics that will likely never be eclipsed.  Mike had 27 punt returns for 848 yards and 9 TD's.  The crazy thing is that this was only half of his production.  Many returns were called back because of Truckee penalties including 9 TD's.  Teams finally caught on by the end of the season and started directional kicking but by then Avila had caused teams major problems. There were many other key players on this team that made an impact but none more important than the 3 top seniors: Dan DeCoite, Mike Detwiler, and Andrew "Rudy" Cross.

Dan DeCoite was the first of three DeCoite brothers to come through Truckee.  His Dad, Dennis DeCoite, had been a part of Truckee's coaching staff dating back to the Dechler days in the 1980's as well as coaching with Shaffer through the 90's and into the early 2000's.  So, Dan had been around football his whole life and was a 3 year varsity player.  He had experience!  He had been part of the devastating loss in 1995's State Game and got to experience the thrill of winning a State Championship as a junior.  But now it was his senior year and it was time to put together his best season. Dan lead the Truckee defense at middle linebacker in 1997 and is known as one of Truckee's most physical players of all-time. Dan went on to play at BYU and would eventually transfer to Montana meeting up with his younger brother David DeCoite.  The two would have excellent college careers.

Mike Detwiler is one of few Truckee football players to ever play division 1 football.  And he wasn't just on the team, he played, and played in big time college games in huge venues!  Detwiler was a fullback for the Arizona Wildcats in the late 90's and had a heck of college career.  But before that Mike was a two year starter at the Varsity level for Truckee.  He played both TE and outside linebacker for the Wolverines and is one of Truckee's most successful players of all-time.  Mike was a junior on coach Shaffer's first State Championship team in 1996.  As a junior, Mike was 1st team All-League at both Tight End and Linebacker.  He was also 1st team All-State at both Tight End and Linebacker.  He had 6 interceptions and took 4 of them back for a touchdowns.  On the offensive end He had over 300 yards receiving and 3 TD's.  Detwiler continued his dominance his senior year again being selected to 1st team All-League as Tight End and a Linebacker.  He was a first team selection to the All-State team as a Tight End and was voted Lineman of the year as a Tight End, which tells you how good of a blocker Detwiler was.  It was his physicality and ability to block which gave him success at the NEXT LEVEL.  He was a big strong kid that nobody outworked.  He was the leader of the 1997 football team.

Both Detwiler and DeCoite were great players for Truckee and great players at the next level.  They were both big, athletic kids who played very physical Truckee Football.  But the heart and soul of the 1997 team came in a much smaller package.  Standing at 5'5 and weighing just over 130 pounds was a kid they called "Rudy". Andrew Cross was given the name Rudy by teammate Sal Alcaraz during Spring Football practice when Cross was an incoming 8th grader.  The reason was because of the movie Rudy which portrays a story of an undersized football player who never gave up on his dream to play for Notre Dame.  The movie came out in 1993 and in the Spring of 1994 Andrew Cross became "Rudy".  This is a name that he still carries into his adult life.  Andrew did not go on to play football in college but did graduate from UC Davis.  He is currently operating the family business, The Tahoe Truckee Lumber Company which is a very successful business.  What took place in 1997 was nothing short of magic for Rudy.  He truly put together one of the best offensive performance of all-time.  Rudy would carry the Wolverines' offense rushing for 1,458 yards and 26 TD's!  The rushing total stands at 3rd all-time for Truckee running backs in a single season and only ranks behind James Van Brunt and Josh Wilson.  His TD total is tied for second with Damien Fertitta and the two of them only sit behind James Van Brunt who totaled 37 TDs in 1994.  Rudy was a huge success and every time he carried the football the crowd at Surprise Stadium would chant "Ru-dy!, Ru-dy!, Ru-dy!"  It was quite remarkable and a story that is tops in our history at Truckee.  His success was not given, he had to earn every bit of it. Cross was one of the hardest workers in the weight room and his Squat was close to 400 lbs.  He was a skier as well as a football player and though he was small he was very strong.  Cross attributes his success to his small stature stating that he was able to hide behind his lineman and often times the defense did not see him with the ball until it was too late.  One thing Rudy always made sure of was giving credit to his Offensive line.  Many times in his post game interviews Rudy was very quick to thank the following players: Dan Curtis, Jeff McCarthy, David Wells, Santiago Mendoza, Ty Lewis, and Mike Detwiler.  This was the starting offensive line in 1997, 3 of which were juniors.  It was a season for the ages for Andrew Cross, a season I like to refer to still today with our Truckee players.  All Truckee kids should know the story of Andrew Cross.  He is a great story of how size doesn't matter and that hard work does payoff. Rudy had more determination and heart than maybe any player in our history.  A 5'5 130 pound Truckee kid, a skier, and football player….A WOLVERINE!

GAME 1- Truckee 63 Hawthorne 12

With much anticipation the 1997 season got underway in front of very excited Truckee home crowd.  The Wolverines were coming off the a State Championship and the young Wolverines were ready to prove that they would still be the team to beat.  The Sierra Sun reads, "The only worry that the Truckee High sideline would have is if the new score board would be able to record a three-digit score if the Wolverines cracked 100 points."  Truckee went into halftime leading Hawthorne 63-0.  The record for most points scored in a game was held by the 1989 team vs Incline when they scored 69 points.  It looked like that record was going to be shattered on the opening game of 1997 and Shaffer's new rapid Fire offense.  This was Shaffer's 3rd season as Truckee's head coach and the home crowd was about to learn something new about coach Shaffer…that's not a record he would ever want on his resume.  He was not one to run up a score on another coach.  I have been in the sideline with coach in many games where we could have easily taken down that record and he never once was interested in being part of it.  Anytime we ever got close Shaffer would shut it down and call off the dogs.  Many many times Shaffer has kneeled the ball inside the opponent's 5 hardline with plenty of time still on the clock just so he would not run up the score or be that coach to put one more on board.  Shaffer is first class and in the opening game of 97 everyone in town got to see it first hand.  The final score would end up being 63-12 and many of the backups got to play the whole second half of the game.  I don't know too many coaches like that and certainly know first hand that there is not a coach like that in our division.  If any coach had the opportunity to run it up on Truckee, they are going to do it.

Hawthorne dressed just 17 players on this day and they were no match for Truckee, the rapid fire offense, or the very deep roster of the Truckee Wolverines!  Kevin Kakawa started the year off with a 30 yard TD.  The next TD came shortly after as David DeCoite, a sophomore, scored from just a short distance.  After a blocked punt by Dan DeCoite Truckee would score its 3rd TD of the day when Chris Gerdin hooked up with Mike Detwiler on a 15 yard pass play.  Truckee lead 21-0 at the end of the first quarter.  Then the wheels really came off the wagon for the Serpents as Truckee rattled off 42 points in the 2nd quarter.  Scores by Rudy Cross, Kakawa, and an Interception return for a TD by Mike Avila.  A pass from Gerdin to Dan Gallaher set up another TD by Rudy.  Then Mike Detwiler picked off a pass and took it to the house for another Truckee score.  The last score of the half was a 34 yard run by Nick Candler, who the kids all called Chicken Feet.  I still don't understand why?

The second half was uneventful.  Hawthorne got on the board and finishing out the game was just a formality as the Wolverines rolled up the Serpents.  Things that came out of this game.  Number one, the Rapid Fire offense was working.  It wore Hawthorne down in a hurry as they only had 17 players.  Secondly, Chris Gerdin proved to be the guy at QB.  He was calm collected and lead the offense with confidence.  Lastly and most importantly this team could play defense.  This was a very fast and aggressive defense that wreaked havoc on opponents this game was their coming out party!

GAME 2- Truckee 62 Incline 8

Truckee at home vs Incline in the 90's never ended well for the Highlanders.  In 1997 it was no different as Truckee destroyed them 62-8.  On this day it was Kevin Kakawa's day as he had just 6 carries for 78 yards and 4 TD's.  This was a breaking out game for Kakawa who had mainly played defense for the Wolverines in previous years.  This game would prove that Shaffer made a great move putting him at fullback position.  Incline was no match for Truckee and it was the second week in a row where the defense took the opponents will to compete early in the game setting up success for the offense.  Incline struggled to even get a first down in the first half of the game and they were forced to punt.  And when they punted it was to Mike Avila and very dangerous returner. Mike scored on a 50 yard punt return early in the game to make it 21-0.  Gerdin, though he would throw his first INT of the year, would put together another solid performance throwing 2 TD's.  He threw his first TD to Spencer Archer and the second to Mike Detwiler.  Rudy scored on 57 yard run and Jeff Andrs finished out the scoring for Truckee.  The Wolverines were off to a great start but Shaffer made it very clear in his post game interview that Truckee should not get a big head.  Their first two opponents were weak and the following week would be their first test when they face White Pine.

Game 3- Truckee 34 White Pine 26

Truckee is in pursuit of their first Back to Back Championship.  Through their first two games the Wolverines are 2-0 and have outscored their opponents 125-20.  And those 20 points came against Truckee's 2nd and 3rd string after the game was way out of hand.  The starting defense had not given up a score and had scored 3 defensive touchdowns in two games.  Truckee had also established their punt return team.  Dan DeCoite blocked two punts and Mike Avila scored on a return and had many nice returns setting up great field position for the Rapid Fire offense.  Truckee was firing on all cylinders going into game 3.  However, they would have to make the long travel across the State to Ely Nevada.  Ely is very close to the Utah border, 353 miles form Truckee and 6 hours away in a car.  So, on a bus that trip is even longer.  That is no excuse for Truckee's struggles vs number 3 team in the State.

White Pine high school is located in the small town of Ely off highway 50.  Truckee and White Pine have built up a history dating back to 1989 when Truckee beat them to advance into the State Championship.  This would be the first time Truckee would play White Pine in the regular season.  To my knowledge Truckee has never lost to the Bobcats but in 1997 White Pine played the Wolverines very close.  Coming into the matchup Truckee was ranked #1, Virgin Valley #2, and White Pine #3, so Truckee knew that they were about to play a worthy opponent.  The Wolverines were not tested by their first two opponents and may have come into this game a bit over confident but that wouldn't show in the beginning of the game.

"Never underestimate your opponent" words that have come from Shaffer's mouth many times in my experience on his coaching staff and I'm just guessing he mentioned that coming in. So, it was no surprise that Truckee got out to the early lead.  Spencer Archer hit a field goal from 38 yards out to start the scoring.  After the Truckee defense stopped White Pine again Rudy Cross punched in a 4 yard touchdown.  Truckee right off the bat led 10-0 and it appeared Truckee was going to roll just like the first 2 games.  However, Truckee let their guard down on special teams and disaster struck on the ensuing kickoff.  John Nakashima took the kickoff 85 yards for the score and just like that the score was 10-7.  A momentum swing something Truckee hadn't faced yet and the Bobcats were fired up!  On Truckee's next possession White Pine forced the Wolverines to punt from deep in their own territory.  On the punt Truckee's punter, Zach Lawrence, mishandled the snap and fumbled the ball.  Though Lawrence would recover his fumble, Truckee turned over the ball on downs  at their 11 yard-line.  Truckee's defense would be tested for the first time and six plays later the Bobcats took the lead. They missed the extra point and the score was 13-10.  Truckee would handle the momentum in stride and they did not panic.  They moved the ball well all night.  In the second quarter Truckee kicked another field goal and benefitted from another Cross touchdown, this time from 42 yards out.  Truckee took a 20-13 lead into halftime.

Truckee came out in the second half ready to put the game away.  This night belonged to Rudy.  He ended the night with 22 carries, 210 yards, and 4 TD's.  Truckee had what would appear to be a comfortable lead going into the 4th quarter.  But just before the 3rd quarter would end the Wolverines coughed up the football and it was scooped up by White Pine's Leevi Ahlers.  Ahlers ran it in for a 52 yard TD.  That pulled the Bobcats within 2 scores going into the 4th quarter and momentum seemed to turn again.  After both teams could get nothing going on offense in the 4th quarter, disaster struck again for the Wolverines when a Chris Gerdin pass was intercepted and returned for a TD.  Midway through the 4th quarter it would now be 34-26 and Truckee was again in a ball game.  Truckee did not panic and was able to control the clock the rest of the game and the final score was 34-26.  After the game Shaffer noted that special teams would hurt the Wolverines in the contest and that it would be a point of emphasis in next week's practice.  This game on paper was not even close.  Though the defense would give up their first TD of the year, they played strong giving up just 168 total yards.  Shaffer said after the game that defense was this team's strength.  However, the offense has been strong too and the Wolverines stacked up 516 total yards vs White Pine.  Along with a big night from Rudy, Kevin Kikawa had 156 yards and Gerdin threw for 123 yards.  However, Gerdin also threw 2 interceptions showing his youth in a tight game.  Overall this was the first test for Truckee and it exposed some important things for them to work on going forward.

 Game 4- Truckee 41 Mammoth 0

Quick note, 1997 was the year that Truckee ditched the old Silver away pants and went white on white with those solid white pants. A  look that the players prefer still today!  Now, after the close game to White Pine the Wolverines would go on a run that ranks with the best Truckee teams ever.  Specifically the defense would go ballistic absolutely dominating their opponents and putting fear in their hearts.  The first team to experience Truckee's wrath was Mammoth.  As far as I know this is the one and only time Truckee has played Mammoth.  This would be another long trip for the Wolverines.  Mammoth is 175 miles from Truckee and over 4 hours away on a bus.  But this trip would not affect the Wolverines as they would roll up the Huskies.

The Wolverines would put a great team effort together vs Mammoth dominated by Truckee's offensive line.  The Wolverines would rush for 407 yards and totaled 569 in route of the Huskies 41-0.  Gerdin had a much better game going 9-17 and 144 yards.  He also hit Mike Detwiler on a 22-yard TD.  Rudy had his second game in a row with 4 TD's and also rushed for 139 yards on 15 carries.  The Wolverines finish their preseason schedule 4-0 and out scored their opponents 200-46 and really it was much worse.  The starting defense gave up just one touchdown in 4 games.  This had a good deal to do with Truckee being prepared and a very good team but it also had to do with substandard competition.  Something Shaffer knew and would fix before the 1997 season ended.  The Wolverines would first add Manogue to the schedule.  Then Shaffer went after California competition scheduling Las Plumas, Encina, and power house program Christian Brothers.  A game everyone was already anticipating.  But before the Wolverines could get to that schedule they would have to get through their league competition.  First up Fernley!

Game 5- Truckee 50 Fernley 0

It is no secret that there is no love lost between Truckee and Fernely.  There is dark past that dates back to 1988 when the brawl broke out at Fernley that involved Fernley parents hitting Truckee kids.  In my opinion this is a blackeye on the Fernley community that should never be forgotten.  It should also be remembered that Fernley and really Lion County were the biggest advocates to remove Truckee from playing in Nevada.  Another big player in this movement was Moapa's head coach Jeff Knutson who also coached White Pine in those playoff losses to Truckee.  He now is currently the AD at Fernley and a graduate of Fernley.  His head coach was Dave Hart who was the Vaqueros coach dating back to the early 80's and maybe even the late 70's.  Hart, along with Knutson, were the driving force behind the movement of removing Truckee from the NIAA.  The topic had been discussed since Truckee entered back into the NIAA in 1981 but would really start heating up in 1997 and especially the following year 1998. We'll discuss it more when we get to the 98 writeup.  The bottom line is that Truckee and Fernley don't like each other and there is a history of bad blood.

The Vaqueros came into the 97 matchup 2-2 but Shaffer was quick to point out that Fernley is not to be overlooked, speaking very highly of the their skill players.  Shaffer also understood the magnitude of this game even though he was in Ohio when the relationship went sour between the 2 communities.  But the players are the ones who understood the most and you never really need a great pre game speech entering the Fernely game.  The 1997 team was ready to put the hurt on this Fernely team in front of their home crowd.  For Truckee it must have seemed like along time since they last played at home traveling over 1000 miles the past two weeks.  It was time to come down the stairs to "TnT" and wallop the Vaqueros.

The game started out with a bang as Truckee's Rudy Cross took the Wolverine's first play 79 yardsfor a TD.  Truckee never looked back and took a 29-0 lead into halftime.  Fernley was expecting run and stacked the line of scrimmage with 8 players leaving their 2nd and 3rd level

vulnerable.  Rudy was the biggest beneficiary of Fernley's scheme.  Cross had 230 yards on just 12 carries, 19 yards per carry.  Andrew also scored 3 TD's giving him 12 on the season.  At this point the Rudy story was growing and becoming part of history.  Also having a huge day was that Truckee Defense!  Truckee gave up just 34 yards rushing and had a huge goal line stand that set the tone. Truckee had a punt blocked giving the Vaqueros a first and goal from Truckee's eight yard-line.  The Wolverines stepped it up and secured their second shutout in a row.  Also, in this game Truckee exerted themselves on Punt Return.  Mike Avila scored 4 TD's on punt returns but 3 of them were called back on penalties.  To this point in the season Avila had scored 10 TD's on punt returns alone but 7 of them were called back. Fernely just started kicking the ball out of bounds to avoid Avila.  Truckee had things rolling heading into their biggest test of the season, Spring Creek.

Game 6- Truckee 12 Spring Creek 0

Spring Creek comes into the contest ranked number 2 in the State after beating Virgin Valley and 4A school Elko.  They were also 1-0 in league having beat North Tahoe in their first division game. Truckee would have to make another long trip across Nevada.  If nothing else the 1997 team has to have the record for most miles traveled in a season.  Spring Creek is 330 miles from Truckee and a 5 hour trip.  I have the 1997 team totaled at 1,700 miles traveled and 30 hours of travel time.  And this is conservative depending on which route the bus driver took to Ely.  The game was played on October 10th and it was Spring Creek's homecoming game.  Why is this significant?  Well the story line from the Sierra Sun reads, "Snow can't stop TTHS win streak."  It isn't uncommon to get snow in Truckee at any point during the calendar year but I'm not sure how common that is in Spring Creek.  Regardless a nasty snow storm spoiled Spring Creek's halftime festivities as they were canceled.  The game was a mess, slick, and neither team would be able to do much on offense.  In games like this it is more about who makes the least amount of mistakes.  However, that was not the case in this game as Truckee had 13 fumbles!  Luckily it only amounted to 3 turnovers.  Spring Creek struggled with ball security as well and turned the ball over 4 times.  One of those turnovers turning into 52 yard touchdown as senior Mike Detwiler scooped up a fumble and took it to the house.  The play was started by a big hit by junior Jeff Andrs who forced the fumble.  Detwiler explained after the game that nobody saw the ball pop out, so he took advantage of it, picking it up breaking some tackles and securing the win.  The game was scoreless at half time and much of the 3rd quarter.  Truckee forced Spring Creek to punt midway through the 3rd quarter and Avila rattled off a nice return setting up the first score of the game when Cross ran it in from 6 yards out.  The next score came in the forth quarter when Detwiler scored on the fumble recovery.  Shaffer stated after the game that Truckee had played in more snow in past years but the wind made it worse and the weather was a factor.  He then explained that he would love to face Spring Creek again in better conditions.  He had respect for Spring Creek and I think he felt that the weather was more of a factor for their offense than Truckee's.  It had an impact on Truckee though as well.  Gerdin did not complete a pass and Truckee's running game totaled just 136 yards.  But the story is really about that Truckee defense who put together another shutout and this time against a quality opponent.  Shaffer stated early in the year that the 1997's strength was their defense and that has been the case.  Next up would be Truckee's homecoming as the Longhorns come to town.

Game 7- Truckee 48 Battle Mountain 0

Rewind just a year prior when Truckee was 6-0 and traveling to Battle Mountain.  That night was still fresh on the Wolverine's mind as they went into their homecoming matchup vs the Longhorns. Last season is was Truckee's only loss, something that was about to be remedied at Surprise Stadium.  Battle Mountain proposed a threat and had a good running back in Cody Jones.  But the Wolverines were poised and ready to go.  The Truckee defense shut him down to just 12 yards on 20 carries.  Battle Mountain did not have run over 6 yards all game and they routed the Longhorns 48-0.  Twenty-eight of Truckee's points came on special teams plays or defense and it was the new kid from Fairfield who stole the show.  Mike Avila had an interception for a 70 yard touchdown and returned a punt for a 43 yard TD.  Spencer Archer blocked a punt that was recovered at Battle Mountain's 5 yard-line.  Two plays later Rudy took it in for a score.  Then right before the half Ryan Babb intercepted a pass at the Longhorns 10 yard-line and went uncontested into the end zone to make it 25-0.  Truckee lead 39-0 at the half and was well on their way to another dominating performance against a pretty good opponent.  No one player on offense really dominated and Truckee struggled to get in an offensive groove as it was a bit sloppy with penalties in the first half. But the offense really wasn't needed and the defense put an exclamation point on it with a safety for their last score of the day.  Truckee had now shutout their last four opponents and really had only given up one TD all year to White Pine!  The defense was on a roll and they would take their momentum into the "Little Big Game" the following week against rival North Tahoe.

Game 8- Truckee 63 North Tahoe 7

Again Shaffer was very respectful in his pre-game analysis of the upcoming game at North Tahoe. North Tahoe was 5-2 but those two loses were to league opponents and the Lakers would be fighting for their playoff lives vs the Wolverines.  Shaffer told the Sierra Sun before the game that with North Tahoe you can throw out the records, because they tend to play above what normal expectations they've shown."  That is especially true when it comes to playing Truckee.  North Tahoe for a lot of years has been our toughest game of the season.  However, they would be no match for Truckee in 97 and the Wolverines shattered any playoff hopes for the Lakers destroying them 63-7.  The only disappointment being that Truckee finally gave up a score!

The story of this game was the offense.  The offense was able to score touchdowns on their first 6 possessions.  The real stars of the game were the guys up front who opened up holes all game and protected Gerdin.  Both Cross and Kikawa rushed for over 100 yards and Rudy led all rushers with 163 yards and he passed the century mark in the contest.  As good as the offense was it was still the defense and special teams that came through once again.  Avila returned another punt for a TD and the Wolverines held North Tahoe's top running back, Mike Prado, to just 13 yards rushing.  Interesting fact, Mike Prado is now Dan DeCoite's brother in law…bragging rights at family BBQ's!  Truckee knew at this point that they had clinched a playoff spot and that they would host Yerington in the first round.  Before they got to that game they would have to face an always dangerous ROP team in the last game of the regular season.

Game 9 Truckee 40 ROP 0

ROP at home for the last regular season game was more of a formality, at least that is how it seemed.  It appeared that the Wolverines overlooked the last place Rams.  After all it was Halloween and ROP showed up to play.  The Rams have always been extremely athletic and they are always capable of scoring form anywhere on the field.  With the Rams playing their best football the Wolverines could not get things going and lead 3-0 with less than a minute left in the first half.  With just 40 seconds left on the clock Brad Noel and Jeff Andrs sacked ROP's QB in the end zone for a safety making it 5-0.  On the kickoff Nick Candler returned it up to the 50 yard line setting up the opportunity for Truckee to score.  With 19 seconds on the clock Gerdin dropped back to pass and hit Mike Detwiler down the middle of the field.  After a great block by Spencer Archer and Detwiler shrugging off a tackle inside the 10, the Wolverines scored.  Then Detwiler threw a pass to Mike Avila for the 2pt. conversion and just like that Truckee lead 13-0.  Truckee had the momentum going into half time and they would come out swinging in the second half.

Nick Candler had another nice return to start the second half of the game taking the ball up to the 46 yard-line.  On the first play of the second half Rudy would take the handoff and 54 yards for the score.  Truckee would not look back.  Mike Avila would score another punt return his seventh on the year.  Rudy would score again and then Seth Scribner would score the first TD of his career.  The defense would hold ROP to just 24 total yards and though the game seemed close it really wasn't.  Dan DeCoite mentioned after the game that he was having flashbacks to the Battle Mountain game from the 96 season.  He also mentioned that his team overlooked the Rams.  Mike Detwiler praised ROP's effort and said, "that was the best ROP team I'd ever seen." But Shaffer felt like the game was always in control.  The offense was moving the ball well all game.  But they made some mistakes turing over the ball 3 times in the first half which killed their momentum.  The defense recorded their 5th shutout on the year and appeared to be ready to make a run to the State Championship.  Truckee now would take on the Yerington Lions at home in the first round of the playoffs.

Game 10 Round of the Playoff Truckee 48 Yerington 8

In the first round of the playoff the Yerington Lions came into the game knowing they had to change something.  They couldn't let Truckee dictate the tempo.  So, Lions plan was to come into Surprise Stadium and beat Truckee at their own game.  Yerington brought an up tempo passing game into round one vs the Wolverines and it backfired.  By the time they figured out that it was a bad idea the score was 21-0 in the first quarter.  After that Yerington settled into their offense and was actually able to move the ball against Truckee but it was too little, too late.  The Lions had 72 plays to Truckee's 43 and it left the players and coaches frustrated after the game.  Again, Dan DeCoite after the game would state Truckee overlooked Yerington and that the team did not do their do diligence in studying their assignments.  He then went on to say, "If we play defense like we did today vs Virgin Valley, we will be turing our gear in on Monday."  Shaffer too was not pleased with Truckee's defensive effort mentioning that Yerington should have come in doing what they do best and that's run the ball.  It could have been a different game had they done that and coach Shaffer knew it.  Truckee gave up 143 yards just on the ground, the most they had given up all year.  Truckee also had breakdowns in the secondary causing concerns going into game with a much stronger opponent in Virgin Valley.  But when it was all said and done Truckee took care of business and soundly beat the Lions 48-8.  Some credit has to go to Yerington, after all they were a playoff team.  The Truckee defense still did a pretty good job keeping the Lions off the score board and that's the most important part.  Champions are never pleased and know there is always room for improvement and seniors on this team knew the following week would be a completely different level of play and intensity.  Something they experienced in the State Championship in 96.

As for the offense the scoring started out with 10 yard strike from Gerdin to Detwiler.  Gerdin had a solid day at QB and was accurate than usual completing 10 of 15 passes for 90 yards and 2 TD's.  The second TD reception was to Kikawa form 15 yards outs.  Rudy had another dominating performance behind an offensive line that had improved a great deal week to week.  Cross finish with 207 yards and 3 TD's.  Things went pretty much like the first 9 games, the defense shut down their opponent, Gerdin did his thing, Detwiler scored, and Rudy dominated.  But was it enough to advance into the State Game vs the very hungry Bulldogs?

Game 11 Semi-Finals at Mesquite Nevada Truckee 20 Virgin Valley 37

Dan DeCoite had a very good interview after the Yerington game and I think it was very telling.  He clearly was not impressed with Truckee's performance and almost seemed like he knew that there were players on the 97 team that did not understand the magnitude of what was about to take place.  He reflected on the 1995 season when he witnessed a colossal breakdown by Truckee in the State Championship vs Moapa.  He talked about having the score 21-20 written on everything. There was a constant drive in 96 to get back to the State game and finish it.  And that's exactly what the Wolverines did beating Virgin Valley 21-14.  That victory did not come easy and went down to the wire.  What does this have to do with 1997?  Well, DeCoite continued to say, "Just like we had 21-20 written on everything last year, they'll be remembering the score of last year's game to get motivated and they will be fired up."  DeCoite knew this and understood that their play was going to have to rise a great deal if they were going to travel South to beat Virgin Valley.  Truckee does not have a great history of traveling down south in a Semi-final and winning.  In fact I think we've only done it twice in our history.  The 1982 beat Moapa at Overton to advance to the State Game and would latter fall victim to the Minor Miracle.  Then in 2002 Truckee beat Virgin Valley to again face Manogue in the State Game and lost big.  So Truckee had their work cutout for them.

If you matchup scores and common opponents Truckee had the advantage going into this game.  Virgin Valley was a number one seed and their record was 9-1.  There only loss?  They lost to Spring Creek who Truckee beat 12-0.  Shaffer, interviewed prior to the matchup stated, "I can't say this is the State Game.  Spring Creek beat Virgin Valley by 10 points earlier this season and we beat Spring Creek by only 12 points in a snowstorm.  I said following that game I'd like to see what Spring Creek could do in good weather- It looks like I might get my wish."  Though he said "might" it could appear, to some, that Truckee is overlooking Virgin Valley.  I know what he meant, he was just recognizing that Spring Creek was a worthy opponent and, given Truckee get's past Virgin Valley, it could be a different game vs Spring Creek.  Shaffer was caught in a bad question.  Now, I'm not sure that the Sierra Sun articles were on the internet back then, so there is a very good chance Virgin Valley never saw that quote.  However, it brings up an interesting question, was there a locker room full of young players that were looking past Virgin Valley?  While I don't think Truckee overlooked Virgin Valley, I think they may have been over confident.  How could you blame them?  Nobody to this point in the season had challenged them and the one team that came close was Spring Creek who beat Virgin Valley. I say this with no disrespect to coach Shaffer or any player on this team.  With a long travel, a little over confidence, no Mike Avila, and a very hungry Virgin Valley team…it was the perfect storm for the Bulldogs.

This was a team that had clearly proved they could travel.  After all, they traveled over 1,700 miles and over 30 hours in the 1997 season.  This is equivalent to driving to Dallas Texas.  So, this team was well traveled.  Also, this team would fly South and not take a bus.  So, travel becomes even less of an issue, or does it?  Truckee faced a number of transportation problems that kept them up all night Thursday and into the early part of Friday morning.  Apparently the landing gear on Truckee's scheduled flight was not working and had to be serviced.  However, when 60 people are scheduled on one flight it is not easy to just move everyone onto a new flight.  They planned to have the team travel in groups on different flights but Shaffer did not like that idea.  So, they had to wait for a plane.  Finally late in the night they were able to board the Phoenix Sun's private plane, but by then it was really late and the team arrived in Las Vegas at 3am.  The next logistical nightmare was getting transported from the Vegas airport out to Mesquite which was roughly an hour away from Vegas.  The Clark County school district was scheduled to transport Truckee originally but that was when Truckee was arriving in Vegas in the early evening.  No district bus drivers work at 3am, so the Wolverines would have to spend the night in the airport until the Clark County School bus could pick them up at 7am.  The Wolverines did not check into their hotel in Mesquite until 9am.  As you can imagine, having high school kids in an airport for that amount of time boredom becomes a factor.  So, now a team who traveled well suddenly became distracted and sleep deprived.  Shaffer mentioned after the game that Truckee appeared sluggish and a step behind all game.  Another issue that was a factor in this game was the absence of Mike Avila who made the trip but did not travel with the team.  Avila traveled down with his parents and had a 103 temperature, which did not go away.  He had proved to be a huge part of the defense at Free-Safety and of course his punt return ability had been huge all year.  But as good as Mike was he could not be the difference in Truckee going down 31-0 early in the game.  So, what happened?

Truckee dominated all year and clearly this was a team that they could beat or at least compete with.  Virgin Valley came out swinging and scored on their first 5 possessions.  Truckee struggled to move the ball and just like that the Wolverines were down 31-0.  To pinpoint what happened to one thing would be unfair.  It appeared to be many things that went wrong or were unfortunate for Truckee.  At the top of the list was that Truckee had not seen size like this all year and they were outmatched upfront.  "They were big, tough, and a physical team that dictated the tempo of the game" Shaffer said.  Virgin Valley's running back, Sam Dodd, had Rudy like numbers rushing for 206 yards and 3 TD's.  I don't think there was a team all year who totaled over 200 yards.  The Wolverines did finally get things going in the second half outscoring the Bulldogs 20-6 but by then it was "too little, too late."  Rudy was able to score 2 TD's and Kikawa added another.  But Truckee was plagued by penalties in the first half which killed any momentum they could muster.  Even when the defense made a rare stop the Truckee offense could not get it going.  The answer to what happened, was answered by Shaffer after the game, "there was no one reason why we lost.  We just got beat by a better team.  Overall, they just played better than we did.  We had prepared well but we didn't execute."  I have a hard time believing Virgin Valley was that much better than us.  The following week Spring Creek beat Virgin Valley in the State Championship game.  Was Truckee just outmatched or is there more to the story?

Recap

The 1997 team will go down as one of the most dominating teams to not make the State Championship game.  Though it might not have made a difference, Truckee was dealt a bad hand in 1997 in a logistical setup that did not work in their favor.  Truckee was undefeated in 1997 and had to travel South for a Semi-Final matchup?  That is a tough one to swallow.  Meanwhile Manogue, a number one seed, loses to number 2 seed Spring Creek at home?  The logistics worked in Spring Creeks favor and they clearly matched up with Virgin Valley better than the Wolverines.  Unfortunately Shaffer never got to see Spring Creek in good weather to see how things would shake out.  I would explain the 1997 year as odd.  Truckee basically blew out all of their competition and they were never challenged.  It made the season a little uneventful and really more of a formality.  So, when Truckee was challenged they were caught off guard and struggled to fight back, only to be blown out like they did to the first 10 teams they played.  As mentioned in the beginning of this writeup, the team's success was highly dictated by good role players, young talent, and 3 seniors: Dan DeCoite, Mike Detwiler, and Andrew "Rudy" Cross.  Andrew Cross's season was incredible and the story of an undersized kid from Truckee with tons of heart has been played out many times since Rudy.  However, nothing like his senior year.  It truly is one the more fascinating stories in Truckee football history.  The 97 team was truly a great team that had good young talent.  They had great senior leadership and unfortunately fell short.  That young talent learned a hard lesson in 1997 about how to approach playoff games and how to conduct themselves when traveling.  Many young players on the 97 team got valuable experience and the lessons learned would take them on a historical run in 1998.

1998: 12-0 (6-0 League) Western Division & AAA Nevada State Champions

This, I'm sure, is a long anticipated wait for the 1998 writeup.  That is… for those hardcore Truckee grads that love this kind of chatter.  Football is not just a game, it's not just a sport, it's a way of life.  And it certainly was a way of life for Coach Shaffer and his players.  The 98 team had been playing football together most of their live's.  The juniors on this team had never lost a game and the seniors…just one loss.  Rewind to 1997 when Truckee fell to Virgin Valley 37-20.  That was the first loss of their careers.  It's that loss that inspired an explosion in 1998.  And so, the Wolverines posted that score up in the off-season and they had to look at it everyday…fueling their intensions to avenge the loss of 97.  The 1998 team played with a chip on their shoulder and they set out to make sure everyone of their opponents knew that not only were they in for a long day but also that they did not stand a chance.

The Wolverines were on a mission and no team would get in their way.  This included themselves.  This team knew that they let their guard down during the 1997 playoff run.  They were an immature young group that got distracted by the Vegas lights.  They vowed to one another, committed to the process, and then followed through with the plan.  A well architected plan by coach Shaffer and his staff.  The 98 season was a culmination of rage, hard work, size, talent, and an unrelenting coaching staff that was seeking perfection.  For me, I was fortunate enough to be around this team all year.  I was a JV coach in 98 and got to personally see this team dismantle everything that got in their way.  I am honored to tell their story and pass down their legacy…This is the story of the 1998 Truckee Wolverines!

Since 1998 there has been 3 other teams to go undefeated.  Those teams are the 2009, 2010, and 2011 teams, which put together what is now known as "The Streak".  And while that era deserves it's fair recognition, it was the 1998 football team who put together the first undefeated season and that's what makes this story so intriguing.  It can certainly be argued that this 98 group was the best team to ever set foot on Surprise Stadium.  Each of the four undefeated teams were loaded with talent, and the argument will forever be who is the best team in Truckee history?  No doubt I know the answer from those who suited up in 98.  It is for good reason that they would say unquestionably that it was them.  Lucky for me, I was able to experience all of these teams first hand…obviously a bit closer to the more recent 2009, 2010, and 2011 teams.  If anyone is looking for me to state who is the best team…that I won't do, but I will tell you that this 98 team has a very strong case.  One thing for certain they reached perfection!

The strongest argument that the 98 team will undoubtably hang their hat on would be their strength of schedule.  Remember in the 1997 season Truckee steam rolled through a very weak schedule  and that may have been a contributing factor during their playoff loss.  Before the 1997 season was even over coach Shaffer had already addressed that.  Replacing the likes of Incline, Hawthorne, Mammoth, and White Pine who the Wolverines demolished for a combined score of 200-46. The Wolverines were challenged in basically 2 games in 1997 and that was the Spring Creek blizzard and the Semi-Finals which they lost to Virgin Valley.  I guess you can make the argument that White

Pine also challenged the Wolverines in 97.  In 1998 the Wolverines would be tested right out of the gate as their pre-season schedule was swapped out for Manogue, Las Plumas, Encina Prepartory, and Sacramento Power house Christian Brothers.  The upgrade in schedule no doubt prepared the 98 team to not only win the State Championship but put them in a category of their own as it relates to Truckee football history.  First off, Manogue.  Truckee and Manogue have a long history that dates back to the 1950's and Manogue dominated most of the early match ups.  However, Truckee dominated Manogue in the early 90's and was not on Truckee's schedule due to a realignment in 96.  The 2 teams would face-off in week 1 of the 1998 season.  Secondly, Las Plumas.  This was a California team from the CIF's Northern Section.  Traditionally tough kids, good program, and they had an enrollment of 1,200 students.  The third team that was new in 98 was Encina Prep.  This was a school from the inner parts of Sacramento.  The school tripled Truckee's enrollment and is part of the CIF's Sac Joaquin Section.  Lastly, is Christian Brothers.  Christian Brothers has a very proud tradition and is well known to be a Power House in the Sac Joaquin Section in years past and this would provide Truckee with a challenge they've never faced before.  It is this matchup, in my opinion, that could be viewed as the best evidence in the argument that the 1998 team is indeed the best Truckee Football team ever.  If there was ever a game that defined a team and their greatness, it was the day Truckee took down the Falcons.

Before we start talking about each game and what transpired I'd like to introduce some of the key players and leaders of the 98 Wolverines.  Shaffer has said throughout the years that a team's success is not dictated by the juniors on his team but that of the seniors.  You will only go as far as your senior class takes you.  As mentioned before, the seniors on this team were no strangers to success.  They had a confidence and a swag to them that was unmatched.  It made for some great football players and great leaders.  The first of these leaders is Josh Wilson.

The 1998 team had many personalities, characters, and good stories.  But probably the most intriguing story of 98′ is the story of Josh Wilson.  Josh was voted in by his peers to be a captain.  Something he earned in the offseason.  If you know Josh then you know he is a very determined person who is not afraid of hard work and certainly does not take no for an answer.  During Wilson's junior year he was some what shuffled to the back and did not get much playing time.  He was told that he was not fast enough or tall enough to be in Truckee's backfield.  It appeared that he would better serve the team as a lineman.  I have no doubt that Josh could have played line and done a heck of a job and I even think he would have done it if coach Shaffer asked him to.  But Wilson wanted to be the fullback for the Wolverines and worked in the off-season and summer harder than he ever had before.  He put everything he had into getting lean and strong for the 98 season.  Chasing after his dream and not taking no for an answer was something he learned over seas in New Zealand.  He went to New Zealand with his family as a missionary.  While over seas Josh got involved in Rugby and tried out for Canterbury.  After being cut from the team Wilson was devastated.  As he walked over to his dad a sobbing mess, his Dad prompted him to go ask the coach why he didn't make the team.  With every bit of his fiber resisting it, Josh walked over to the coach and asked why he was cut.  The coach was impressed with the young man's resolve and made a roster spot for him.  Wilson then went on to become Canterbury's most valuable player.  He was invited to play on the All-South Island team with some of the best players in New Zealand.  He was the first American to play on the All-South Island team.  Wilson attributes his time playing rugby to his football running style and success.  The life lessons he learned in New Zealand played a huge factor in his determination to become Truckee's starting fullback.  As the month of August was drawing to an end and Truckee was nearing their first game Wilson was named the starting fullback going into week 1.  He had earned Shaffer's trust.  Wilson took this opportunity and never looked back. He had one of the best season's a running back has ever had at Truckee.  Josh carried the football 178 times for 1,638 yards sitting only behind James Van Brunt.  He also added 203 yards on 13 catches.  Lastly he had 15TD's and 2 of those TD's came in the season's biggest game verses Manogue in the State Championship.  Josh had a unique running style.  He was a throwback and so it is fitting that he wore the number 39 in honor of Larry Csonka.  Wilson was a physical runner who was able break tackles and run his opponents over with ease.  It's ironic that Wilson was told that he wasn't tall enough to run the ball, because it was his height (or the lack there of) that gave him a distinct advantage.  His low center of gravity gave him balance and he was always lower than the players trying to tackle him, which made him extremely hard to bring down.  On top of that he was extremely strong and weighed around 200 pounds.  It didn't take long for Josh Wilson to catch the attention of Northern Nevada and he would lead his team both on and off the team to perfection.

The next player who should be discussed is Jeff Andrs.  Andrs was also voted in as a captain in 1998 and lead his team by example.  Though he easily could have been a two-way player, Truckee was trying to field 22 starters and for the most part they were able to do so.  By the time they reached the playoffs the Wolverines had zero players starting on both offense and defense.  Though Andrs would enter the game at the Strong-Safety position when needed, he did most of his damage on offense.  He lead the team in scoring and touchdowns.  Andrs sits 8th in Truckee history with most yards rushing in a season.  His 1,128 yards paired with Wilson's 1,638 yards combined for the best Running back tandem in Truckee history.  One of his better games, like Wilson, was in the State Championship.  Jeff Andrs was a very physical player.  He took a defensive mentality to the offensive side of the ball.  He too would run defenders over with ease, but also had the speed to take it the distance.  He was a team player who also blocked his tail off for teammates.  Andrs also injured his knee in week 4 but never once took a play off because of it.  He was probably the toughest player on the team.  On top of the many qualities that Jeff had was his ability to catch the football.  He was an all around athlete who had 4 successful years playing football for the Wolverines and in 98 he put together his best.  He should be discussed amongst the many great halfbacks to perform in the Truckee Wing-T.

The 3rd captain on the 1998 team was Ty Lewis.  Ty is the second of four Lewis brothers to come through Truckee's football program.  All four boys were on a State Championship team.  You can imagine that the get togethers on holidays are quite entertaining.  Ty was one of Truckee's anchors on the offensive Line.  He played strong tackle on arguably the most successful O-line Truckee's ever had.  I say that because the 1998 team holds the record for most rushing yards in a season with 3,706 yards.   You don't put up those types of statistics without being very good on the offensive line.  Not to mention the likes of Hawthorne, Incline, and Mammoth are absent form the schedule.  Both Ty Lewis and David Wells were the leaders in 98 of the Great "Red Wall" and Lewis was voted in as a captain.  He had good size, strength and was a great worker.  There were many on this team that could have been captains.  It was loaded with good football players that loved the game and loved to prepare.  In the many conversations I've had with guys on this team they all have stated that practices were far more difficult than game day.  They competed in practice daily to make each other better but also just because they loved to get after it.  This was a team that had chemistry, they were all on the same page, and genuinely loved each other like brothers.  So, to be a captain of this team was an honor and the 3 captains nominated in 98 represented their team with class.

22 STARTERS

The 98 team had an unusual amount of depth at each position.  Dating back to the Estabrook years Truckee tried its best to platoon and come up with 22 starters but it was rare to have 22 different starters due to depth.  Though there were players throughout the 98 season that started both ways, when the team was healthy their were indeed 22 starters.  Heading into the State Championship Game there were definitely 22 starters.

DEFENSE

Defensive End- Brandon Anderson 6'2 220lbs. Senior

Defensive End- Jarrod Fleetwood 5'10 155lbs.  Senior

Defensive Tackle- Josh Hunt 6'5 260lbs.  Senior

Defensive Tackle- Brad Noel 6′ 300lbs. Junior

Strong Safety (OLB)- Josh Anagnos 6'1 215lbs.  Senior

Razor (OLB)- Tudi Corral 5'8 145lbs.  Junior

Mike Backer (ILB)- Seth Scribner 5'10 185lbs  Senior

Will Backer (ILB)- Zach Wilson 6′ 210lbs. Junior

Free Safety- Robby McClendon 5'10 150lbs. Senior

Corner- Victor Corral 5'9 150lbs.  Senior

Corner- Chris Birchard 5'10 150lbs. Senior

OFFENSE

QB- Chris Gerdin 6'1 175lbs. Senior

HB- Jeff Andrs 5'11 190lbs. Senior

FB- Josh Wilson 5'9 200lbs. Senior

WB- David DeCoite 6′ 175lbs Junior

Tight End- Jessy Owen 6'2 185lbs Junior

Wide Receiver- Jeff Hovorka 6′ 170lbs  Senior

Center- David Wells 5'8 185lbs Senior

Strong Guard- Robert Acevedo 6'3 210lbs Sophomore

Quick Guard- Jimmy Schaaf 6'1 185lbs Senior

Strong Tackle- Ty Lewis 6′ 235lbs Senior

Quick Tackle- Danny Curtis 5'10 190lbs Senior

WEEK 1 AT MANOGUE 16-8

The much anticipated game vs Manogue has arrived.  Shaffer stacked the 98 schedule with much more worthy opponents to prepare the Wolverines for a deep playoff run.  Adding Manogue to the schedule was a great idea.  The 2 teams hadn't faced off in 2 seasons due to a re-alignment.  This game in week 1 would prove to be more than a challenge for the Wolverines.  In fact the Wolverines really would not be challenged again to the extent that the Minors challenged them in week 1.  The two teams were scoreless after the first quarter.  But then disaster struck for Manogue when their starting QB,Dustin Garcia, dropped back to pass and tried to scramble free but he was destroyed by Brandon Anderson.  The sack would put 2 points on the board for Truckee but the hit also knocked Manogue's best athlete out of the game.  This would prove to be a huge blow for the Minors as the game was a close one.  On the very next possession the Truckee

offense got things going.  Jeff Andrs had a long gain for the Wolverines setting up a Josh Wilson touchdown to make the score 9-0 and that's how the first half would end.  In the third quarter Truckee would strike again on a David DeCoite 4 yard run for a TD.  Truckee would go up 16-0.  The Truckee defense was in control of the game.  Though the game was close, the Truckee defense was so dominate that the Wolverines were never really threatened.  However, the Minors did put up a score late in the 4th quarter.  Though Truckee won their first game, they were not quite clicking in game one, which is typical.  This was actually Manogue's second game of the year and that makes a difference.  Truckee's QB, Chris Gerdin, had jitters early and the Truckee offense could not get rolling.  Truckee would finish with 36 rushes for 178 yards, lead by Josh Wilson's 65 yards on 15 carries.  Gerdin was 10 of 17 for 137 yards but did throw 2 interceptions.  The Truckee offense put up a solid 315 total yards of offense against a very scrappy Manogue defense.  The Truckee defense completely shutdown the Minors running attack.  Manogue had 39 rushing attempts for 40 yards.  They also had 74 yards passing totaling 114 yards of offense.  Shaffer did say that Manogue's team speed surprised the Wolverines.  Though coach Shaffer was pleased to get his first win of the year, he did not seem pleased by the team's performance and stated that they would be working on blocking and tackling heading into to week 2.

WEEK 2 VS  TRUCKEE 34 LAS PLUMAS 0

The Las Plumas Thunderbirds would be the first of three California opponents on Truckee's schedule in 98.  In the Sierra Sun it says that Las Plumas is from Sacramento but that's not true.  Las Plumas is up near Chico in the Orville area.  They play in the Northern Section division III and their enrollment is around 1,200 students.  Their rival school is Orville.  Truckee played Orville in 1990 and lost in a tough battle 17-16.  The game was very physical and so Truckee was expecting a very physical opponent when they scheduled the Thunderbirds.  It was quite the opposite as Truckee rolled them up 34-0 and really could not have dominated them more than they did.  Las Plumas after 1998 would actually only win 5 games over a 10 year period.  So, while they are from California and a much bigger school than Truckee, they were not a good team.  This is not to discredit the Wolverines who made a strong

statement for Nevada football on this day.  Las Plumas before the game stated in their local paper that Truckee was no match for them…never agitate a Wolverine. The Thunderbirds were held to just 12 yards rushing on 51 attempts…wow!  They had 37 yards passing for just 49 total yards.  The Truckee defense broke a school record that still stands today sacking the Las Plumas Quarterback 10 times.  Brandon Anderson, Seth Scribner, and Big Derik Newman all had two sacks each. The Wolverines also recovered 6 fumbles in a complete route.  In fact with how much the defense dominated the score could have been much worse but the Wolverine offense was plagued by yellow flags.  This made it hard for their offense to get into a rhythm.  This is not to say the offense had a bad day.  Leading the offense was David DeCoite who had a huge day scoring 3 TD's.  He had just two carries but both of them went for long TD's totaling 108 yards.  DeCoite took a 8-23 counter 85 yards for a TD and later in the game scored from 23 yards out.  He also had 3 catches for 60 yards one of those was a 40 yard TD.  For the rest of the team it was all business.  The Wolverines rushed for a total 255 yards and passed for 217, a well balanced attack.  Gerdin had a solid outing going 10 of 20 for 158 yards.  Carson Spect stepped up too and also had a very productive day throwing 2 passes for 2 completions and a touchdown.  Also, to note a the sophomore Casey Nelson rushed for 34 yards on just 5 carries.  Overall, everyone got a chance to play in this game and the Wolverines were now 2-0 heading into week 3.

WEEK 3 CHRISTIAN BROTHERS 24-0

The matchup between Truckee and Christian Brothers can be described as a clash between two historic and proud traditions.  Christian Brothers High School was established in the 1870's and they fielded their first football team in 1917, 35 years before Truckee had their first team.  Christian Brothers plays in the Sac Joaquin section Division III.  On their schedule traditionally is Mira Loma, Rio Americano, Casa Robles, and El Camino who was ranked number 5 heading into week 1 of the 98 season.  In week one Christian Brothers beat El Camino 51-46.  This was a huge win for the Falcons who only saw 3 wins total the 3 seasons prior to the 98 season.  Christian Brothers had a proud Tradition and have mostly been a power house in the Sacramento area for division III, but in the mid to late 90's they were struggling.  However, in 98 they were trying to get back to their dominance and beating Truckee would give them some much needed momentum.  For Truckee they hadn't faced a strong opponent like this from California in many years.  You'd have to date things back to when Truckee played in a league with Del Oro.  The 60's and 70's Truckee played some tough schedules.  In 1958 Truckee traveled to Norte Del Rio High School, which today is Grant High School and beat them in 100 degree temperatures 18-6.  That win might be one of the most impressive wins in Truckee history.  The game verses Christian Brothers was that type of game for Truckee.  The enrollment of Christian Brothers was around 1,000 students but it is a private school and they were loaded with local recruits.  They had tremendous size and were very talented at the skilled positions, which made for a tough matchup.

Christian Brothers strolled into Truckee with Oxygen tanks and a very good sized crowd.  There was a certain confidence to the Falcons as they stepped into Surprise Stadium.  A confidence that would soon turn into panic.  When Truckee saw the oxygen tanks being loaded off the bus there was actually a sigh of relief as the Wolverines knew right then that the high elevation of Surprise Stadium was in their heads.  Heading into this matchup the Wolverines knew they were gonna have to stop the run.  A week prior vs El Camino Christian Brother's standout Albert Hollis rushed for 228 yards.  Albert Hollis who stood 5'11 and about 180 pounds had the type of speed that Truckee had never seen.  He once clocked a 10.44 100 meter dash, which was the 8th best in the country at the time he ran it.  Needless to say he was very fast and the Wolverines had their hands full if they were going to stop him.  Making it even more difficult was the amount of size Christian Brothers had on their offensive line.  The good news was that Truckee's strength in 1998 was their defensive line. Josh Hunt, Brad Noel, Brandon Anderson, Jarrod Fleetwood, Josh Anagnos, and Jeff Andrs came up huge for the Wolverines.  The front 5 for Truckee avg. 230 pounds and that was with Fleetwood who was just 5'10 155 pounds.  In their first two games the Truckee defensive front absolutely dominated their opponents.  With a relentless aggression the Truckee defense smashed their opponent's running backs forcing them to spill the ball and many of them preferred to stand on the sideline.  They also victimized Quarterbacks having 12 sacks in just two games.  If they were going to slow down Hollis and the Falcons Truckee would need their best best game of the year, and that's exactly what the Wolverines would do. The Truckee defense was able to hold future Georgia Bulldog, Hollis, to just 87 yards. Truckee rolled the Falcons 24-0

and earned their second straight shutout.  Again this was a day for the defense.  They forced another 4 turnovers and they were able to limit the run game.  The Falcons were just 7 of 28 through the air and the Wolverines had 2 interceptions.  One of those interceptions was caught by Chris Birchard in the end zone, which ended a Falcon Drive.  Once again It was complete dominance.  On the offensive side of things Truckee had another strong outing.  Josh Wilson ceased the day rushing for 121 yards on 13 carries and a big TD run to close things out in the 4th quarter.  Also a strong outing was Jeff Andrs who rushed for 67 yards on 10 carries and a TD. Andrs ran angry in this game delivering several blows to the defense.  His TD was the first score of the game and it set the tone.  Casey Nelson also put in 38 yards on 4 carries and a TD.  The Wolverines rolled up 236 yards rushing against a solid opponent.  Also, Chris Gerdin picked a great day to have his best game going 10 of 15 for 180 yards.  Shaffer said prior to this game that Truckee would need to play a perfect game to beat the Falcons.  After the game Shaffer said, "We just played one of the best football games since I've been a coach here."  Coach went on to compliment his coaches on a great game plan, which the players executed to perfection.  I stated earlier that it was this game that defined the 1998 team.  This game was monumental for our program.  Though Christian Brothers had lost a bit of their power house status, this was the season they were going to put themselves back on the map in Sacramento.  They were ranked 7th heading into the game vs Truckee.  Also, knowing what we know now about Albert Hollis, it was a game that Truckee really could not have played any better.  They not only took down a bigger team, and a bigger school, but they stopped one of the best high school running backs in the nation during this era.  This win would give the Wolverines a ton of confidence and momentum heading into week 4.

WEEK 4 AT ENCINA 42-0 (played at El Camino High School)

Truckee goes into week 4 for riding major momentum to face the 0-2 Bulldogs.  In week 3 Encina lost to Natomas 27-6 and gave up over 300 yards rushing.  Encina had good size up front and had some great athletes but they would really be no match for the very physical Wolverines.  With a defense that has only given up 8 points in 3 games and players that were foaming at the mouth to get to their next opponent the chances seemed grim for Encina.  The Bulldogs and their sophomore QB were about to get introduced to Truckee Football.  It didn't take long for the Truckee defense to set the tone.  Truckee forced the Bulldogs to punt after their first 3 plays.  Then the punt was blocked by Josh Anagnos.  After a short gain by Josh Wilson, Jeff Andrs would strike first on a 32 yard touchdown run behind Danny Curtis on a 42 tackle trap.  The 42 tackle trap was working all night as Curtis lit up Encina's 6'7 348 pound senior, Chris Willingham.  In fact Curtis pancaked the much larger Bulldog in the 4th quarter on long run by Andrs.  Jeff Andrs had a big night rushing for.129 yards on just 8 carries.  Gerdin put together his best game of the year completing 6 out of his 8 attempts for 157 yards and 4 touchdowns.  But more impressive, according to Shaffer, was that his QB would audible several plays throughout the game turning small gains into big plays for the Wolverines.  He hit his favorite target, DeCoite, 3 times for 88 yards and 2 TD's.  The first passing TD was just a 5 yard hitch to DeCoite who made a move ran 37 yards for the TD.  The next TD was a fade route that DeCoite made an amazing catch on.  Gerdin's other 2 TD passes were on 47 waggles.  One of those TD's was Josh Anagnos and the other to Jessy Owen from 38 yards out.  It was an impressive display by the Truckee offense rolling up 406 yards on just 35 plays.  But the defense was just as impressive posting their 3rd shutout in a row.  Encina had just 20 yards on 38 attempts.  The Bulldogs also had 37 yards passing and they were intercepted by Victor Corral.  It was another dominating performance all around as Truckee rolled 42-0.  Truckee and Encina had a 2 year contract but shortly after this game the Bulldogs backed out and Truckee would not play them in 99.  I can't say that I blame them.

Truckee rolled through their pre-season schedule scoring 116 points and gave up just 8.  But maybe the most impressive thing was that Truckee only gave up 159 yards on 160 carries.  That is remarkable.  Truckee would now have to face the defending State Champions, Spring Creek, in the first week of league play.  This is where the Wolverines would find out if their pre-season schedule helped them out…

WEEK 5 SPRING CREEK 26-6

A much anticipated matchup had finally arrived.  Spring Creek was the defending State Champion.  In 97 they beat Manogue in the Semi-Final to face Virgin Valley in the Championship and it stands today as Spring Creek's one and only State Championship in football.  The Spartans had their sights set on beating Truckee in 98.  Truckee was Spring Creek's only 3A loss in 97.  The Spartans had a chip on their shoulder and had plenty of confidence that they would be the team to deliver the Wolverines their first loss.  Spring Creek was 3-1 coming into the matchup with Truckee.  Their only loss was to the 4A Elko Indians 17-16.  A couple side notes: In week 4 Elko just barely lost their first game of the year to Power House McQueen.  Elko also played in the 1998 4A State Championship game. Coach Shaffer and the Wolverines knew that this would be one of the biggest tests of the year.  Spring Creek had a 6'5 QB by the name of Josh Brouse and he was the heart soul of the Spring Creek offense.  Shaffer had concerns about Spring Creek's ability to throw the ball.  They had multiple formations and ways to spread the defense out and the focus for Truckee was to slow down their pass game. The Spartan defense was also held in high regard giving up very few points on the season, but Truckee had only given up 8 points in 4 games.  Let's be real, Truckee was rolling through teams like a "Crazy Train" and they would not play the role of Persia against this Spartan team.  In the Sierra Sun Coach Shaffer was reluctant to say that Spring Creek would be their toughest opponent of the year.  Without disrespecting coach Reeder, I think Shaffer just chose not to comment knowing that the Christian Brothers team that Truckee beat was dang good.  Not to mention the Manogue Minors who gave Truckee its biggest challenge.  Regardless this was the matchup of the week and the game most Nevadans would take interest in….Can the Spartans derail the Wolverines?

The game was very physical.  Both teams played a great brand of physical football but the Wolverines spoke loudly in their first league game.  They sent a message to the State of Nevada, that there will be no repeat Champion!  One of the great memories of this game was the hit that Jerrod Fleetwood had on a punt return.  This Truckee team will always be remembered for its size up front.  Ultimately it was the reason their defense dominated teams.  However, there were also players like Jarrod Fleetwood.  The defensive front of Josh Anagnos 6'1 215 lbs., Brandon Anderson 6'2 220 lbs., Josh Hunt 6'5 260lbs., Brad Noel 6′ 300 lbs…and then there was Fleetwood who stood at 5'9 and 155 pounds soaking wet.  But he was pure Wolverine!  A hot tempered ferocious player who let it all go on the football field.  He never once held anything back, he led the team in sacks, and loved to hit.  He is the epitome of a Truckee football player.  Not the biggest but full of heart and attitude.  It's what made him a great football player and what made him a great soldier in our military after High School.  So, many kids have had great football careers at Truckee that were just average sized kids.  Fleetwood was one of these guys in 1998 and though Truckee sent a message to Spring Creek in a 26-6 victory, it was Fleetwood who put the exclamation point at the end of the statement!

The defense put together another great day holding the Spartans to just 11 yards rushing on 25 attempts.  It is just baffling how dominate Truckee was against the run in their first 5 games.  Spring Creek passed 33 times.  They completed 13 passes for 97 yards.  Even when Spring completed a pass, they got very little yardage.  Truckee swarmed the ball on defense making it very difficult to break big plays.  Unfortunately Spring Creek was able to score killing the shutout streak at 3 games.  Offensively Chris Gerdin is now in his mid-season stride completing 12 of 20 passes for 247 yards and 2 touchdowns.  He hit Dave DeCoite for the game's first touchdown on a 12 yard slant.  Gerdin spread the wealth to 5 different receivers including Jeff Andrs on a 78 TD pass up the seam to break open the game.  Also grinding out another solid day behind the "Red Wall" was Josh Wilson rushing for 127 yards on 21 attempts.  Both Wilson and Gerdin have progressively improved from game one to week 5.  A trend that would continue in the second half of the season.  The defense at this point in the season was performing exactly how it started…complete domination.  The 98 defense defined Truckee Football at its finest, putting the offense in great positions to take advantage of their opponents.  It was the perfect combination through the first 5 games of the 1998 season.  Greg Reeder, Spring Creek's coach, mentioned after the game that his sources witnessed the Truckee Manogue game and had told him that this was not a typical Truckee team.  His sources told him that Truckee wasn't physical.  Reeder was then quoted, "Well excuse me…you want to see them play now? We lost five starters to injury today and now we're gonna have to scramble to put a lineup together vs Fernely next week."  Truckee was now through the first half of their season and the perception was that the Wolverines had already played their toughest opponents.  The second half of the season Truckee's focus was to continue to get better and not rest on their Laurels.  It was through this stretch that Truckee became even more competitive in practice. Every player from the 98 team that I have talked to has mentioned that practice was so intense that it was like game day during the week.  As I mentioned before many of them remember practice being more challenging than any game they played in 1998.  When you have that it can only mean one thing, WINNING!!!

WEEK 6 TRUCKEE 50 BATTLE MOUNTAIN 0

The last time Truckee made the long travel out to Battle Mountain it was 1996 and the Longhorns upset Truckee in a tight battle 14-11.  It was a cold wet game and it would turn out to be Truckee's only loss of the 96 season.  You can bet that this was mentioned and heavily on the minds of the Wolverines as they approached Battle Mountain.  Likewise, the Longhorns were also talking about the 96 win trying to stir up enough confidence to take the field on a cold brisk October night.  Their eagerness to upset Truckee vanished quickly as the Wolverines made short work of the Longhorns.  Most of the game was played on the Longhorns end of the field, so Truckee was taking advantage of the field position with aggressive play calling and it payed off.  Truckee jumped on Battle Mountain early and never stopped.  Truckee went up 34-0 at halftime and cruised to a 50-0 victory.  The Wolverines and their Defensive Coordinator, Gary Collins, put together maybe the most dominate night of defense ever.  First of all they recorded their 4th shutout of the season.  Secondly, the Longhorns didn't get one first down the whole game.  They had 40 plays for -5 yards total.  Rushing wise they had 28 attempts for -17 yards.  Both Fleetwood and Anderson dominated having several tackles for loss.  Shaffer also pointed out the 2 middle linebackers, Seth Scribner and David Wells, as being the leaders of the defense.  On the offensive side of the ball it was Jeff Andrs night scoring 3 TDs, on 9 rushes and 83 yards.  Because the game got out of hand so quickly, 7 different players ran the ball for Truckee.  Gerdin put together another fine performance completing 7 of his 13 passes for 127 yards and a 25 TD pass to Jessy Owen.  The sophomore, Casey Nelson, also took a Punt return 48 yards for a touchdown.  He ran up the Truckee sideline untouched after several key blocks and one huge hit that sprung him to the end zone.  Truckee was now 6-0 and seamed to be gaining momentum.  Up next would be the Little Big Game verses North Tahoe.

WEEK 7 TRUCKEE 41 NORTH TAHOE 12

North Tahoe comes to Truckee 2-0 in league and appears to be ready to put up a fight.  Truckee has dominated North Tahoe in the 90's and have won 11 straight over their rivals.  The Wolverines look to make it 12 straight vs the Lakers in the 25th Little Big Game.  The Lakers had some weapons in 98 but really were no match for Truckee.  Their best weapon was Tyler O'Neil.  They also were led by the coach's son Brett Brolliar, who had success throwing the ball early in the 98 season.  So, the Lakers were a pretty balanced team.  You include the hype of the "Little Big Game" and you never know what could happen.  North Tahoe came in ready to put up a fight recovering an onside kick on the opening kickoff.  Though the drive stalled out it certainly made a statement that the Lakers were ready to take every chance they could to pull off the upset. The Truckee faithful looked on with concern most of the first half.  Just before halftime the score was just 14-6 but with seconds to go in the second quarter Chris Gerdin hit Dave DeCoite on a 35 yard touchdown pass giving the

Wolverines the momentum heading into the locker room.  Prior to the DeCoite touchdown things were very interesting and some what showed Truckee that they were not invincible.  Truckee scored first on a Jeff Andrs 8 yard TD run but Truckee missed the point after.  North Tahoe came right back and matched Truckee 6-6 on a pass play from Broliar to Pandola.  It was just the 3rd touchdown Truckee had given up all season.  However, the Wolverines were not phased and came right back and scored on a 19 yard Josh Wilson TD run.  Andrs made the two point conversion and Truckee led 14-6.  The second quarter was fairly quiet until Gerdin hit DeCoite to make the score 21-6 at halftime.  When Truckee returned from halftime they took over the game and looked much more like the team that dominated so many teams early in the season.  Andrs scored his second TD of the game early in the 3rd quarter and then Gerdin hit DeCoite again for a 9 yard TD pass.  Truckee pulled away and Zach Wilson did the last of the scoring early in the 4th quarter.  At that point Truckee emptied the bench and that's when O'Neil of North Tahoe scored on 48 yard TD run.  Gerdin was on fire this game completing 12 of 13 passes for 211 yards and 2 TD's.  Josh Wilson put in another solid outing with 141 yards on just 9 carriers. The Truckee defense did struggle in comparison to their prior games.  North Tahoe had a total of 144 yards, Oneil had 81 yards on 22 attempts.  With the win Truckee is now 7-0 and travels to ROP.  Truckee secured a playoff birth for their 10th straight season!

WEEK 8 TRUCKEE 44 ROP 0

Truckee gets the defense back on track with their 5th shutout of the year.  It was a cold and very windy day out in Yerington.  Truckee has now been playing ROP since 1991.  Once the Raiders, the ROP Rams always had speed and athletes.  Their downfall was always the lack of cohesiveness and experience together.  There is a lot of transiency due to the nature of the ROP program.  So, students at ROP are usually not at the school for more than a year at a time.  Unlike towns like

Truckee where kids have been playing football together for 10 years or more.  On this day the weather made it extremely hard to pass the ball and the kicking game was interesting as well making an immediate impact on the game.  In 98 ROP made their big plays through the air and with their inability to throw the ball allowed Truckee to stack the box and put 100% of their focus on stopping the run.  Add in the fact that Truckee's strength on defense was stopping the run and it yeilds a result of -25 yards rushing for the Rams.  I can describe this game as standard Truckee procedure.  To me it was business as usual and more of a formality to make the travel to Yerington, get the victory, and start prepping for Fernley.  The highlights were limited by short fields and many ROP mistakes due to poor conditions.  The Truckee defense again had several tackles for loss and put the Rams behind the chains each and every possession.  It is highly likely that ROP didn't earn themselves a first down in this game but the papers do not mention it.  The bottom line is the Rams struggled and it was from the very beginning of the game as they went 3 and out their first series on offense.  They then lined up to punt and the snap, due to the wind, sailed over the head of their punter.  Truckee tackled their punter inside the 10 yard line and one play later Jeff Andrs was in the end zone for

Truckee's first score.  The second score went to Casey Nelson and the Wolverines went into halftime with a 16-0 lead.  Early in the 3rd quarter Gerdin in a rare pass attempt hit Jessy Owen on a 47 waggle pass.  Owen was able to shake free from a Ram defender and sprinted to the end zone on a 73 yard TD pass.  It was the offensive highlight of the game.  Things to point out: Nelson had a good game scoring 2 TD's and putting up 56 yards rushing.  Josh Wilson had a monster day rushing for 172 yards and a TD and his brother Zach had 66 yards on 8 carries and he also scored Truckee's last TD of the day on a 33 yard scamper.  Woodbury also got into the mix rushing for 5 yards.  Gerdin and the passing game had a quiet day attempting just 7 passes completing 3 for 83 yards and a TD.  Truckee again dominated, got the shutout, and traveled home where they would start preparing for a division matchup with the dreaded Vaqueros.

TRUCKEE AND NORTH TAHOE COULD BE SENT PACKING IN 1999

Before going into the last regular season game I think it is important to explain a very important story that was taking place behind the scenes and off the field during the 98 season.  There was a coalition formed by the Lyon County School district to force both North Tahoe and Truckee out of the NIAA.  This is important to point out before the Fernley game because it was, Dave Hart, the head football coach of the Vaqueros who was leading the way.  Right behind Hart as his biggest supporter was former Fernley graduate Jeff Knutson.  Knutson was the head coach of the White Pine Wildcats but moved on and in 1998 was the head coach of the Moapa Valley Pirates.  Moapa Valley is one of the most vocal schools in removing both North Tahoe and Truckee from the NIAA.

There is little doubt that the two's hatred dates back to the early 80's when the two schools were invited to play in the NIAA.  Together, the two would lead a movement that almost permantley pushed the 2 California schools out of the State of Nevada.  The premise was very simple as Dave Heart firmly stated in the Sierra Sun, "Hell yeah it's about winning!"  Hart, Knutson, and several other schools took a stand stating that it is not fair for California schools to be winning Nevada State Championships.  This included a letter campaign from the Lyon County Superintendent to not only the NIAA but across the State of Nevada to participating schools of the Nevada 3A.  This was nothing new to Truckee as we had heard it before and most recently dealt with it in 2012.  The first time was in 1960 when the NIAA successfully pushed Truckee out of the Nevada 1A.  In 1959 Truckee won the State Championship and one year later Truckee was playing in California.  There is no record of Truckee winning the Championship in 59′ but I assure you that it took place.  Truckee would finally be welcomed back in along with its sister school North Tahoe in 1981.  In 1982 Truckee went to State and then in 1983 the Wolverines won the Nevada State Championship.  Then it was North Tahoe's turn who through the mid-80's was dominate winning the State Championship in 86 and just falling short losing to Manogue in the title game in 1987.  I believe what really sent the frustration over the top was when North Tahoe and Truckee faced off for the State Championship in 1993.  Two California schools playing for a Nevada State Title did not sit well.  Truckee would then make 4 straight State Title appearances.  Then comes the 1998 season of complete dominance.  But the schools were not just winning in football.  Both Baseball and soccer had now won several State Titles as well.  In fact in February of 1998 Truckee played North Tahoe in the Basketball State Championship where Truckee edged out the Lakers for their second State Basketball Championship.  So, the evidence was there and quite frankly I don't blame these schools for feeling the way they do.

I think more surprising was the result that took place in the fall of 1998 just after Fernley and Truckee played.  In order to boot Truckee from the NIAA there needed to be a 2/3 vote against them in both their league and the 3A division.  So within the the League vote Truckee and North Tahoe obviously voted to stay, Fernley and Spring Creek voted against the 2 schools.  So, it came down to two schools Battle Mountain and ROP.  Both needed to vote against Truckee and North Tahoe to send the 2 schools packing.  Both voted to keep Truckee and North Tahoe in.  As for the 18 schools in the Nevada 3A, 5 schools chose not to partake in the vote.  Thirteen schools voted and this was the biggest surprise as 8 out of the 13 schools voted to keep Truckee and North Tahoe in the NIAA.  Voting against the 2 schools: Fernley, Dayton, Yerington, Incline, and Virgin Valley.  The bottom line is that the majority of the schools either didn't vote or voted on Truckee's side. This issue would arise again late in the 2000's but we'll discuss the argument when we get there.  Truckee has faced scrutiny ever since they joined the NIAA in 1981.  We are the most hated team every where we go.  We get hostile crowds and often times we are on the other end of a bad officiated game.  Probably the worst officiated game in our history took place in week 9 of the 1998 season when Truckee traveled to Fernley to take on the Vaquero's.  At this point the decision had not yet been determined if Truckee was indeed going to be kicked out of the NIAA.  It added a little bit more bad blood to an already heated rivalry between the two towns.  What transpired is still talked about today and is very clear in Bob Shaffer's memory.

WEEK 9 TRUCKEE 41 FERNLEY 29

The game will be viewed by many as one of the only times Truckee was challenged in 1998.  The truth is that the officiating was so horribly one sided that even coach Shaffer spoke on the issue.  I have coached under Shaffer for 16 years and he never bad mouthed or blamed bad play on officiating.  Well almost never.  On a cold night in Fernley late in October Truckee faced off with not only the Vaqueros but took on some of the most lopsided officiating Truckee has ever faced.  We shouldn't take anything away from Fernley's effort as they were a very talented team in 98 featuring a fierce passing attack behind Quarterback Steve Henderson.  But it is important to point out penalties definitely impacted the game.  Truckee had over 19 penalties called on them in this game for 206 yard!  Also, there was a clear strip and recovery by Truckee's Tudi Corral and the officials gave the ball back to Fernley.  It was early in the game and it set off the fans and the Truckee sideline.  On top of rewarding the ball back to Fernley, Truckee was flagged 15 yards.  The flag was thrown on Avon York who was screaming at the officials.  I think I might have been helping Avon's cause.  I'll never forget the look on Shaffer's face as he turned and yelled in our direction, "Thanks Avon!"  I was standing right next to coach York and my heart sank because I knew I was just as guilty.  York looked at me and said, "let's get the team together and load up the bus."  So, the JV bus headed back to Truckee.  The officiating crew, headed up by Cal Wilson, took over the game prompting this response by Shaffer in the Sierra Sun "Two of the officials took it upon themselves to take over the game.  They're suppose to blend in with the game and not take it over."  It turns out that two years prior in a playoff game vs Boulder City this same officiating crew called 41 penalties.  So, Truckee had some bad experineces with this crew already.  In this game 11 of Fernley's 17 first downs were on penalty calls.  Many of Truckee's first downs were called back on holds and many Fernley drives were extended due to penalties.  It got so bad at one point that coach Shaffer called his defense to the sideline during play.  Fernley's offense with the help of penalties drove down and finally scored a TD with 3:01 left in the game.  It pulled Fernley to within 2 scores.  Shaffer was so frustrated that he called the defense over to the sideline and then yelled out, "what's the point you're gonna let them score anyways.  So, have one on us!"  Then one of the most bizarre things things took place.  Instead of throwing a flag on Truckee for delay of game or offsides, Cal Wilson actually told Fernley to just run it in.  So, Fernley, who had lined up to kick it, did just that and they scored a 2pt. conversion with no defense on the field.  Afterwards, they threw a flag on coach Shaffer for unsportsmanlike conduct.  It was unlike coach Shaffer but he was so fed up with the calls that he made a statement of his own and it's one of those stories you'd never believe unless you were there.  The demonstration prompted a heated discussion from coach Hart and Shaffer.  Apparently, Fernely took the gesture as disrespect to their players and Hart vocalized his displeasure to Shaffer.  Shaffer in turn had some choice words of his own.  The next week it became an investigation by Hart to see if Truckee's antics were grounds for disqualification.  Leave it to Hart to try his hardest to find anyway possible to beat Truckee, something he could never do in his 30 years at Fernley.  Shaffer was quoted, "I made sure we had 11 guys on the field.  If anything there should have been a penalty called on us.  We had 11 guys offside (standing near midfield) It was the only penalty the officials didn't call."  End of discussion and another example of the bad blood between these two schools.  Chuck Hildebrand, of Nevada Preps, named his publication "Truckee survives Ice Station Zebra", so everyone knew Truckee was on the bad side of another poor officiated game.  Truckee was and is used to it.  Truckee escaped with the victory despite the proverbial deck of cards literally stacked against them.  The Wolverines would now set their sites on the second season, the playoffs.

As for the game, it should be noted amongst all the talk of bad officiating, that Truckee absolutely pounded Fernley!  On their first drive Brandon Anderson sacked Henderson on his blindside injuring the QB's ribs.  Henderson was removed from the game but would come back in and finish.  However, he spent much of the night peeling himself off the cold turf.  Truckee also knocked Fernley's top rusher out of the game.  Truckee, like every game in 98, was very physical.  The night didn't start well as Fernley struck first and capped off a drive with a 1 yard TD run.  The Wolverines responded instantly with a drive of their own and it was capped off by a Josh Wilson 35 yard TD run.  After the Truckee defense stoped Fernley, the Wolverines would strike again on a 10 yard TD run by Wilson.  The TD was set up by a nice catch and run by DeCoite and a couple of Jeff Andrs runs.  Truckee went up 14-7 and it appeared as if things would go as planned.  However, Fernley came back and scored on a 26 yard pass play and at the end of the first quarter the game was tied 14-14.  In the second quarter Truckee took control on an Andrs 5 yard TD run and then again on a Wilson 20 yard TD run.  The score at halftime was 28-14.  In the second half Fernley got the ball first and they drove down and scored to make the game 28-21 and they were back in it.  Then Andrs took over scoring on a 26 yard TD and then again on a 73 yard touchdown to make the score 41-21. The night belonged to Andrs as he put up huge stats rushing for 223 yards on 22 carries and 3TDs.  Andrs' night ranks 10th all time in rushing yards in a game.  Wilson again put in a big game, rushing for 164 yards on 12 carries and also scoring 3 TDs.  Fernley chose to slow down Truckee's passing attack but that opened up the door for a big night on the ground.  Truckee rushed for 438 yards and had 522 total yards.  Fernley put up the biggest stats to this point on the Truckee defense totaling 163 yards but completed just 9 passes on 31 attempts for 84 yards.  The biggest stat was the points Truckee gave up.  Coming into the matchup Truckee had only given up 26 points on the season.   Fernley was able to put up 29 points, but a lot of this was due to extended drives by penalties.  The defense still swarmed to the ball making big hit after big hit on Fernley's QB and their running backs. One of the biggest hits of the night and of the season came from one of Truckee's smaller players.  Robbie McClendon, who might have been 150 pounds, had swarmed the line of scrimmage all year making plays at the line.  At one point a Fernely running back broke free through a sizable hole but he didn't get far before McClendon lit him up.  It was a huge hit that fired up the Truckee sideline and gave them the much needed spark to finish off the Vaqueros.  Truckee out gained Fernley 526 yards to 114!  Regardless of the moral victories Fernley achieved, Truckee won and they were now 9-0 heading into the playoffs.  They had accomplished several of their goals beating Fernley.  They went undefeated in league, they won home field advantage, and they were well on their way to putting together a historical playoff run to complete a 12-0 season for the first time.

PLAYOFFS

WEEK 10 TRUCKEE 48 Boulder City 0

So, important over the years for our playoff success has been making sure that we win the division and secure home field advantage.  Having teams from the South come to Truckee in November has proven to be an up hill battle that the South struggles to overcome.  In 1998 it was no different.  The weather usually gets bad for the semi-final game but in 98 the storms came early and the matchup vs Boulder City was a cold snowy day.  Something the Wolverines are accustom to.  The Eagles, on the other hand, chose not to warm up and hid inside their bus right up until game time.  Their bus was parked at the North entrance of Surprise stadium and they waited in their bus until the very last moment.  We all knew right then that it would be a long day for them, and it was.  As expected the Wolverines rolled the Eagles up quick.  The score was 41-0 at halftime and many wondered if Boulder would even comeback to play in the second half of the game.

The paper did not share any Boulder City stats but that might be because they didn't have much to go by.  The Eagles went backwards all game long.  Surprisingly the passing game from Truckee was on point.  Gerdin threw 9 times completing 6 passes for 65 yards.  Three of his 6 passes went for TD's.  One TD pass to Jessy Owen for 15 yards, one to Anagnos for 5 yards and lastly Paul DeCarlo fought off a couple Eagle tackles to score from 9 yards out.  Josh Wilson put in another great day at the office rushing for 176 yards on just 12 carries and 2 TD's.  Nine different Wolverines ran the ball as Shaffer emptied the bench in the second half.  The second leading rusher was Zach Wilson with 72 yards and a TD. Defensively it was Truckee's 6th shutout of the year and the Wolverines were now ready to take on their next opponent, Moapa Valley.

SEMI-FINALS

WEEK 11 TRUCKEE 36 MOAPA VALLEY 6

With the field still damp from last weeks storm Truckee took on the Moapa Valley Pirates.  Moapa had high hopes of taking down the Wolverines after their big win in the first round of the playoffs.  Truckee got the ball first but came up empty.  They were forced to punt and pinned the Pirates inside the five yard line.  The Truckee defense then forced a 3 and out forcing Moapa to punt out of their own end zone.  That's when Jeff Andrs broke through the line to block the punt.  Andrs then fell on the loose ball for Truckee's first TD.  The Pirates would answer back and score on a 6 yard TD pass.  But that was the end of the Pirates for the most part.  Moapa did manage to pass for 127 yards but had -31 yards rushing.  The defense did what they had done all year and that's swarming to the football, eliminating the run game, and smashing the the opposing team's Quarterback.  The Wolverines really tried to get the passing game going as Gerdin put up 29 passes completing just 13.  He hit DeCoite on a 18 yard TD but also had two interceptions.  Truckee receivers had 148 yards receiving led by Jeff Hovorka who tallied 5 catches for 61 yards.  But this day belonged to Josh Wilson who carried the ball 24 times for 291 yards and 2 TD's.  I can write down the stats and everyone will be impressed but to actually be on the sideline watching all 24 carries was remarkable.  Wilson broke so many tackles on several of his runs.  It was an old school performance by an old school running back.  He rattled off several long runs and it wasn't because of speed, it was because of heart and true grit.  He ran through tacklers and over tacklers on his way to the record books.  I remember many things about the 98 season, but the thing I remember the most was Josh Wilson dismantling the Moapa Valley Pirates November 14th 1998.  You could really see the Rugby player in Josh through the 98 playoff run.  That time in New Zealand helped Wilson shine on Truckee's biggest stage, Surprise Stadium.  Wilson made his last game on Surprise his best and it had us all shouting for an Encore! To me it was a defining moment not for just Wilson but for his offensive line as well.  It is also a reminder that anyone who has work ethics and an unrelenting desire to succeed can accomplish what ever they set out to do.  Wilson was told that he'd never be a running back because he was too slow and not tall enough.  This was the day he shut all of his critics up.  It also proved that Shaffer is a genius.  He saw something in Wilson and stuck with him.  The performance by Wilson is still a Truckee record for yards rushing in a game.  With his 291 yards he also surpassed Andrew Cross and slid into second place for all time yards in a single season.  He sits behind only James Van Brunt.  The win by the Wolverines secured a spot in the State Championship and would be just the second team in Truckee history to attempt going undefeated.  The 1989 team went into the State Championship undefeated but lost to Boulder City.

STATE CHAMPIONSHIP

WEEK 12 TRUCKEE 28 MANOGUE 14

Truckee was just one victory away from making history.  Ahead of them was the team that gave them the most trouble.  The Manogue Minors had made steady progress throughout the season, and their only loss was to Truckee.  They posted a 10-1 record and now had set their sights on knocking off Truckee in the State game.  Manogue had team speed, more speed than Truckee and the thought was that the turf of Sam Boyd stadium would be the equalizer between the two teams.  That turned out to be a non-issue.  I had the great honor to be the color commentator with John Besio on the live feed back to Truckee.  It was my first experience with media and radio broadcasting.  I struggled to get a word in edge wise with Besio on the microphone as one might imagine.  I also didn't do a very good job, but I had a great seat and enjoyed watching the game from up above.

The game started off fairly equal as neither team would score in the first quarter.  Truckee put together a little drive but missed the field goal attempt early in the game.  Truckee got on track in the second quarter and put together a nice drive.  It was set up by a 35 yard run by Josh Wilson on a 33 Belly.  He broke several tackles and moved the ball deep into Manogue territory.  Then Girden hit Andrs on a short pass that went for 10 yards down to the Manogue 16 yard line.  After a couple run plays that got stuffed for no gain, Truckee was faced with a 3rd down and 10 yards to go.  Then came the call of the game as Shaffer called his slow screen left.  Girden hit his fullback in the flat where he picked up a couple key blocks and Wilson rumbled down to the 3 yard line.  Jeff Andrs would then take it in for the 3 yard TD to put the Wolverines up  7-0.  The score remained 7-0 until halftime.  In the second half Truckee came out and started moving the ball again but after a completed pass Truckee fumbled the ball to the Minors in their own territory.  Five plays later Manogue scored and tied the game 7-7.  Truckee's next drive stalled out again on a missed 4th down opportunity and it appeared that Manogue had the momentum.  However, the Truckee defense then took things to the next level forcing a 3 and out.  Truckee then put a drive together behind multiple plays by Jeff Andrs.  The biggest play was a throwback pass from Girden that went for 30 yards moving the ball deep into Minor territory.  After this big play by Andrs Shaffer made the decision to release the secret weapon, the Ram offense.  Truckee had run the offense all year inside the 5 yard line.  Shaffer had made the decision at halftime that he was going to employ the Ram offense and pound Manogue's much smaller defense.  At this point in the game Shaffer committed to it in the middle of the field.  He made a statement to Manogue that if they wanted to beat us, they were gonna have to be stronger and more physical.  Something Shaffer knew played into his hands.

Truckee ran it down Manogue's throat for the rest of the game.  Truckee's Ram offense consisted of a 2 tight end set and double wings.   It was less about the formation and more about the personnel.  When Shaffer called for the Ram offense he ran on Brad Noel, Brandon Anderson, Josh Anagnos, and Zach Wilson.  Off the field came Jimmy Schaaf, Jessy Owen, David DeCoite, and who ever was in at the wide receiver.  It was a massive offensive front that paved the way to Truckee's 4th State Title in the 90's.  The Wolverines passed just 3 times in the second half of the game.  In the second half Truckee's defense forced several 3 and outs.  This combined with the power run game became the Minor's doom and there would be no Minor Miracle on this day.  Jeff Andrs exploded in the second half carving up huge runs behind the Ram offense.  Wilson would benefit from the change up too rolling through the Manogue defense time and time again.  Josh Wilson scored 2 TD's in the second half and his brother Zach scored one as well.  Josh Wilson rushed for 140 yards on 26 attempts and Andrs had 19 attempts for 118 yards.  The duo would chew up both the clock and yardage.  It forced Manogue into a panic and they became predictable with their pass game.  And that's when Chris Birchard picked off a Garcia pass.  Truckee scored after the turnover and it was game over.  The Minors scored a weak TD at the end of the game when the game was out of reach.  The Minors did put up impressive stats against the stout Truckee defense.  Manogue rushed for 135 yards on 27 attempts and passed for 199 yards on 5 of 15 passing.  By far the biggest stat line Truckee had given up all year.  However, stats don't win games, points do.  Truckee 28 Manogue 14.

Truckee had done it!  They went undefeated for the first time.  The senior class had won 40 games and was only part of one loss in their career's at Truckee. The excitement that night was indescribable.  We were all on top of the world!  The next day the Las Vegas Sun crowned Truckee the team of the decade.  Something that connects every player who put on that Silver helmet in the 1990's.  The 1998 team let all of us dream and live that perfect season through them.  I personally remember having a tremendous amount of pride that I was part of the Truckee Tradition.  Truckee Football is great fraternity.  One that only those who were a part of it really know and understand.  The 98 team set an amazing example of how to play football at a very high level.  They set a standard at practice to compete and make each other better.  They not only were a great team, they were a family and really I should say are a family.  Many of them are still in touch with one another.  Many are successful business men, contractors, and even pastors.  A few served in our military and are true heroes.  Most of them have started their families and are great Dads.  Everyone of them points back to their time as a Truckee football player as being life changing and an experience that taught them valuable life lessons.  As I chased down their story I found a couple things that I didn't know before.  This team cared deeply for one another.  I can sense by the communication that I've had with many of them that the 1998 season is a very deep part of their fabric and who they are today.   It's a group of guys who still wear that chip on their shoulder.  They were a team that modeled themselves after the 1993 Wolverines had now become the new standard at Truckee.  Something they don't take lightly and something that nobody can take away.  It's been an honor to do my best to tell the story of the 1998 Truckee Wolverines.

END OF THE YEAR AWARDS AND STAT BREAKDOWN:

The 1998 team was not only the first team to go undefeated they put up some ridiculous stats that might never be broken.  Here are some stats for you junkies and where the 98 team stacks up in our history:

6 shutouts- tied for 1st with 2010

Least yards allowed in a season with 1,188 yards, that is 98 yards per game…a staggering stat good enough for 1st All time

Least rushing yards allowed in a season, 12 games, 392 attempts for 327 yards= .83 ypc What?  Let's talk inches per attempt…27″ per carry!  That is just off the charts stupid.  1st all time

35 sacks 2nd, 44 takeaways tied with 1994 2nd

Offensively

Total yards 2nd behind 2010 with 5, 507 yards

Rushing Yards 1st with 3,706 yards, that's 309 yards rushing per game.  This is dang impressive too.

The record books are littered with players from 1998.

113 penalties for 1105 yards, Truckee was penalized almost as many yards as they gave up, The 1998 team ran 221 110's!

BOB SHAFFER: COACH OF THE YEAR

JEFF ANDRS: MVP

CHRIS GERDIN: CO-OFFENSIVE MVP

1ST TEAM SELECTION ALL-STATE

QB- CHRIS GIRDEN

RB- JOSH WILSON

WR- DAVID DECOITE

OL- TY LEWIS

OL- DAVID WELLS

DL- BRANDON ANDERSON

DL- JOSH HUNT

LB- SETH SCRIBNER

LB- JEFF ANDRS

DB- ROBBIE MCCLENDON

1999:  7-4 (5-0 League) 1st Western Division & State Semifinalists

The final chapter of the "Decade of Dominance."  It would be fitting and a great end to a fairytale story if the Wolverines won another State Championship in 99 to be the first group that ever went Back to Back.  The 98 team was the first undefeated team in our history and it was now going to be the 99 team who first went Back to Back.  That was the motivation and push by the coaching staff for the 1999 Campaign.  However, that's not what took place.  The 1999 season was plagued by injuries and misfortune.  The perception of the 1999 season was one of disappointment but only because it played victim to the success and pressures of our Tradition.

Let me explain.  Truckee graduated 18 seniors from the undefeated team.  By game one of the 99 season Truckee had just 9 seniors on the team.  There were 33 players on this team and 3 of them were sophomores.  The rest of the team was comprised of juniors that were coming off a 4-5 JV season.  They were a talented group of juniors but did not experience what I would call a typical Truckee Football season.  The reason I can say this is because I was part of the JV coaching staff and got to experience it first hand.  They were plenty capable, but needed to be directed and guided by those who had been part of the 1998 culture.  The only problem was the Varsity team was short on senior leadership and game experience.  So, this was Truckee's first challenge of 99.  The second challenge was expectation.  I think many just thought that we'd continue to win because that's all we really knew.  The thought of losing was really not part of our makeup because after all, we're Truckee.  Third, we struggled with the preseason schedule.

Changing up our schedule and including better opponents for the 98 team was perfect and ultimately it pushed us over the top and prepared us to win State.  The 99 team was young and only had 6 starters out of 22 returning.  Remember also that Encina dropped out of our schedule and we replaced them with Reed.  Reed was one of the top schools in the 4A.  I would have loved to watch the 98 team verses Reed.  Because of Truckee's youth and inexperience, they would have benefitted from a lighter preseason schedule to build cohesiveness, timing, and confidence.  Three out of the first 4 games were meat grinders and we sustained significant injuries that would take its toll.  Lastly, and probably the biggest factor, was the loss of our starting quarterback.  None of the factors above are issues that the Wolverines can't overcome, if they had their starting QB.  Carson Specht was groomed for 3 seasons to be the guy in 1999.  He had the arm of a Chris Gerdin but he also possest something that Gerdin did not.  He had speed and quickness.  The 6'2 senior gave Truckee an added dimension that they had never had before, which was a player who could both run and throw. He was also a senior leader.  So, losing him for the season was no small thing and it couldn't be fixed overnight.  The backup Quarterback, Mike Holmes, was talented but was not quite ready to take on this role.  Truckee would be forced to play at least 3 different QB's in their first 4 games and that within itself is a recipe for doubt and desaster.  If you take into account the many challenges and include the hate and revenge factor from every team Truckee would face in 99, I will go on record and say that the 99 season was a success.  This is the story and what went down with the 1999 Truckee Football Team:

Let me first introduce the leaders and guys that were voted in as captains for the 99 Wolverines.  The first of these is David DeCoite.  DeCoite comes from a football family.  It is deeply rooted into both his Mom's side and his Dad's.  His older brother Dan was on the 95 team as a sophomore and he was a big part of the 96 Championship team.  His Dad had been part of the Truckee staff in the mid-80's with Deschler and was now coaching with Shaffer for going on 5 years.  So, Dave was no stranger to the game.  He too, like his older brother, was brought up as a sophomore, and also played a huge role in a Championship team as a junior.  This was his senior year and he had prepared in the off-season to be the go to guy in 99.  He also made the move to free-safety where he would excel and teams were deathly afraid to cross the middle of the field.  It's what earned him the nickname "The Missile" up at the University Montana.  DeCoite, after High School, traveled north to become a Grizzly.  He had a great 4 year college career where he started all four years.  That is a great accomplishment to start as a true freshman.  Dave accumulated over 350 career tackles at Montana. In 2002 he won the team's Golden Helmet award for being the hardest hitter and in 2003 he made the Big Sky All-Confrence Award. DeCoite was an All-State receiver in 1998 for Truckee and returned to be one of Truckee's top weapons during the 99 season.  He would be looked to often throughout the 99 season to help lead a young team.

The next captain might be one of the best lineman we've ever seen at Truckee.  He stood 6'1, weighed 300 pounds, and could move.  He was extremely strong and was a Varsity player for 3 years.  They called him "Big Island", not just because of his size, but because he came from Hawaii.   However, he was not from the "Big Island", he lived in Oahu.  Brad Noel moved to Truckee during the spring of 1997 his freshman year.  He played offensive Guard for the Mililani Trojans before moving to Truckee.  So football was nothing new to him.  In 99 Brad was now a senior and had already had a great career at Truckee so everything he accomplished his senior year was icing on the cake.  Kids like Noel don't come through Truckee too often.  Being the head coach at Truckee I know this first hand.  A player of his stature, strength, and ability to move is just something you don't really see too often at Truckee.  Brad was also a player the the team could look up to.  He worked hard in the weight room and he was respected by his coaches, the players, and everyone in the Nevada AAA.  Brad Noel resides in Truckee where he is now the Head Worship Leader at Sierra Bible Church and plays a vital role in the Truckee Community.

Zach Wilson, who wore the number 33, was a 6′ 200 pound beast coming into his senior year.  Shaffer, with all 4 of his captains, had to be feeling good about the 99 season.  All four of them brought something different to the table.  Zach brought the edge and attitude from the middle linebacker position.  Zach, in his junior year, had to work through some injuries but eventually would work his way into one of the starting 11 on that dominating defense from just a year prior.  He also was the brother of Josh Wilson who was a captain in 98.  Zach Wilson had many of the same experiences that Josh had over in New Zealand on their mission and he was projected to have a similar season as his brother had in 1998.  So, the expectations were very high for Wilson heading into his senior year.  He would start at the fullback position and had a little more height and speed than Josh.  My guess is that Josh will take issue with that statement but it's true.  Zach Wilson, heading into the 99 season, would be leaned on heavily.

Jessy Owen was also voted in as captain in 1999.  Owen was the starting TE for the 98 undefeated team and was Girden's 2nd target after DeCoite.  Owen put the work in during Truckee's offseason and earned the respect of his peers.  He was a strong kid who loved the weight room and still does. Jessy is the CEO and owner of 1 Lifestyle Fitness in Auburn California.  Owen's senior year he stood 6'3 and 190 pounds and was projected to have a huge year.  He was a great athlete with hands and speed making him a top weapon on the Truckee offense.  Jessy also played defensive end for the Wolverines in 99.  Like the other 4 captains, Jessy was one of the 6 returning starters from the Championship team and would be looked to for leadership by the team and coaches.

The other two starters from the 98 team were Robert Acevedo and Tudi Corral.  Acevedo a monster standing 6'4 and weighing in at 230 his junior year.  He was a key piece to the O-line for 3 seasons but we'll speak more about him in the next millennium.  I'd like to talk about the other senior on this list of 6 returning starers.  If you read my writeup on the 98 team than you might remember my piece on Jarrod Fleetwood.  Talking about Truckee always having at least one undersized player who had know clew how small he really was.  They have tremendous heart and a ferociousness that can scare even the biggest of predators.  They are true Wolverines in every sense.  That player in 99 was Tudi Corral.  He was listed at 5'7 and 160 pounds but that is way over estimated.  I'm guessing he might have been 5'6 and at most 145 pounds.  However, he played like he was 6'1 and 215 pounds.  He was a starting outside linebacker for 2 seasons for the Wolverines playing fearless, which is a necessity at his size.  Tudi brought an edge to the team and everyone respected him.  He was Pound for Pound the toughest player on the 99 team.

Week 1 Truckee 14 Manogue 26

Week one for the Wolverines was full of hype.  Manogue was primed and ready to take down Truckee to avenge their loss in the State Championship less than a year ago.  The Minors had gone through some changes of their own as their head coach, Tony Amantia, moved on to Wooster High School.  Bill Branca took over at Manogue and they were a slightly different team in 1999.  They featured 22 seniors with lots of experience and a chip on their shoulder.  Sound familiar?  Truckee on the other hand was very young but they were riding a 12 game win streak and had not lost at home since early in the season of 1994.  Back then it was a loss to the 3A Reno Huskies.  So, the stakes were high for a team who now had to overcome not just being a young team but a team who had to overcome serious adversity with the loss of some very key players.  Not only did Truckee lose their starting QB, they also lost Mark Thiel to an injury that took place off the field. Thiel was a big part of the Truckee offense but also was looking at playing a key role on defense.  Include the fact that Thiel was Truckee's kicker and punter and you have a stunning blow to the Wolverines in just week 1.  If you include the fact that Manogue already had game experience, Truckee was headed into the "Perfect Storm."

The game could not have started out worse for the Wolverines as they could not muster any momentum on offense and remained scoreless in the first half.  Manogue struck first on a 13 yard TD run by Darby Jones.  The field position was set up by a long run by Minor QB, Pat Reilly, on a bootleg.  Truckee would then hold the Minors on their next possession and force them to punt.  On the punt Manogue had great coverage and as Casey Nelson caught the punt he was immediately hit and the ball was dislodged.  The Minors recovered it and now had the ball at Truckee's 36 yard line.  Two players later Reilly, on the same bootleg play, scored from 32 yards out.  Manogue missed both PAT's and led 12-0 early in the 2nd quarter.  After trading a couple possessions Truckee would appear to get the break they needed when Casey Nelson redeemed himself retuning a punt 60 yards for what appeared to be a Wolverine touchdown.  But Truckee was called for 12 men on the field and not only was the TD called back, Manogue was then rewarded a first down.  A very bad break for Truckee and really the play of the game that never took place.  Right before the half Truckee finally got some things going and drove down to Manogue's 7 yard line.  To get into scoring position Holmes hit DeCoite on a 32 pass play.  Holmes would hit 5 different receivers on the drive but the Truckee offense would stall out and turn the ball over on downs.  They headed into halftime down 12-0 but could have easily been up 14-12.  The second half didn't start any better for Truckee as Manogue would score on their first drive of the 2nd half.  Truckee would finally respond in the 3rd quarter with a Nelson 9 yard TD run.  The score was set up by one of Truckee's biggest highlights of the day when Matt Snatchko went up between 2 Minors to make a huge 3rd down catch.  It moved the chains and kept the drive alive.  Gary Cook made the point after to make the score 19-7.  Truckee's score was quickly answered by Manogue after they returned the kickoff 87 yards for the score and the Minors went up 26-7.  Late in the game Holmes would connect with Snatchko again but it was too little too late and Truckee dropped game one in front of their home crowd for the first time in 5 seasons.  It really was an example of a young team in a week one matchup.  The defense played well enough to win.  Truckee made week one mistakes and Manogue, as Shaffer put it after the game, was more polished.  Like any football game, there are usually a couple plays that ultimately change the overall outcome.  In this game it was the penalty on the punt return by Nelson and the miscues inside the 10 yard line just before the half.  Change those 2 things and it's a completely different game and probably a completely different first 4 games for the Wolverines.  As it was Truckee drops game one 14-26 and all things considered it could have been much worse.  Manogue ended the game with 217 total yards to Truckee's 173 yards.  It was almost the opposite of the 98 season as Truckee struggled to establish the run and then struggled to stop it.  Manogue rushed for 180 yards to Truckee's 13.  On the positive side of things Holmes had a pretty good day in his first start going 14-20 for 160 yards and a TD.  He hit 8 different receivers with Snatchko and DeCoite leading the way.  Next up Truckee would travel north to Las Plumas.

WEEK 2 TRUCKEE 28 LAS PLUMAS 8

It took the Wolverines a quarter to get going but once they did it looked like the Wolverines of 98!  Zach Wilson got the start at quarterback because Mike Holmes missed practice.  This would be the 3rd QB to take a snap in as many weeks.  Carson Specht started and took most of the snaps in Truckee's scrimmage, Holmes started vs Manogue, and now Wilson starts in week 2.  It's hard to get any real offensive cohesiveness with inconsistency at the QB position.  So, it's not surprising that Truckee started slow at Las Plumas.  Wilson drove the team down into scoring position on his first drive but then threw an interception.  One of 3 interceptions by Truckee in this game.  At the beginning of the 2nd quarter Holmes entered the game at QB and made an immediate impact hitting Snatchko for a 29 yard gain.  Later in the drive the sophomore, Eric Detwiler, ran in from 1 yard out to make it 7-0.  After the score Truckee's defense would step up forcing four 4 and outs in a row.  The Truckee offense could not capitalize on the great play of the defense as they turned the ball over 3 times in a row with a fumble and 2 INT"S.  Truckee took the lead into halftime 7-0.  It was a much different team that came out in the 2nd half as Truckee dominated all aspects of the game.  Truckee came out of the locker room and went right down the field on their first possession.  It took them just 6 plays to go 62 yards.  The drive was capped off by a 32 yard pass play from Holmes to DeCoite.  Truckee's defense started where they left off and forced a 3 and out to begin the half forcing a Las Plumas punt.  That's when Gary Cook blasted through the line to not only block the punt but then picked it up and returned it 34 yards for the TD.  After 3 TD's and 3 successful Gary Cook PAT's Truckee was up 21-0.  Truckee then had a nice long drive to start the 4th quarter and was capped off by a 1 yard TD run by Nelson.  Shaffer unloaded the bench after Truckee's last TD and the Wolverines came away with the 28-8 victory and were now 1-1.  Truckee overall a much better effort rolling up 294 yards and giving up just 154.  The Truckee defense also had 7 sacks in this game.  Next Truckee would travel to Hugh stadium to play Christian Brothers.

WEEK 3 TRUCKEE 36 CHRISTIAN BROTHERS 61

One year prior Truckee rolled over Christian Brothers 24-0 and held Albert Hollis to just 87 yards.  In 1998 Truckee gave up just 327 rushing yards on the season, which is why the game verses Christian Brothers in 99 was such a surprise.  The game was played at Sacramento's legendary Hughes Stadium in front of a decent sized crowd.  The Falcons and specifically Albert Hollis had some proving to do against Truckee and they did that and more.  Hollis rushed for 248 yards and 4TDS in the first half alone…almost as much as Truckee gave up the whole 98 season.  It would be a record breaking night for Hollis who was clocked at 4.28 seconds in a 40 yard dash just weeks before the matchup. He also had already verbally committed to UCLA.  The Falcons rolled up over 600 yards on this night.  Hollis broke a California High School single game rushing record with 421 yards and 6 TD's.  It was so impressive that Truckee made ESPN's sports center featuring Albert Hollis's crazy night at Hughes Stadium.

As crazy as the night was Truckee was leading at halftime 36-34 and appeared they would go up 42-34 when Zach Wilson broke away on a 80 yard TD just before the half.  However, the Wolverines were flagged for clipping and the play was called back.  It was a big blow and made a big impact in the game.  None the less Truckee had the lead at halftime.  The first half for Truckee, even though Hollis was killing us, was the Wolverine's best output of the year.  The Wolverines got on the board first when Jessy Owen scooped up a forced fumble after a sack on Falcon's QB, Maddox.  Truckee then blocked a punt and DeCoite scooped it up and scored, and the Wolverines seemed to be on their way to a big game.   DeCoite, later, took a 23 counter 44 yards to the house.  Then Jessy Owen struck again, this time on defense, with a big sack forcing a fumble.  The fumble was recovered by Truckee's Matt Snatchko on the Falcon 26 yard line.  A few plays later Nelson scored from 1 yard out and Truckee was up 28-13. The Wolverines seemed to be in control up to this point but then Albert Hollis took over and single handily brought the Falcons back quickly.  Hollis struck from 76 yards then again from 50 and pulled Christian Brothers to within a point 28-27.  Truckee would put a drive together and scored their last TD of the night when Holmes hit Owen on a 24 yard TD pass.  Three plays later Hollis scored again, this time from 58 yards out and it appeared that the Wolverines were not going to be able to stop the division 1 prospect.  The second half was all Christian Brothers and more of Albert Hollis who scored twice in the 4th quarter.  Hollis went for a 49 yard TD and again on a 52 yard TD.  Hollis carried the ball 26 times for 421 yards and 6 TD's.  Unfortunately Truckee lost both Zach Wilson and Dave DeCoite to injury in the second half and Truckee had no shot at keeping pace with the Falcons and went down 61-36 in week 3.  Shaffer after the game gave Hollis his due respect but also mentioned "that we probably made him look a little better than he was."   This was proven the next week when the Falcons faced Jesuit in the Holy Bowl.  In front of 15,000 people Jesuit smashed Hollis and Christian Brothers 63-14 and it brought Cristian Brothers back down to reality.  For Truckee, it wouldn't get any easier as they make the travel to Reed High School to face the Raiders.

WEEK 4 TRUCKEE 7 REED 54

After the Christian Brothers game Truckee had lost a bit of their swag and taking on the Reed Raiders was no way to try and rejuvenate it.  It was the last game of a brutal pre-season schedule.  Reed, with over 2000, students made short work of a banged up Truckee team scoring 27 unanswered points in the second quarter.  The score was tied 7-7 at the end of the 1st quarter when Truckee's only highlight of the night took place.  Casey Nelson took a punt return 70 yards for Truckee's only score.  As if the game itself was not a big enough loss, David DeCoite was carted off the field in the 1st half and was sent to the hospital with a possible head injury.  On top of the DeCoite injury, Mike Holmes went down in the Reed game as well and is not expected to play in week 5 verses Battle Mountain.  After Nelson's Punt Return the second Highlight of the night came from defensive Coordinator, Gary Collins, after the game.  Typically at the end of every game each coach takes his turn talking to the team but on this night most coaches passed on speaking.  Coach Collins had a heart felt speech that ended with this quote, "You can turn it around or you can turn it in, if you're going to turn it around, you can never play like that again."  He then went on to explain how the 1983 Truckee team also started out 1-3 and lost big to Manogue and Elko.  They made a commitment to one another not to lose again and they didn't.  They beat Manogue in the playoffs and went on to crush Elko in Elko 34-0 to win Truckee's first State Championship.  The players heard the message loud and clear.

Quick recap:

So far through the Pre-season Truckee is 1-3, has been outscored 149-85, out gained 1,418 total yards to 847 yards, out gained on the ground 966 yards to 561 yards, and the Wolverines were giving up 6.8 YPC.  A startling difference between 1998's first 4 games and 99's.  To this point in 98 Truckee had only given up 8 points.  But the tough pre-season schedule would make our league schedule feel soft in comparison.  Truckee is about to get things rolling!

WEEK 5 TRUCKEE 35 BATTLE MOUNTAIN 0

Truckee comes back to Surprise Stadium after a 3 game stretch of away games.  It had almost been a month since Truckee last played at home and probably felt like 2 months.  The Truckee defense came to play verses the Longhorns giving up just one first down in the first half.  Battle Mountain fumbled 8 times in this game and gave up 5 of them.  They also threw 2 interceptions as Truckee got back on track.  The two teams would trade turnovers in the 1st quarter before Truckee finally took advantage with a Casey Nelson 9 yard TD run.  Then the Wolverines forced another punt and it was Casey Nelson again this time on a 60 yard Punt return. Early in the second quarter Matt Snatchko blocked another punt making it 4 blocked punts so far this year by the Wolverines.  The blocked punt was recovered by Truckee and Nelson ran in another TD.

This time from 35 yards out to make the score 21-0.  Truckee's next score came early in the 3rd quarter when Jimmy Curtis recovered a fumble in the end zone to make the score 28-0.  Then DeCoite, who was back from his injury and starting at QB, hit David Larson for a 50 yard TD to close out the 3rd quarter.  DeCoite became Truckee's 4th starting QB of the 99 season.  Truckee was hit for 16 penalties for 145 yards in this game which is what kept the Longhorns around.  Nelson had another punt return for a TD called back on a clipping call.  Defensively Brad Noel had a huge game tallying 15 tackles from the D-tackle position.  The Wolverines put up 299 yards and have yet to break the 300 yard mark in 99.  They rushed for 194 yards behind that big offensive-line.  Nelson led the team with 6 carries for 79 yards and scored 3 TD's on the day.  David DeCoite in his first start at QB went 6-12, 105 yards and a TD.  Next up for the Wolverines is North Tahoe in the annual 26th "Little Big Game."

WEEK 6 TRUCKEE 21 NORTH TAHOE 16

Truckee travels to North Tahoe in week 6 to take on the Lakers.  The Lakers were 3-2 and Truckee was 2-3.  This would be the best chance North Tahoe would have in taking down Truckee since the 1980's.  Looking back on the 99 year I know they all feel like it was a let down or some what of a disappointment and that's because we just came off of the best season we've ever had.  It would have been very hard to top the 1998 season, especially with the amount seniors that Truckee graduated.  The single most important thing the 99 team did was keep our streak alive against our rivals North Tahoe.  The teams were pretty evenly matched but North Tahoe was playing with much more confidence than Truckee and the game was at their place.  However, Truckee was still the odds on favorite as they hadn't lost to the Lakers since 1987.  Being on the sideline for this game was very intense and I could remember feeling that this game was the most important game we'd play in 99 for more than one reason.  This was the day that the streak ALMOST went down.

North Tahoe was much improved in 99 featuring two capable QB's.  The first of these is their returning starter Brett Brolliar.  The second QB was Billy Freeman, the head coach's son, who came in for quarters at a time throughout the year.  Billy also played receiver for NT.  The Lakers also featured a tough nosed running game behind junior Bryan Collins.  Collins had several good games coming into the matchup with Truckee.  The Wolverines knew they'd need to slow him down.  The biggest difference was that North Tahoe had more size than past years and they matched up better with Truckee on both sides of the ball.  It made for an instant classic in front of a packed crowd of both Red and Blue.  It was one of the moments in time that I look back on and marvel just how big the game actually was to the two communities.  North Tahoe was a very proud Tradition and actually dominated Truckee through the 70's and parts of the 80's.  But to this point nobody on the field probably even remembered the last time North Tahoe beat Truckee.  But both coach Freeman and coach Brolliar remember and I'm sure they let their team know.  This was the year that NT takes down Truckee!  I'm sure that was the message and I have to tell you I thought they were gonna do it.  In the 90's there were a couple things every Truckee team must do.  Number one, we do not lose at home.  Number two, we do not lose to North Tahoe.  The 99 team already lost at home and now would be in the battle of their football career's trying to uphold a tradition that had lasted over 11 years and 12 straight victories.

The Wolverines picked a great day to finally get over the 300 yard hump on offense.  Truckee would start David DeCoite for the second straight game at QB for the injured Mike Holmes.  The objective for Truckee was very clear, pound the rock and play great defense.  Out of Truckee's 57 plays, 51 of them were runs.  It was a strategy that Truckee implemented almost to perfection in the first half.  Truckee controlled the game with the run and Casey Nelson appeared to score the first half's only TD.  After a Gary Cook 44 yard field goal with just 30 seconds left in the half, North Tahoe got a decent return and ended up on Truckee's 38 yard line with 6 seconds left in the half.  Then came the famous Brolliar skip pass.  We worked and worked on this play throughout the years.  This was the perfect situation for the skip pass and we even yelled out to the defense to be looking for it.  Sure enough North Tahoe's QB, Brett Brolliar who had probably been running this play since he could walk, skipped a lateral pass along the grass to Joe Stinson who in turn picked the ball up and fired a pass down field hitting Pandola for the 38 yard touchdown.  Coach Collins was beside himself having worked on this very moment throughout the week.  North Tahoe missed the extra point and the two teams went into halftime in a close game with Truckee leading 9-6.

The first half was some what slow and uneventful, and the second half started out some what the same as the 2 team traded possessions.  Finally North Tahoe would get a little something going late in the 3rd quarter but would finally stall out.  But instead of going for it North Tahoe elected to kick a long field goal.  It would almost certainly be a fake of some sort knowing Brolliar and the Lakers, but that wasn't the case.  Glover kicked a 47 yard field goal to tie the game 9-9 with 20 seconds left in the 3rd quarter.  The North Tahoe crowd erupted and you could really sense the momentum was on the Laker's side.  I remember being on the sideline next to the chain gang and they were very fired up.  We exchanged words a couple times throughout the game.  I could see it in their eyes how bad they wanted to beat Truckee and I could feel something weird in the air.  For the first time in a long time I actually started to get nervous that North Tahoe might actually beat us.

While the first 3 quarters were some what slow and mostly great defense, the 4th quarter was the complete opposite.  The 4th quarter was very intense and some of the most inspired football the two teams have ever played against each other took place in this quarter.  Both Teams wanted it and both communities wanted it.  North Tahoe was so hungry but Truckee fought them off like champions and answered every punch that North Tahoe threw at them.  After the field goal by Glover, Truckee responded behind its huge offensive line and two running backs that had career days.  Casey Nelson was putting up huge numbers and Zach Wilson wasn't far behind.  Wilson put in maybe the gutsiest performance a Truckee back has ever had against North Tahoe coming off a knee surgery where they removed his meniscus just two weeks prior to this game.  He ran the ball 19 times for 143 yards.  In just seven plays Truckee went 77 yards down the field and capped off the drive with another Casey Nelson touchdown.  This touchdown, from 30 yards out, put Truckee up 15-9 with 9:24 left in the game.  There was still plenty of time on the clock and Truckee would now have to hold up, but the Lakers would just not go away. Two plays later the unthinkable took place when

Bryan Collins took a handoff and went right up the middle of the field for a 74 yard TD run.  Again the place went absolutely Bananas, but the TD would only tie the game.  Neither team had made a point after try all game.  Then one of the most amazing things I've seen in all my years coaching took place.  Instead of sending out glover who kicked a 47 yard field goal, North Tahoe sent out a kid by the name of John Lahti.  Lahti was a student in the special needs program at Truckee High School.  He had to travel daily to Truckee to go to school but wanted more than anything to be a Laker and play on their football team.  The JV coach at the time, Skip, took him in and made John a kicker a couple years before this moment.  Now, here's John in the biggest moment of his football career.  There was no doubt this was one of the biggest kicks in North Tahoe's history and they sent out Lahti.  As much as I was raised to hate North Tahoe and they were raised to hate us, there is a respect we have always had for one another before and after the game.  This move by Freeman to put Lahti in the game to kick the extra point in this situation was a class act.  If John makes the kick it would put North Tahoe up in

the 4th quarter vs Truckee for the first time in over 10 years. In the background but loud and clear the North Tahoe student Body was chanting loudly "Lah-ti!, Lah-ti!, Lah-ti!"  Not that the story could get that much more intriguing but to add to the difficulty North Tahoe was called for a delay of game due to Freeman's contemplation over the decision to use Lahti on this kick.  Freeman actually used a timeout to collect his thoughts on the moment.  When North Tahoe came out after the timeout, John Lahti ran out with them.  With the penalty the chances of the kick being successful decreased, but the snap was good, the hold was good, the protection was good, and John Lahti kicked it right down the middle putting North Tahoe up in the 4th quarter with 8:25 to play. The North Tahoe crowd, as if they couldn't get any louder, exploded with excitement.  I'll never forget it as my heart sank. It turns out that John's Dad was part of the chain gang and I was standing some what close to him after the kick had gone through and he turned to me all choked up in his voice and said, "that's my boy!, that's my boy!" At the time I was 26 years old and I can remember being somewhat annoyed.  Only because I wanted to beat North Tahoe more than anything and that kick going through made me sick to my stomach.  Now that I'm a middle aged man with 3 kids of my own, I see this moment much differently.  It was one of those moments that was much bigger than the game of football and I'm glad I was next to his Dad to see his reaction.  Unfortunately for North Tahoe, there was still a ton of time on the clock and everyone in the stadium knew that Truckee has a Champion's heart. The Wolverines were not going down without a fight.

Truckee, with almost zero passing game, would then drive 75 yards down the field and cap off another great drive with a Nelson touchdown.  Nelson had 21 carriers for 151 yards, by far the best game of his career to this point.  Though there was still 4:25 left on the clock, the touchdown crushed North Tahoe and they were not able to answer with another score of their own.  Maybe what really crushed North Tahoe even more was the questionable call that came just before Nelson's 3rd touchdown of the game.  Nelson just plays before fumbled the ball and it appeared North Tahoe recovered, but the officials called Nelson down by contact and the Wolverines maintained the football.  It was a close call that could have gone either way according to Shaffer but it's a call that North Tahoe, I'm sure, will never forget.  A couple plays later the dagger was forced into their chest and Truckee came away with the 21-16 victory.  The excitement in the stadium shifted to Truckee's side and the air was sucked from North Tahoe's sails.  It was Truckee's best effort of the year and proved that this team had what every Truckee team has, and that's heart.  The 99 team defined who they truly were in this game.  For North Tahoe it had to be devestating. They must have felt like they would never beat us again…and they haven't.

WEEK 7 TRUCKEE 28 ROP 0

Truckee was coming off a big win over their rivals and were looking to keep their momentum going against the ROP Rams.  It was Truckee's Homecoming and the Wolverines were expecting a good game.  ROP gave North Tahoe all they could handle and North Tahoe gave us all we could handle.  The Rams were better than usual and they always presented problems with team speed.  The Rams featured a talented running back in Greg Waters who was channel 8's player of the week just 2 weeks prior when he lit up the Spring Creek Spartans for 211 yards.  None of the talents of ROP could do much against the Wolverines who were now hitting their stride.  Waters was held to just 18 yards and the ROP rushing attack was held for negative 17 yards.  The Truckee defense showed up and looked like the defense of old forcing 6 turnovers, had 4 sacks, and put up their second shutout of the season.  Truckee's game plan was to slow down the Ram's perimeter game and left just 6 guys in the box to stop the

run. Even though they were out numbered, Truckee stuffed the Rams run game and dominated them.  This day belonged to Tudi Corral who recorded 7 tackles and scooped a fumble running it in for a Wolverine TD.  Also having a big day on defense was sophomore Kevin Suter with 8 tackles.  The Truckee offense struggled again.  DeCoite started his 3rd game in a row at QB and played ok completing 4 of 7 passes for 61 yards and a TD in the 4th quarter to Jessy Owen.  Unfortunately playing Dave at QB takes away one of the most explosive receivers in the State for the Wolverines.  Truckee would rush for 233 yards but again could not get over that 300 yard mark.  Both Nelson and Detwiler had rushing TD's.  With the win and both Spring Creek and Fernely losing, Truckee took sole possession of first place heading into the last 2 weeks of the regular season.  Up next the 4-3 Wolverines will host Fernely.

WEEK 8 TRUCKEE 53 FERNLEY 7

After last season's debacle out in Fernely the Wolverines were set on taking care of business on senior day.  Truckee jumped on the Vaqueros quickly in this game and before Fernley could breath they were down 19-0.  On the second play of the game Fernley fumbled and it was recovered By David Larson at the 7 yard line.  On the next play Casey Nelson scored a touchdown and with just seconds off the clock Truckee was up 6-0.  After Fernely was forced to punt Nelson took the kick 40 yards inside Vaquero territory.  Soon after Nelson scored again from 3 yards out.  On Fernley's next possession it was Tudi Corral's turn to get in the mix and he forced a fumble.  Robert Acevedo recovered the ball at the 13 yard line and on the next play Zach Wilson pounded in a touchdown run.  Just like that Truckee was up 19-0.  The dominance wouldn't stop there as Nelson continued to score touchdowns.  First he scored on a 44 yard TD early in the 2nd quarter and then again on an 11 yard run that capped a 41 yard drive.  The defense was absolutley dominating and it's only fitting that the defense would score next…and they did.  Eric Detwiler picked off a pass and took it to the house for the score and Truckee led 39-0.  The last score of the half came on a Jessy Owen pass reception from Mike Holmes with just 11 seconds left in the half.  Truckee went into the locker room 46-0.  Fernley kicked off to start the second half and made a big mistake by kicking it to number 9 who went 90 yards for the touchdown.  With Nelson's 5th touchdown of the game he joined special company in the record books with Rick Neptune (had a very similar game vs Hawthorne in 83), Dustin Pugh, Damien Fertitta and James Van-Brunt who did it twice.  All of them are tied for most TD's in a game.  The return, itself, is the 4th longest kickoff return in Truckee history.  Truckee emptied the bench in the second half and started the preparation for Spring Creek.  The 53-7 win brought Truckee's record to 5-3 and guaranteed Truckee's 11th straight playoff appearance.

WEEK 9 TRUCKEE 21 SPRING CREEK 19

Truckee wins at Spring Creek.  The Wolverines were suppose to win easily but the Spartans played inspired football and Truckee found it hard to get into rhythm for a couple reasons.  For one, Dave DeCoite was sitting this game out on defense.  He did start and play QB but he had sustained several injuries on the defensive side of the ball and Shaffer made the precautionary decision to play Dave one way.  Maybe the biggest factor was that Jimmy Curtis was ejected from the Fernely game the week prior and was forced to sit out this game.  So, Kevin Sutter converted from fullback to center in this game.  It was the reason for Spring Creek's first TD as a Shotgun snap went over DeCoite's head and the Spartans recovered it in the end zone.  But this happened after Truckee struck first on a 68 yard TD pass from DeCoite to Nelson.  Truckee struggled on defense with missed tackles but also because Spring Creek did a lot of shifting and moving around on offense.  It put our defense in the wrong position and we were misaligned for many plays.  Spring Creek was able to control the ball keeping the Truckee offense off the field.  Truckee had just 37 offensive plays.  Spring Creek took the lead in the 2nd quarter and Truckee trailed 13-7 at halftime.  The Wolverines would come out in the 3rd quarter and score on another pass play from DeCoite.  This time he hit his big target, Jessy Owen, on a 58 yard TD reception. With the score now 14-13, Truckee was in a tight game.  The Spartans, who were efficient all night, drove down the field again and took the lead on a Billat pass to Greener.  Spring Creek then went for the 2pt. conversion to make the score 21-14 but the attempt failed and the Spartans led 19-14.  Truckee, like they have all season against league opponents, came up with another drive.  Dave Larson had a nice 11 yard run to set up a Zach Wilson 3 yard TD and Truckee, after another Cook PAT, led the game 21-19.  The 4th quarter was scoreless and Truckee came away with the win.  Shaffer was clearly disappointed with Truckee's effort afterward as his comments in the paper were not as positive as usual.  Truckee finishes the season 6-3 and 5-0 in league.  They would host a playoff game in the first round vs Lovelock.

PLAYOFFS

WEEK 10 TRUCKEE 42 LOVELOCK 6

I cannot tell you the last time that Lovelock was on Truckee's football schedule before this matchup but I'd guess it was in the 1950's when the two schools faced off regularly.  Though Truckee lost their home opener, they have not lost a home playoff game since 1989's State Championship game vs Boulder City.  That wouldn't change in this game as Truckee handled the Mustangs and rolled to the Semi-Final matchup.  The Wolverines got off to a fast start and the game was over by halftime.  Lovelock featured the 2nd leading rusher in the State, Benje Robles.  Robles was averaging 7 yards per carry on the season which is remarkable.  The Wolverines were not impressed holding Robles to just 20 yards on 12 carries, that's 1.6 yards per carry in the first half.  Most of the credit was given to our D-tackles Brad Noel and Robert Acevedo for making it very difficult for the Mustangs to move the ball.  The Truckee defense

dominated all game yielding zero 1st downs all game.  Lovelock also had zero yards passing but some how accumulated 98 rushing yards.  Most of those rushing yards were tallied in the 4th quarter vs our JV players that were brought up for the playoffs.  Offensively Truckee was just as dominate scoring on every drive but one.  The first drive went 55 yards and was finished off by a Zach Wilson 8 yard run.  After another defensive stop it was Casey Nelson's turn and he returned the punt 87 yards for a score.  The next Truckee touchdown was another Nelson punt return that went for 45 yards.  I think at this point I need to mention that Casey Nelson very well could be Truckee's best return man in history.  He returned a punt for a TD in 98 and had at least 5 TD's on returns in 99 as a junior.  You include the many times he set up scores with his returns and you have one of the most dominate returners we've ever had.  Mike Avila in 97 is a top of the list as well.  Nelson dominated for 3 seasons as a returner and ran 2 back in this playoff game.  This is an argument that I think can easily be made.

DeCoite got his 6 start in a row at QB and went 3-6 for 39 yards and connected with Matt Carlson for a 6 yard TD to put the Wolverines up 35-0.  The last Truckee TD of the game was a 34 TD run by Dave Larson on a 23 counter.  Truckee went up 42-0 at halftime and emptied the bench in the second half.  It was a great way to start the playoffs and good preparation before they headed south to meet up with our playoff foe, Moapa Valley.

WEEK 11 TRUCKEE 29 MOAPA VELLEY 40

Truckee traveld to Overton in the second week of the playoffs.  Over the course of the 90's, 2000's, and 2010's, the State Championship was gonna either have to go through Moapa Valley or Truckee.  The 2 teams had built a post season rivalry that has lasted well over 20 years.  At this point in the Rivalry Truckee had won 5 of their 8 matchups dating back to 1982 when Truckee beat Moapa in Overton to advance to the State Championship.  Truckee was the underdog in 99 vs the Pirates but gave Moapa all they could handle. The Pirates are 9-1 coming into the matchup vs Truckee.  They are a well balanced team led by the 6'2 senior QB Courtney May.  Their leading rusher put up 1,245 yards and 20 TD's.  Truckee had their work cut out for them if they were gonna beat the Pirates at their house.  Moapa scored first on a 19 yard TD to Sandobal from May.  Truckee's, Casey Nelson, would then come back and score on a 19 yard TD run to tie the game in the 1st quarter of play.  Nelson, who rushed for 163 yards, scored his second TD of the game on a 3 yard run and put Truckee up 14-7.  It was a lead that didn't last long as May struck again for Moapa.  This time he hit Michael Attig for an 85 yard TD pass and the score was tied again.  Truckee answered the Moapa TD on a 12 yard TD run by Wilson and the Wolverines were up again 21-14.  It appeared at this point in the game that Truckee would be able to go toe to toe with the Pirates.  Late in the second quarter Moapa scored again but missed the PAT.  Truckee led at halftime 21-20…a Moapa Truckee score we've all seen before.  The Truckee lead would not last long as the Pirates came out after halftime and marched down the field and scored another TD with a May pass to Attig.  Truckee would

respond again late in the 3rd quarter when DeCoite hit Jessy Owen on a 21 yard TD pass.  Truckee scored on the 2-point conversion and made the score 29-26 going into the 4th quarter.  Unfortunately that was Truckee's last score.  Courtney May took over the 4th quarter hitting Sandobal again this time on a 10 yard TD pass.  Then to seal the win May broke away on a 52 yard TD run.  It put Moapa up 40-29 and Truckee couldn't make a comeback.  The Wolverines were penalized 11 times for 115 yards while Moapa was penaltized just two times for 20 yards.  It was the best Truckee's offense had played all year racking up 290 yards rushing and 131 passing.  They went back and forth with a really good team but just could not keep pace.  This game was the complete opposite to the State Championship game that was played the following week.  Manogue beat Moapa Valley 7-6.  Truckee's season ended but they went out fighting.  Nelson ended the season with 947 yards rushing and scored 21 TD's.  Shaffer had a lot of really nice things to say about this team but probably the most profound was his comment about starting 1-3.  Shaffer said, "Starting at 1-3, it would've been easy for the kids to jump ship, but they didn't.  We went 5-0 in league and made it look easy in the first round of the playoffs.  Not a whole lot of people thought we could do that.  The kids were remarkable with the comeback.  Then we ran into a real good Moapa team on their field."  That about sums it up.

RECAP

Though the 1999 team lost 4 games, more than any team in the 90's, they still accomplished a lot.  They rolled through our division and won a league title.  They made it to the Semi-Finals and lost in a tough matchup.  They did not fall to North Tahoe when they very well could have and kept our streak alive.  They played great defense and scored multiple times on special teams and defense.  In the end they played like any other Truckee team has played and that's very physical football with an edge.  In order for them to accomplish back to back championships would have been one heck of a task without their starting QB who was groomed for that very moment.  But the second they lost their guy, it was a challenge that just could not be overcome.  After 4 different QB's took snaps for Truckee in 99, they settled with David DeCoite who was 6-1 as a starter.  Casey Nelson had a huge season behind a good sized and scrappy O-line.  However, moving DeCoite from our Wing position to QB took a major weapon away for the Truckee offense.  DeCoite was likely the best receiver in the State not to mention the carries he would have had as Truckee's Wingback.  Other players stepped up but the truth is that having Specht at QB and Dave at Wingback would have given the Truckee offense a completely different dimension and likely could have made the difference, and ultimately producing the Wolverine's first Back to Back titles.  Instead, they finish out the decade on a little bit of a low.  However, I will stand by what I said before.  The 1999 season, given the challenges they faced, was a success!

AWARDS

Brad Noel- 1st team All-League, 1st Team All-State, CO-Lineman of the year, and the Team MVP

1990's RAP UP

Wow!  What a decade.  Truckee starts off winning a State Championship in1990 and finish the decade with an undefeated season in 1998.  The 90's saw 3 head coaches, 99 wins, and just 16 losses.  We won 4 State Championships and played for another 2.  There was a stretch where Truckee was in the State Championship game 4 years in a row and 5 out of 6 seasons.  We won 9 out of 10 League Championships and made the playoffs every singe year.  The 90's produced Truckee's second longest win streak at 15 games.  Looking back on what I call "The Decade of Dominance", it was a moment in time that is quite remarkable for a small public school tucked away in the mountains.  It was this decade that set the standard and expectations that many Wolverines strive for today.  Every player that dawned the Silver helmet in the 1990's will forever be linked by the "Winning Tradition" that coach Estabrook started and coach Shaffer continued.  The Wolverines would head into the new Millennium with momentum!